The Lavish Connect is the perfect accessory for your iPad that not only gives the user a stylish business folio case but includes a super thin magnetically attached Bluetooth keyboard. The design of the Lavish also features magnets that enable the sleep/wake function of your iPad so when the case is closed, your iPad is not using additional power. To turn your iPad on, you simply open the case and the magnets will activate your device. It's that easy.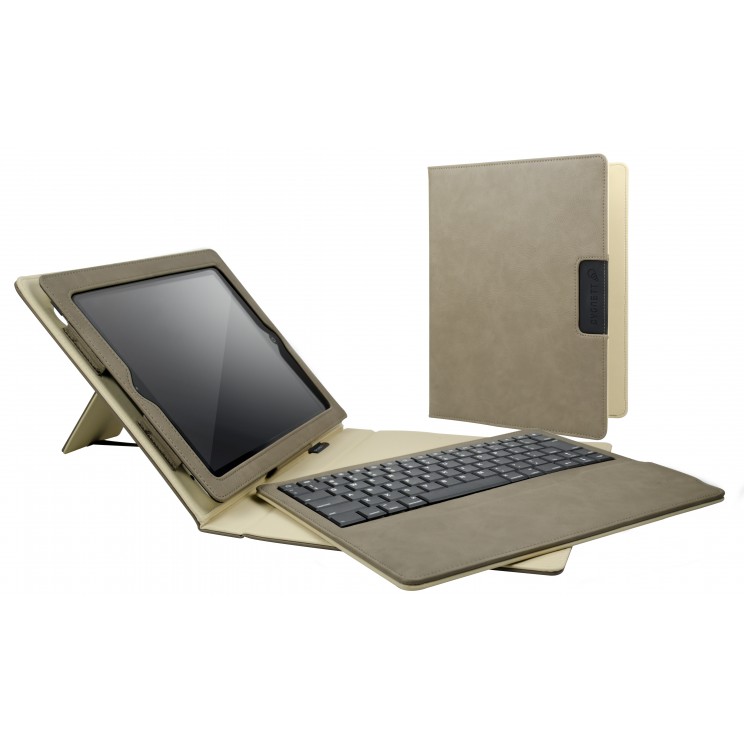 The Case design of this folio screams business but no matter what your tastes are, it should suit your own personal style. It's quite a funky yet sophisticated design and is almost like a Transformer as it transforms from a case to a stand and even a keyboard.
The 84-key keyboard that comes with the Lavish is fully functional and makes typing on your iPad a breeze thanks to the relatively large keys and iPad shortcuts. Connecting the Bluetooth keyboard is quite simple and is activated through your General Settings via your iPad.
First, you turn on the keyboard and press the Bluetooth pairing button. Your iPad will then ask you to enter a code (e.g. 4012) from the keyboard and the pairing is complete. Once it is paired, you can commence typing immediately. Another useful aspect of the Lavish is the integrated stand on the folio which allows you stand your iPad on an angle which makes typing and navigating your device considerably easier.

Another highlight of the Lavish Connect Bluetooth Folio Case is the weight of the keyboard which is extremely light. Even though it's quite light, it is a well made and sturdy keyboard that should outlast your iPad. On the side of the keyboard, there is a switch to turn it on and off, another button for pairing the keyboard and a mini USB connector which allows you to charge the keyboard.

Final Thoughts?

In conclusion, the Lavish Connect Bluetooth Folio Case is a well designed product from Cygnett that will allow iPad users to get the most out of their devices. The case also comes in two different colours that include black (reviewed) and sandstone. Lastly, the folio has also been designed to keep your iPad safe, so whether it's in a backpack, in your bag or you're just carting it around like a folio, it will definitely help against drops and scratches should the unthinkable happen.
Another brilliant design from Cygnett!