Designed for the active iPhone 4 user, the Belkin Fast Fit is the perfect accessory for those engaging in a variety of sports. Whether at the gym, running or bike riding (for example), the Belkin FastFit is an accessible armband that not only prevents your iPhone from juggling around in your pockets or hand but is nicely fitted onto your arm for perfect sport usage and protection.
With a simple installation, the Belkin FastFit easily encompasses your iPhone and the most difficult aspect (not really) is putting it onto your arm. This is probably the only aspect of the holder that I didn't like but unfortunately there is no other way around it. Thankfully it has a lightweight stretchable material that makes this process quite simple and best of all, the armband supports cushioning to ensure added comfort.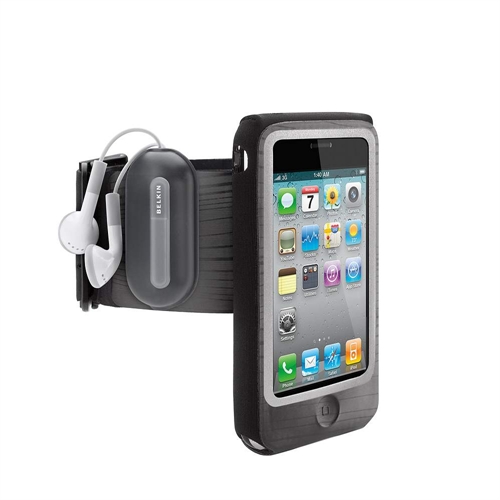 Lastly, the item is made with a washable material and there is a little capsule to keep your headphones safe. For those using the FastFit at night, it contains a reflective strip that is ideal for safety. The material made to protect your iPhone 4 is well made as is the stretchable armband and by making it washable, it's definitely not a one show pony.
With a 12-month warranty this is a must have item for those who like to keep fit and listen to their own personal soundtracks at the same time. Recommended
Features
Closure adjusts to fit
Lightweight, breathable stretch material
Water-resistant
Hand-washable
Reflective stripe for safety
Cover protects iPhone screen while allowing easy navigation
Cable Capsule for keeping headphone cords neat and easy to use