With so many cases available for the iPhone these days, itís hard to choose the right one and more so than not these days, designers are making cases for peopleís personality as opposed to protection.
Thankfully Belkin continue to border in the middle, style and protection and the BodyGuard Halo case for the iPhone is no exception to the rule which boasts polycarbonate protection. It also sports a coloured rubber track (black, pink or red) for the back of the case and sides for additional grip.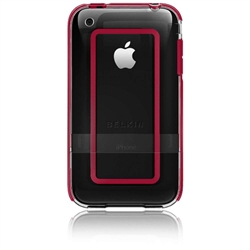 Not only does it look good but it also offers great protection for the userís iPhone from additional grip and protection from bumps and scratches and more importantly, screen protection. The installation is quite easy as all you need to do is snugly fit your iPhone into the case and presto, it's all done. And yes, all the connections, buttons and functionality of the iPhone remain intact.
The design of the Halo looks great and for us, it actually highlights the appearance of the iPhone and Iím sure quite a few users would think this design quite funky! My favourite aspect of this case is that it's clear, so the appearance of the iPhone stands out and there is only a black outline around the case. The feel of the unit is also quite good and the rubber sides and back provide additional grip. Of course weíve all accidentally probably dropped our iPhones in one way or another!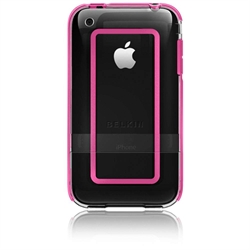 With a 1-year warranty, this is definitely a case for those who want to keep the appearance of their iPhones and offer the protection that these devices need. Tthe Halo comes recommended by Impulse Gamer!
Features
Screen Protection

Secure Closure

Impact Resistance

Grip/handheld