Bejeweled has finally hit the iPad in an HD form and Bejeweled fans can rejoice. None of the magic is lost, and with the extra precision controls that come with touch, it is in the most accessible form yet. It's amazing to think that Bejeweled has been with us for over a decade. That's not to say that shape matching started with Bejeweled, because when you think of it, Tetris is approaching its third decade of existence.
For the uninitiated, Bejeweled is similar to Tetris. The screen starts full of gems and you need to swap gems around with its neighbours to match 3 or more gems in a row. This is accomplished by swiping your finger over the gems you would like to swap. The matched gems disappear and more gems tumble down from above. Matching several in a row reveals more powerful gems that when matched, destroy whole areas or even lines.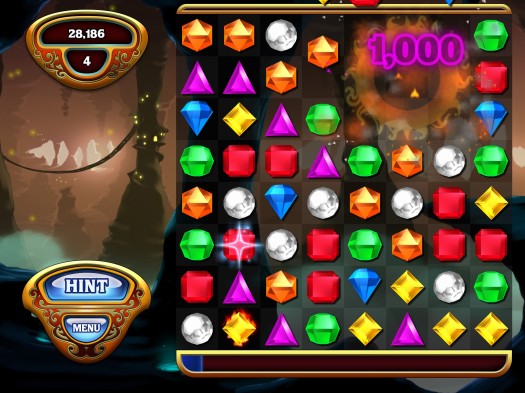 There are several modes available. There's the classic mode which basically has you matching gems continuously and you trying to achieve the highest score possible. Butterflies mode has these colourful winged-moths flying higher after every turn. You need to match them before they hit the top. Diamond mine has brown earth layers pushing up the screen each level and these mine layers need to be destroyed by matching gems next to them.
And then comes the quirkiness mode of them all : Zen – a continuous mode where you can select relaxing music and sounds to listen to as well as onscreen affirmation mantras to appear regularly. You can even turn on a breathing modulator to help slow your breathing. Explosions and gravity are made mellower, other subconscious elements are also present and the whole thing is designed to relax you. I found the Zen mode relaxing, to a point, but it is hard to relax when you are busy trying to find that elusive matching gem.
Each mode also has achievements, in the form of badges to collect and I am sure that there are many obsessive-compulsive Bejeweled players out there who will attempt to collect each and every one. (Even after hours and hours of gameplay, I've only managed to collect around half of the badges). Bejeweled HD is the definitive Bejeweled version to date due to the intuitive controls and exta modes. It still has all the gem-matching goodness that will appease existing Bejeweled fans. There is no doubt that the iPad version will entice a new legion of fans to have just "one more game".