A big welcome back to Impulse Gamer Ms. Preston! You've been a busy girl since we last spoke to you with almost a dozen awards from the adult industry. From the 2010 Best New Starlet XCritic Award to the 2011 New Starlet of the Year from XBIZ, how do you feel by getting so much praise from your fans and the adult community?

I love it! I do all this for them, so it's great to hear that my hard work has paid off.

And then you've got all those AVN Awards in 2011, once again for Best New Starlet and lots of standout moments in your movies... more particular sex scenes. You've certainly got a XXX-Factor, what do you think it is Chanel?

I just enjoy what I do. I love being sexual on film and creating an erotic environment. When you love what you do it comes out in your performances.

What was your favourite movie for 2010?

Wicked Pictures' "Hooked". It was my first feature, so it was very exciting for me.
And your personal favourite scene?

I love any scene where I get to enjoy two men at the same time.

What about the award for Most Outrageous Sex Scene, This Ain't Avatar XXX 3D, tell us what that was about?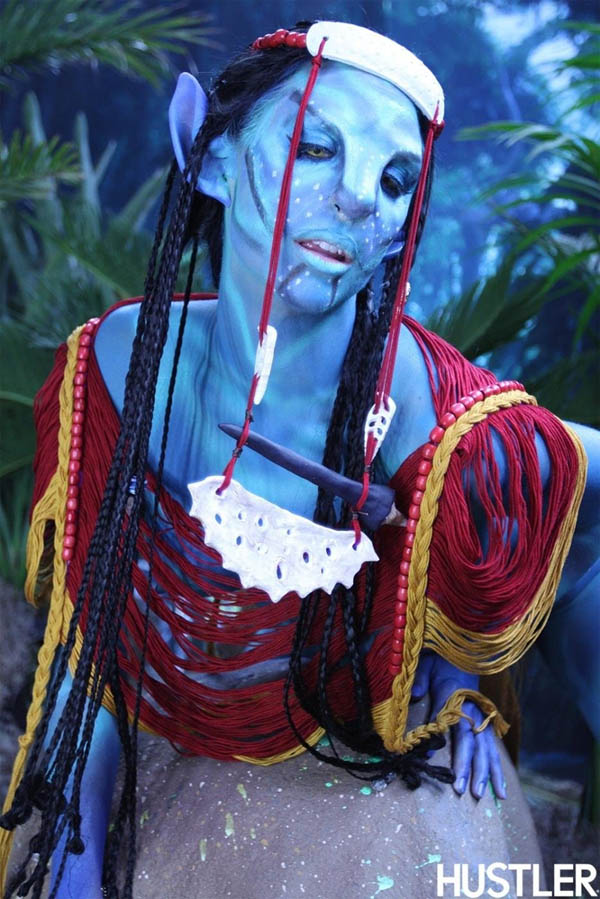 That definitely was outrageous. We were all painted blue and had prosthetic faces on, and we had to bang in the woods like that. It feels so weird to have sex with a Na'vi creature. It was an interesting experience though and not many people will get to do something like that.

How did it feel like being a sexy Na'vi from This Ain't Avatar XXX 3D?

It was actually really cool to see yourself transformed like that. I made a joke that once I saw myself all dressed up like that then I felt as if I could speak full Na'vi language... I couldn't. :(

What was the worst part of making this fantasy a reality for just about all men in the world? There was quite a bit of blue body paint.

It wasn't very comfortable. The mask was sticky and sweaty, I don't wear contacts, so they were irritating my eyes and made me blind. Plus, I was banging on a rock
Did you do any research for being a Na'vi?

No, I had seen the original movie. I figured that was enough.

Is Na'vi sex the best?

Lol, no way.

You also starred in the Justice League XXX parody. How did it feel like being Wonder Woman?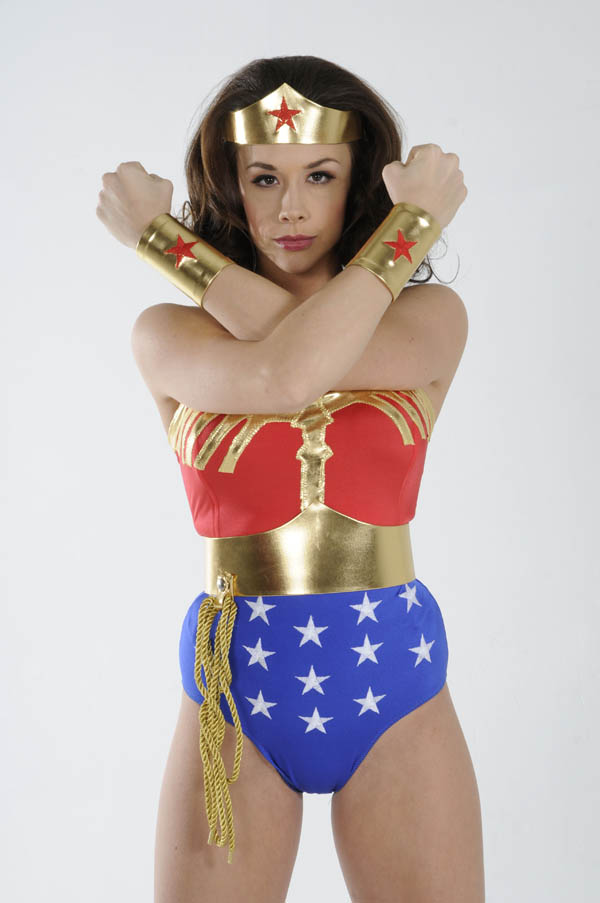 Photo courtesy of ExtremeComixxx.com
I love the idea of super hero porn, so I had a blast! The costume was great, and I got to be surrounded by all the male justice league heroes.

Were you a fan of the character?

Not really, but I am now. It was fun to sex up the character a bit.

What is the sexiest thing about being Wonder Woman?

Playing with all the other superheroes.

Considering that Wonder Woman came from an island of attractive Amazonian women, did you channel any repressed primordial urges in your sex scenes as this character? An island with no men and only women? Wow!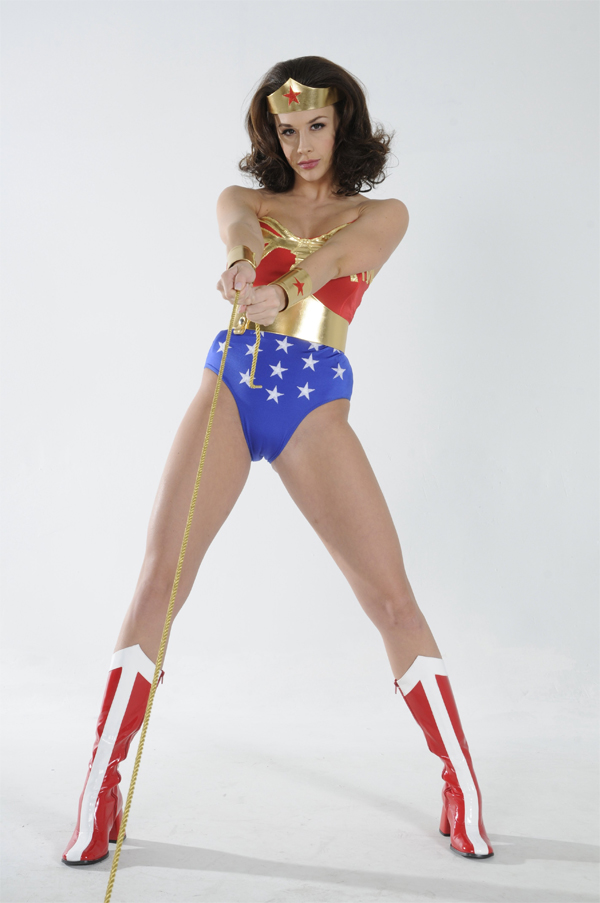 Photo courtesy of ExtremeComixxx.com
You bet I did. I enjoyed every one of the Justice League heroes' cocks during my blow bang.

Did you keep your costume?

No, Extreme Comixxx plans on making more Wonder Woman and Justice League movies so the company kept the costume.

What do you think comic book fans will think of the movie?

I think they will love it! I know they will actually because I've been getting all kinds of comments on twitter saying that they can't wait for it to come out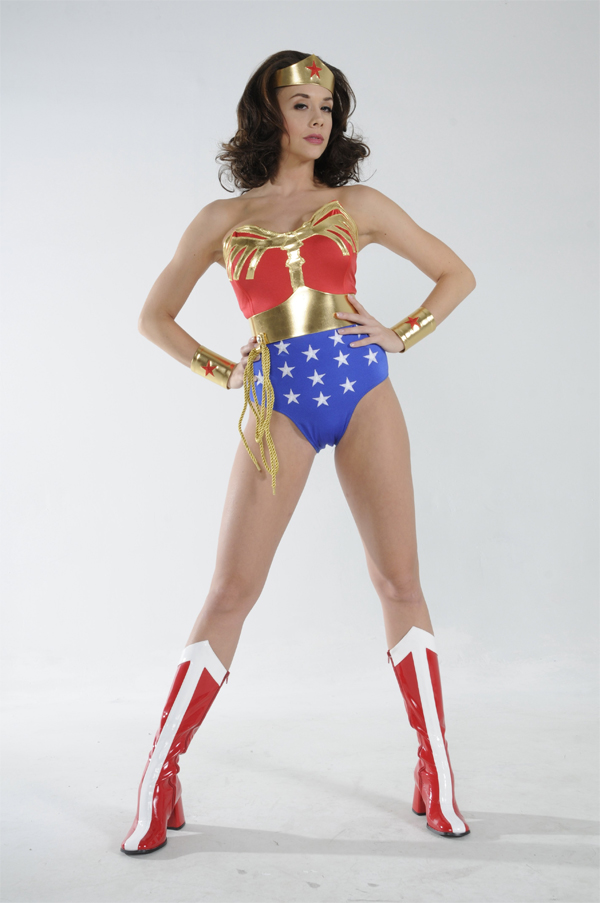 Photo courtesy of ExtremeComixxx.com
You've also been on more magazine covers than you can poke a stick at, what was your favourite photo shoot?

I probably should know this but I haven't seen all my covers. I'm sure one of them was with Tammy Sands. She's an amazing photographer.

Last time you told us, you're a fang banger (we're just exaggerating Vampires don't exist right? We mean't a vampire fan), have you tried to approach any companies to make your fantasy a reality? I'm sure many of your fans would love to see Chanel as a Vampire?

Unfortunately not. I was very close to being booked for a vampire scene, but I was going to be out of town. :( Hopefully someone will get the hint and book me for one though.

If you could go back in time and visit yourself at age 10, what would you say?

Nothing. I like not knowing how things will go. It makes life what it is.

On the other hand, if you could go into the future and visit yourself 80, what would you ask?

Hmm....again, I don't really want to know anything. I would just visit to see how well I took care of myself. ;)

What are you listening to on your iPod (or similar music device) at the moment and why?

Country music, since I'm visiting home in Alaska. That's really the only time I listen to it.

After a hard day on the set, what do you for downtime?

Watch a movie and eat candy.

What are your hobbies?

Staying active. I like going to the gym, hiking and just being outside.

Do you have a secret you could tell us and your fans?

No, it's a secret. ;)

What do you look forward to in 2011?

Everything! I know this year will be so crazy. Who knows why, but I know it will.

Any plans of travelling? Europe, Asia or Australia?

Not yet, but I would love to get out of this country. I haven't in years. I will eventually.

Lastly, any scoops for our readers?

I am still working on my website www.chanelpreston.com and it will be up very soon, but in the meantime check me out and chat with me on twitter www.twitter.com/chanelpreston

Thanks for your time Chanel!