Surfing + IMAX + 3D = Match made in heaven? That was my first reaction when I discovered that nine times World Surfing Champion Kelly Slater would be starring in a documentary about one of the world's greatest surfing spots, the famed surf site of Teahupo'o.
Unfortunately my imagined solution was never reached because there was not enough surfing action and secondly, the quality of the IMAX 3D footage was a little poor at times. In retrospect, filming a surfer for IMAX would be quite difficult due to the unpredictable nature of the water and of course any cameras in the water would not have the same quality as if you were on the land.
Even so, the creators of Ultimate Wave Tahiti 3D attempted the almost impossible and succeeded on some levels such as the science behind surfing and some amazing shots of Kelly.
The documentary begins by fuelling your anticipation for surfing that introduces the colourful characters of this movie such as Tahitian surfer Raimana Van Bastolaer who takes the crew on an almost spiritual surfing journey for the ultimate ride. The story even goes into the into the history of Tahiti such as how the islands were formed through volcanic activity and even some history on the ancient gods of this tropical paradise.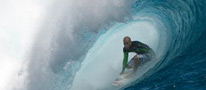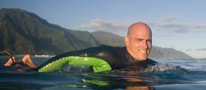 Another interesting aspect was the great explanation of how waves were formed that included everything from weather to even the sun itself and best of all, it was explained in laymen's terms.
For Tahiti, it is one of the world's best surfing places because of how the island was formed which is surrounded by a deadly coral reef which fuels the large waves when the conditions are just right. These waves are some of the world's largest and require the surfer to be towed out by jet ski and needless to say, one wrong move can be devastating. Slater is of course the penultimate athlete, although he did have an accident that left him on the land for 2-months.
At times, the surfing segments of this IMAX film seemed quite surreal, with a superimposed look from to the 3D quality which was a hit and miss affair. At times, the video looked quite spectacular and you really got the impression you were part of the film, whereas on other occasions, the video looked substandard and the action just wasn't there.
This is not to say that Ultimate Wave Tahiti 3D is a bad movie, rather it contains all the highs and lows of the ocean which is mirrored in this presentation. Featuring history, science and surfing, Ultimate Wave Tahiti 3D featuring Kelly Slater has been made to appeal to most people and if you don't go in expecting too much, you might be pleasantly surprised.