Based on the 1951 science fiction classic, The Day the Earth Stood Still receives a true 21st century facelift and stars Keanu Reeves as Klaatu, an alien ambassador who comes to Earth to judge whether mankind should be allowed to remain on planet.
When the United States detects a strange object hurtling through space towards the planet, they forcible recruit their country's best scientific minds in order to unravel this mystery. Jennifer Connolly plays a Princeton Scientist who faces the difficulty of juggling her career with her step-son, after his father was killed in Iraq and when she learns that Earth may be decimated by this object, her life becomes a true fight for survival.
Before reaching the orbit of Earth, this object begins to slow, only to land in Central Park. As the government prepares for unknown, they order their military and police forces around the area when a gigantic robot-like being walks out of the orb, with it, a strange human-like creature. Stunned observers can only watch.
This creature is accidentally shot by a soldier that causes the robot to slash out and disarm all the weapons in the area. Taking the wounded creature into captivity, they attempt to heal it, only to find out that it is a "man" named Klaatu who questions mankind about "their" planet. As the government believe that their planet is threatened, they attempt to torture Klaatu.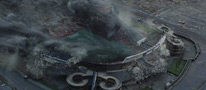 Without spoiling the movie any further, Klaatu and the Princeton University lecturer form a bond, however this bond may too late as Klaatu has decided that mankind must be eliminated from the planet in order for the Earth to survive.
The story may be at times weak on action, however the special effects truly looks remarkable on the IMAX screen with extraordinary picture and audio quality. There is a nod of the hat to the original "B" grade science fiction movie, however the remake of this movie leaves another twist on the original story.
It's an entertaining, albeit predictable science fiction movie, however on the IMAX screen, the movie is actually thoroughly more enjoyable and really draws you into this fight for survival. Reeves plays the stock standard "monotone" character that he is known for an Connolly is exceptional as the mother attempting to save her son and the world.
Definitely a great popcorn movie!
Visit IMAX Melbourne (Click here)
Visit IMAX Sydney (Click here)