Who would have thought that our jolly green ogre, Shrek (Mike Myers), would experience a midlife crisis? That's exactly what happens in the fourth instalment of the franchise. After saving the kingdom of Far Far Away Land, marrying the ogre of his dreams and having three absolutely adorable ogre babies (which we find out their names in number 4), Shrek wishes his life had more meaning which has been caused by a chain of run of the mill events.
Once despised as a villain and loved as hero, Shrek has become a tourist destination to visitors of this kingdom. He believes that he is no longer the ogre he once was and dreams of simpler times. During the first birthday party for his three children, he cannot stand the humiliation of what he has become and wishes that he could go back to the old life he once had. An ogre with no responsibilities.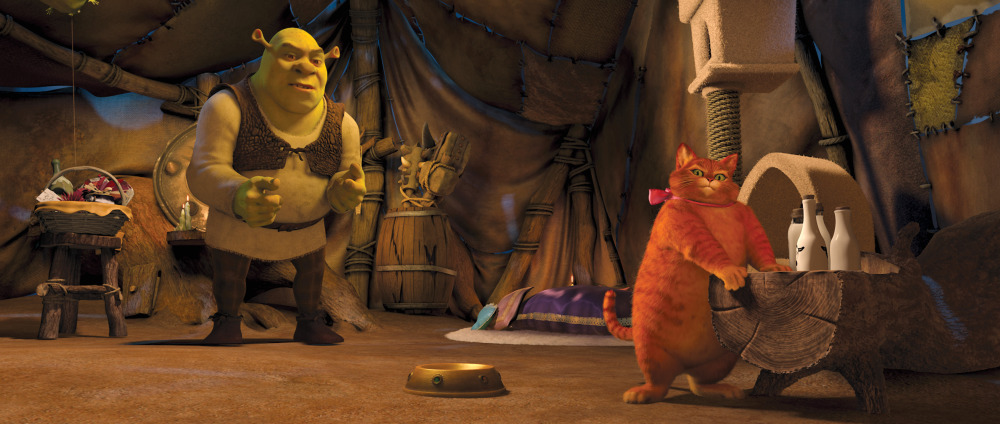 This is where the nefarious Rumpelstiltskin comes into the picture and offers Shrek the ability to live one day as the ogre he so wishes to become. The catch is that Shrek must give up one day of his life, a day that he would not remember and believing that this deal is too good to be true, he eagerly signs the deal with the pint sized Rumpelstiltskin. As his wish goes according to plan, Shrek is once again scaring villagers and causing mayhem in the countryside, however as his day of frivolities begins to come to a close, he decides that it is time to go home.
But wait… when you make a deal with the devil, there is a price to pay and Shrek discovers that in his alternate reality, he never rescued Princess Fiona (Cameron Diaz) from the clutches of the dragon, never befriended Donkey (Eddie Murphy) or the gained the loyalty of Puss in Boots (Antonio Banderas). Rather, Rumpelstiltskin now rules the land with an army of witches at his side and Fiona is a freedom fighter to the ogre population who this tyrant is attempting to imprison all. Needless to say, it's time for Shrek to make things right and man… err… Ogre up to his responsibilities and learn the moral of his story.
The plot is a little darker than most Shrek films but ironically it works quite well, especially seeing all these characters as alternate versions of themselves. Donkey is still as funny as ever and easily enough, both he and Shrek build up their previous rapport. As Fiona was never rescued from the dragon, her curse still remains as she attempts to hide this affliction from her other ogres. This has made her a true girl power Ogre that helps with the plot of the film. Lastly, we have Puss in Boots, a retired and overweight hero who is an absolute ball to watch. There are lots of other cameos in Shrek 4 such as John Cleese as King Harold and Julie Andrews as the Queen. The yin to Shreks' yang is of course Rumpelstiltskin who is delightfully played by Walt Dohrn who really adds another great character to this fun franchise.
Even though most alternate reality stories involve some Star Trek like explanation, it actually works quite well in this current movie and even those who have never seen any Shrek movie will not be disadvantaged because all movies are explained relatively well to the viewer. What it will do, is probably force them to watch the other films, not that this is a band thing. Also, the actors involved really get into their characters voices quite well and Murphy and Banderas are a classic!
We thoroughly enjoyed this latest instalment of Shrek that truly made amends to the previous movie. It may be a little dark at times but the humour, anecdotes and innuendos is meticulously crafted that truly made this a treat to watch. And then you have the IMAX experience with larger than life animation, vibrant colours and a sound system that would make most rock concerts blush with envy. The 3D works well but unfortunately doesn't jump at you like some other 3D releases but even so, it's definitely worth to see on IMAX for the ultimate movie experience.
Recommended!
Visit IMAX Melbourne (Click here)