Being a fan of the original video game, I had big expectations of this movie and unfortunately like many MANY video game movies before it, this one fails to hit the mark. To make matters worse, the creator of Prince of Persia, Jordan Mechner actually wrote the story for this flick and whether Jerry Bruckheimer and himself were on different pages, the story feels like any big budget Hollywood blockbuster gone awry. In the end, it's enjoyable at the time but ultimately quite forgettable.

The story follows a young street urchin by the name of Dastan who catches the eye of the King of Persia (Ronald Pickup) when he challenges the King's men for a friend and a Parkour chase ensues. Unfortunately the young Dastan is caught and just as he is about to have his hands chopped off for defiance, the King orders his guards to halt because he saw honour in this peasant boy. Adopting Dastan as his own son, he joins the ranks of his other two sons, Prince Tus (Richard Coyle) and Prince Bis (Reece Ritchie).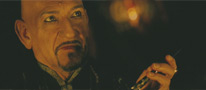 Now a grown man, Dastan (Jake Gyllenhaal) is a prince of the people and prefers spending time with his fellow brethren, rather than Royalty. With war on the horizon, Dastan's Uncle Nazim (Ben Kingsley) has uncovered that the holy city of Alamut has been creating weapons for the enemies of Persia and under the orders of Prince Tus, they prepare a siege of the city. As Alamut has not fallen for a thousand years, Dastan uses his Parkour skills to breach the city and open another gate. This saves the lives of thousands of Persians and he is given the name of the Lion of Persia.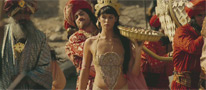 However, during the battle of Alamut, Dastan uncovered a mysterious dagger that the beautiful Princess Tamina of Alamut (Gemma Arterton) was attempting to protect and as the film progresses, we learn that this dagger was created by the gods to allow mortals to go back in time. However before Dastan uncovers the truth of his dagger, it appears that his brother Tus has deceived him in killing the king by giving him a poisoned garment. Forced into exile, Dastan attempts to clear his name and along for the ride is Princess Tamina who both give each other nothing but trouble until they learn that they are both in the same predicament.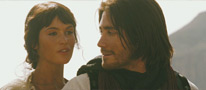 Without soiling... err spoiling the story any further, Prince of Persia appears to be too clever for its own good, especially with the subtle links of America (the Persians) invading Alamut (Iraq) for weapons of mass destruction. There's also way too many "not funny" comments by actor Alfred Molina as Sheik Amar who attempts to provide comedic relief in the movie but unfortunately falls quite flat.
Interesting enough, Gyllenhaal is actually half decent as the Prince of Persia and so is the clichéd "girl power" princess Tamina but at the end of the day, the story is quite un-inspirational and ends up like a lacklustre Pirates of the Caribbean. Although I must admit that the ending did surprise me but unfortunately this was suited to a Star Trek movie, rather than a sword and sorcery adventure.

I could easily write an essay on why this was a bad movie but for the majority of viewers, it will be just another stock standard blockbuster and even on glorious IMAX, it could not save this film for me and I kept on wondering when this was going to end. Director Mike Newell definitely needs to go back to the drawing board for this one and perhaps if it was more akin to Aladdin than Pirates of the Caribbean, it would have worked ever better.
Thankfully, I've seen far worse!
Visit IMAX Melbourne (Click here)