Iron Man 2
The original Iron Man film really surprised me and although I was expecting another mediocre superhero flick, it actually superseded my expectations and became one of my favourite films of 2008. Unlike most superhero films, Iron Man is almost a tale of two men, that of Tony Stark, Iron Man's alter ego and of course the superhero Iron Man.
This balance made the film more relatable to the viewer but what really made Iron Man so good was Robert Downey Jr. who really became entrenched into the headspace of Billionaire Tony Stark. With such big boots to fill in a sequel, screen-writer Justin Theroux, director Jon Favreau and Downey Jr. have succeeded again in turning this relatively B-grade superhero into an A-grade blockbuster.
Before I go onto the plot, if you really want to be immersed by this film, than I would recommend that you watch it on IMAX which makes the whole experience larger than life and a very surreal experience. A giant screen? amazing speakers? This is how superhero films should be watched!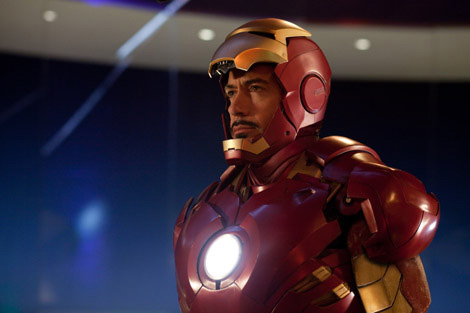 The film begins with Tony Stark hosting his yearly technological expo and when Iron Man flies down onto the stage, the crowd erupts into a frenzy. Throw in the "Iron Man" dancers for a titillation factor and the viewer is once again reunited to the eccentric and comedic Tony Stark, not only the face of Stark Enterprises but also the man behind it. As we are introduced to the supporting cast of Iron Man 2, it helps establish a rapport between the movie goers and the characters before the director goes into the next gear.
The villain in Iron Man 2 is played by Mickey Rourke who plays the revenge fuelled Ivan Vanko who has vowed to take revenge on the Stark family due to Howard Stark. According to Vanko, Howard Stark was responsible for not only the downfall of his father but also his disgrace.
For those who have read the comics, Vanko will eventually become Whiplash, a nemesis for Iron Man and although his birth is in cliché, a barely recognizable Rourke actually does the character justice, even with his Russian accent. Another villain in the film is Justin Hammer (Sam Rockwell) who plays a rival to Stark and is quite jealous of his Iron Man technology and of course his prestige. Desperate to create his own Iron Man technology, he joins Vanko for a very shaky alliance. It's interesting to see two villains who are totally different which is almost like Stark's split personality of man versus hero.
The main theme that runs in the film is Stark refusing to give the United States, the Iron Man technology and there is a brilliant scene with Garry Shandling who plays a Senator where Stark makes a mockery of him. It's the scenes like this which makes Iron Man 2 such an enjoyable flick.
Another spanner is thrown into the works when we learn that due to the technology that keeps Stark alive, his end of life is imminent and what does a billionaire do when he thinks he is about die… party hard like there's no tomorrow.
Samuel L. Jackson returns again as Nick Fury as he attempts to assemble the Avengers and offers our hero a dues ex machina for his current predicament that pays great homage to the original comics. Speaking of comics, creator of Iron Man Stan Lee makes his stock standard cameo appearance which would cause some comic geeks shout for joy.
The last spoiler for the movie is the second Iron Man in the film, a military man called James Rhodes (Don Cheadle) who is a close friend and confident to Stark. Due to the Billionaire acting erratically, he steals one of his old Iron Man suits that leads to a great fight between the two of them. Needless to say, Iron Man 2 is a fun journey as we witness Star going from broken hero to Iron Man once again.
Although not as action orientated as the original film, the action scenes in Iron Man 2 are very cleverly choreographed and look spectacular on the IMAX screens, especially the battle between Iron Man and War Machine (James Rhode). The Monaco battle which graces the trailers also looks fantastic and the special effects are truly jaw dropping.
Even though the special effects are all there, what makes Iron Man 2 so enjoyable are the actors. Robert Downey Jr. personifies the persona of Tony Start perfectly and you can actually see his motivations as he balances brilliance with his eccentricities. Sam Rockwell is another strong performance as Justin Hammer, the flipside of Tony Stark and even though he tries hard to be another Stark, it's almost embarrassing (in a good way) to watch.
Don Cheadle plays Stark's military friend well and although he follows orders for America almost blindly, he still manages to turn a blind eye here and there to his friend Stark. Gwyneth Paltrow as Pepper Potts has a stronger role in the sequel and her character is developed more in terms of what is happening with the story and a little twist at the end.
Lastly we have the beautiful and talented Scarlett Johansson as Natalie Rushman (aka Black Widow) who is a little 2D in the film but hopefully if the Avengers movie ever takes off, we'll see more of her character. A joy to watch but unfortunately a little emotionless at times.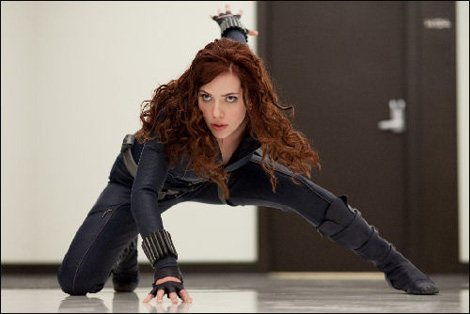 Final Thoughts?
There are a few timing issues in the sequel where the story comes into a lull, however Favreau manages to turn it around and creates a worthy successor to the original. Some may consider this just another Hollywood blockbuster but it actually pays homage to the original comic book character well and on IMAX, it becomes larger than life.
It's action, drama, intrigue and even a touch of romance but at its heart, it's a good old fashioned superhero movie that manages to break some of the stereotypes and clichés. Even if you're not a superhero fan, you still need to see it just for Robert Downey Jr. and make sure you see it on IMAX!
Visit IMAX Melbourne (Click here)
Visit IMAX Sydney (Click here)