Based on the creations of Lewis Carroll, the author responsible for Aliceís Adventures in Wonderland and Through the Looking Glass, director Tim Burton and writer Linda Woolverton create a wonderful modern interpretation of this magical classic. Even though references are made to the original story, this is more of a re-imagining of Through the Looking Glass and at times mirrors The Chronicles of Narnia: Prince Caspian with the fall of Wonderland and a touch of Charlie and the Chocolate Factory. Interestingly enough, for a Tim Burton film, itís quite subdued and not as whacky as some of his other films but even though itís toned down, maybe because the name Disney is attached to it, it actually works quite well.
The story of Tim Burtonís Alice in Wonderland revolves around Alice who is played by the delightful Mia Wasikowska and although her character is a young adult, she still manages to see the wonders in the world, thanks to her late father. Unfortunately for Alice, other people in her life are now making decisions for her and when a pompous lord called Hamish (Leo Bill) asks her hand in marriage in front of hundreds of people, Alice decides to have a reprieve. Fleeing the situation, she sees a white rabbit (Michael Sheen) with a waist coat and inadvertently follows it into a hole where she once again falls into the amazing world of Wonderland or Underland as itís also known in the movie. Like The Chronicles of Narnia: Prince Caspian, Wonderland is a much darker place since Alice last visited, thanks to the bulbous headed Red Queen (Helena Bonham Carter) who had the King executed and now rules the lands with an iron grip and if anyone gets in her way, itís ďOFF WITH THEIR HEADĒ.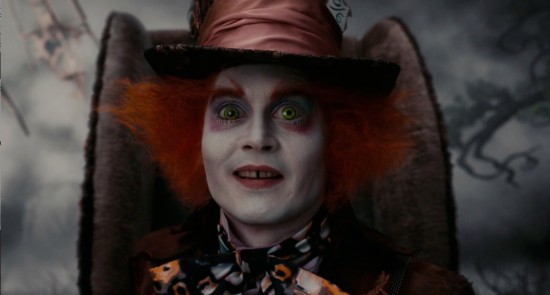 Alice is once again baptised to this magical world, thanks to the white rabbit, Dormouse (Barbara Windsor), Tweedledee and Tweedledum (Matt Lucas) who introduce her to the Blue Caterpillar (Alan Rickman). According to a magical scroll, the Blue Caterpillar tells Alice that she will be the saviour of Wonderland and will be responsible for defeating the dangerous Jabberwocky (Christopher Lee). A confused and shocked Alice declines the offer, however when the Red Queen sends her knights to capture her, this assortment of colourful characters helps her escape. Without spoiling the movie, Alice plays the reluctant hero where she meets the kind hearted Mad Hatter, played by the amazing and diverse Johnny Depp who helps her steal the magical Vorpal sword from the Red Queen and return it to the beautiful White Queen (Anne Hathaway) in order to liberate Wonderland from the Red Queen's reign of terror.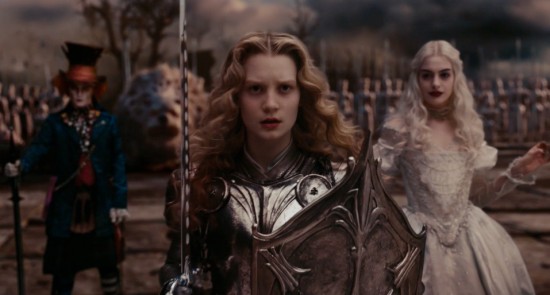 Of course for such an ambitious movie to work so well, apart from the actors, the special effects need to work and thankfully, they only excel in the story telling of Alice in Wonderland. It also helps that they look amazing on IMAX and the 3D works quite well with the live actors. The stars of the movie however are Wasikowska as the innocent Alice who tries to justify this world by telling herself itís only a dream and Johnny Depp who does another standout performance.
Depp's portrayal of the remorseful Hatter is quite entertaining and dark at times with a strange Scottish accent that comes and goes but needless to say, he successfully plays a variety of personalities for this character. Bonham Carter is enjoyable as the evil and childlike Red Queen as is her henchman Stayne, the Knave of Hearts who is played by the charismatic Crispin Glover. The voice work of the CGI characters is just as good such as is Tweedle-Dum and Tweedle-Dee who is played by Little Britainís Matt Lucas and manages to grab quite a few laughs in the movie. In terms of laughs, even though certain parts of the movie is quite dark, there is quite a bit of comedy in the movie such as the lively and violent mouse, Dormouse and Stephen Fry as the Cheshire Cat.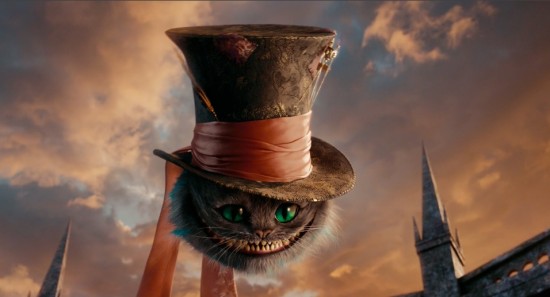 The 3D aspect of Alice in Wonderland, especially on IMAX works brilliantly. The video quality is fantastic and features vibrant colours, which proves a great highlight to some of the more creepier sets in the film. The 3D looks good and is littered throughout the movie which only helps draw you into this magical world and strange brain of Mr. Tim Burton. Unlike recent 3D films such as Avatar, Alice in Wonderland seems to use the 3D elements more, not in terms of special effects but more so in making the characters look real that almost step out of the picture. For those who have seen Avatar, you may even notice a few parallels to both these strange worlds but this movie feels more like A Nightmare before Christmas in terms of settings. Unfortunately the sound isnít that much of a standout feature in this movie but a special mention should be made to the soundtrack, thanks to composer Danny Elfmen who successfully captures another story with his powerful scores.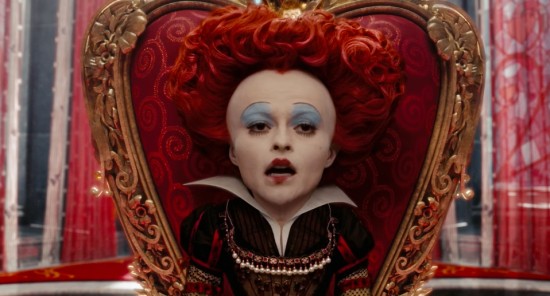 In conclusion, Alice in Wonderland may parallel other movies such as The Chronicles of Narnia: Prince Caspian or The Lord of the Rings but for me, this is a classic archetype story of good versus evil which is a part of many mythologies. Tim Burtonís vision shines in Wonderland, especially the assortment of colourful characters and special effects that produces a very entertaining movie that can be watched by all. With so many standout moments in the movie, itís hard to pick just one, thanks to Burton who managed to glue me to the screen from start to finish. Highly Recommended!
Visit IMAX Melbourne (Click here)
Visit IMAX Sydney (Click here)