From Academy Award winning filmmaker Robert Zemeckis, comes the latest modern interpretation of the classic Charles Dickens tale, A Christmas Carol that not only transforms the film into a fully feature CGI movie but it goes an extra two steps by incorporating 3D and finally IMAX. Needless to say, the results are quite simply spectacular and now another generation of children and adults can experience this timeless tale about the grouchy and rickety Ebeneezer Scrooge (Jim Carey).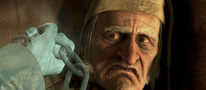 Before I go on with the movie, the star of this movie are the computer generated characters which are eerily quite realistic and best of all, the actors who voice these characters even lent some of their likenesses to these characters so when you see Bob Cratchit (Gary Oldman) in the film, he actually looks like him as does Jim Carey as the viewer is taken on a journey through the life of Ebeneezer Scrooge.
Like Zemeckis' other movies The Polar Express and Beowulf, the actors movements and faces were filmed and then digitally transformed into their A Christmas Carol counterpart and the result is even better than the aforementioned films. The eyes and facial expressions are almost perfect.
Plot wise, Zemeckis done well to stick to the original story and the only artistic license that has been used in the movie is the interpretation of the Ghosts and of course the journey through Scrooge's life. There were quite a few wow moments in the movie thanks to the 3D and just when you get desensitized, another 3D moment will jump out in front of you.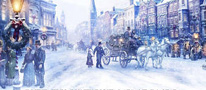 For those who have never read or seen a film about A Christmas Carol, it revolves around Ebeneezer Scrooge, a man who has cut all ties with humanity in order to procure wealth. As tight as tight could be with money, Scrooge has made no friends in the town where he lives and for some strange reason, he despises Christmas even more than any other day of the year.
Of course, something happens to Scrooge and on Christmas Eve, he is visited by the three Ghosts of Christmas who take him on a journey of the past, present and future with a dire warning that if he does not change his ways, a gruesome existence awaits him. Although this film is rated PG, parents need to be mindful of the content of this movie as there are quite a few scary scenes in the movie that may leave younger children, a little frightened at best and with that said, it is recommended for children of 10 and up.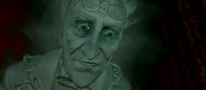 Apart from the wondrous 3D computer graphics, the actors in the movie really get into their roles well and Carey is perfect as Scrooge, without any over the top moments. Oldman is great at Scrooge's accountant, Bob Cratchit and also his ghostly business partner Marley and even Tiny Tim, Bob's son. The movie was perfectly voiced and cast. Other actors include Colin Firth who plays Scrooge's nephew, including some great spot performances by Robin Wright Penn, Cary Elwes and my favourite, Bob Hoskins.
At the end of the day, A Christmas Carol is an entertaining movie that is a great interpretation of this classic story. The movie is well paced and really uses the 3D technology quite well that will allow most viewers to be easily drawn into this visually impressive and entertaining movie about Ebeneezer Scrooge. My only complaint is that there were a few moments in the movie that seemed to drag on a little but fortunately it found its pace again.
Definitely an IMAX treat for everyone!
Visit IMAX Melbourne (Click here)
Visit IMAX Sydney (Click here)