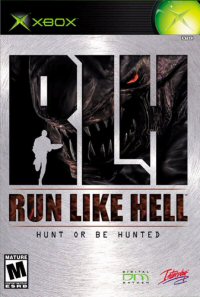 Run Like Hell Screenshots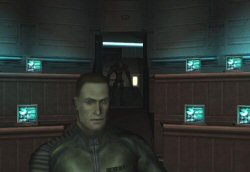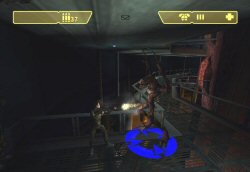 The Final Say!
Gameplay
7.1
Graphics
8
Sound
6
Value
6
Run Like Hell
Reviewed By: Tory Favro
Review Date: August 2004
Review Score: 7.2
Distributed By:
Red Ant
It's always a tough one when you have been waiting for a title as long as I have for this one. I remember seeing early screens and movies of RLH some time ago and salivating over the thought of eventually playing the game. How did it all pan out? Read on friends as we take a look at the game that has finally come to XBox after being on PS2 for some time.
Created by Digital Mayhem, RLH follows lines not entirely unlike the storyline of the Alien movies, in fact the lead character is voiced by Lance Henriksen (star of cult TV show Millenium, and also of Alien and Aliens III) not to mention that there are a swag of other known and respected actors providing voice support for the title. It seems that despite all this and the lengthy development time, DM have not come up with quite the blockbuster that I was looking for, even after the gap between PS2 and XBox releases.
It's still a good game, but in good faith I do feel the need to outline the pros and cons of it all. And hey, that's my job anyway, to convey my opinion of the title. The storyline is fairly basic, you are situated on a space station in the middle of nowhere. Called the Forseti Station, you are Nick Connor (Henriksen), a pilot who is sent out on salvage and repair missions. Your girlfriend is also living on the station and everything seems to be looking up for you. That is until you return from a routine mission to find that no one seems to be responding to your craft's landing requests and moments after landing, your curvaceous co-pilot's head is bitten off and spat at you by a hulking space menace. And yes you do get to see it all in gory 3D!
From that point in the game you essentially wander around the ruins of the station with set objectives, sure, but essentially just shooting anything that moves with your trusty, almost never missing rifle that locks onto targets, yes folks it's that simple. Kill an alien and the targeting system will simply lock onto the next, making an effective killing machine out you that can take on the hordes. Ah, yes the hordes... where the hell are they?
Enemies drop at a controlled rate that I found never really challenged the player at all. You find health ALL over the place and can quickly utilise it with a quick press of a button whenever you like. There is never a real occasion when you will feel overwhelmed by the odds. The trick to the whole game is to keep moving and hold down targeting button and you will be just fine.
Graphically RLH is a pretty decent title, and there are genuine improvements over the PS2 version. Textures and animations are nice and there is a fair deal of credibility to the playing environment. As the aliens ravage their way through the station, it does take on the appearance of a place under siege. My only real complaint is that once the aliens do take over the base, it is