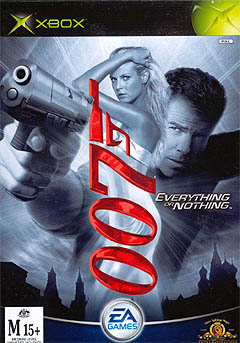 James Bond 007: Everything or Nothing Screenshots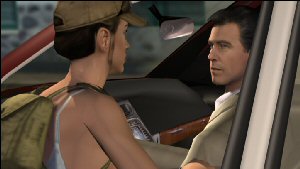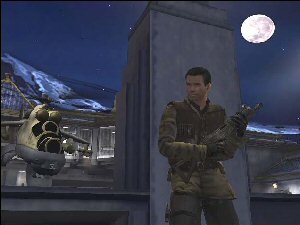 The Final Say!
Gameplay
8.9
Graphics
9.1
Sound
8.8
Value
8.9
James Bond 007: Everything or Nothing
- reviewed by Tory Favro
Review Date: March 2003
Review Score: 8.9/10
Distributed By: Electronic Arts
The music starts and immediately you are hooked: guns, money, weapons and hot chicks have been a formula for Bond for so many years now and it still proves a winner every time, even with female consumers. James Bond, the world's greatest secret agent is here is electronic glory for Electronic Arts in this very successful title based on a story designed specifically for the game.
This is not a two bit affair ladies and gentlemen and all the big guns have been pulled out in order to make this game worthy of being added to the Bond storyline with voice actors being pulled directly from Hollywood with Pierce Brosnan voicing Bond and a bevy of other name actors doing an excellent job on bringing this great game to life.
Other actors bringing their characters to life are Judi Dench as M, John Cleese as Q, Shannon Elizabeth and Heidi Klum as Bond girls, and Willem Dafoe as Nicolai Diavolo, our main bad guy for this particular tale. You can tell from this effort alone that this Bond game is going to be something special and the whole game is a standout stellar effort.
The first thing that you will notice is that this game is in the third person and the level of detail that assaults you in amazing, making this quite possibly the best looking Bond game to date as well. All the gadgets are here again happily supplied by Q, however gone are some of the really corny soundbites that took a lot of the seriousness out of the previous titles and affected the way in which you took the game. There was nothing worse than getting right into what you would take to be a serious game and a serious situation and then an inappropriate comment would wreck it all for you. Well folks, that doesn't happen here.
What does happen is an amazing adventure that will take you all over the world and traveling by more than one mean of transportation such as tanks, cars, bikes, and helicopters. The level of realism carries through to each vehicle with each having a certain feel to the way that they handle.