WD TV Live Hub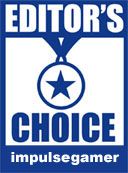 Combining the best of both worlds, Western Digital combines a network media player and a media server into one handy little box. With a TB of hard drive space, the WD TV Live Hub boasts some unparalleled quality that includes FULL HD, ensuring that your media quality is up there with the best. Imagine Blu-ray quality with your media files... this is what the WD TV Live Hub does.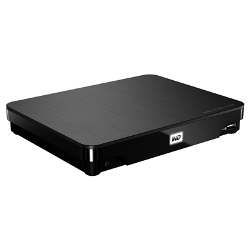 Features
File Formats Supported
Video - AVI (Xvid, AVC, MPEG1/2/4), MPG/MPEG, VOB, MKV (h.264, x.264, AVC, MPEG1/2/4, VC-1), TS/TP/M2T (MPEG1/2/4, AVC, VC-1), MP4/MOV (MPEG4, h.264), M2TS, WMV9
Photo - JPEG, GIF, TIF/TIFF, BMP, PNG
Audio - MP3, WAV/PCM/LPCM, WMA, AAC, FLAC, MKA, AIF/AIFF, OGG, Dolby Digital, DTS
Playlist - PLS, M3U, WPL
Subtitle - SRT, ASS, SSA, SUB, SMI
Note
- MPEG2 MP@HL up to 1920x1080p24, 1920x1080i30 or 1280x720p60 resolution.
- MPEG4.2 ASP@L5 up to 1280x720p30 resolution and no support for global motion compensation.
- WMV9/VC-1 MP@HL up to 1280x720p60 or 1920x1080p24 resolution. VC-1 AP@L3 up to 1920x1080i30, 1920x1080p24 or 1280x720p60 resolution.
- H.264 BP@L3 up to 720x480p30 or 720x576p25 resolution.
- H.264 MP@L4.1 and HP@4.1 up to 1920x1080p24, 1920x1080i30, or 1280x720p60 resolution.
- An audio receiver is required for multi-channel surround sound digital output.
- Compressed RGB JPEG formats only and progressive JPEG up to 2048x2048.
- Single layer TIFF files only.
- Uncompressed BMP only.
- For details, please refer to the user manual.
File Formats Not Supported
Does not support protected premium content such as movies or music from the iTunes Store, Cinema Now, Movielink, Amazon Unbox, and Vongo
Physical Specifications
Interface
Gigabit Ethernet, USB 2.0, HDMI, Composite A/V, Component video, Optical audio
Physical Dimensions
English
Height
1.25 Inches
Depth
7.80 Inches
Metric
Height
31.75 mm
Depth
198 mm
As used for storage capacity, one megabyte (MB) = one million bytes, one gigabyte (GB) = one billion bytes, and one terabyte (TB) = one trillion bytes. Total accessible capacity varies depending on operating environment. As used for buffer or cache, one megabyte (MB) = 1,048,576 bytes. As used for transfer rate or interface, megabyte per second (MB/s) = one million bytes per second, megabit per second (Mb/s) = one million bits per second, and gigabit per second (Gb/s) = one billion bits per second
Yes my friends, the WD TV Live Hub Media Player has all the bells and whistles and them some. Using the Sigma 86xx chipset, the unit can easily be configured to connect to your home network via a wired or wireless connection with standard connection features of your TV
Add in the ability to access internet services such as Netflix, YouTube and other internet necessities (yes, FaceBook is included) and this is the perfect device for those that wish to share and view their media files from the comfort of your lounge room... more particularly, their FULL HD TV.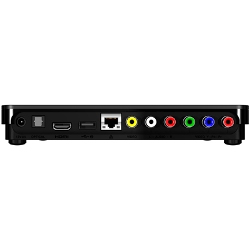 In relation to the interface, it has been well designed and keeps things to a minimum without ignoring any features. With some customisation options and the ability to create favourites and queues, one thing that did stand out for me was the search feature that is quite comprehensive because not only does it look for local searches on the hub but also looks through your network devices. When you do find the file you are looking for, the WD TV Live Hub has a nifty autoplay feature that displays the image, album cover or even the movie which starts playing in a window. Very cool!

Selecting the menus is quite easy as is the remote control. The remote control is a well designed unit that doesn't feel as cheap as some other Media Server controls. If you have used something like TiVo, the WD TV Live Hub is considerably easier to use and should you get stuck, there is a help feature built-in. The video and audio quality of the WD TV Live Hub is almost as good as Blu-ray, however this feature is of course dependent on your media files and your home entertainment setup.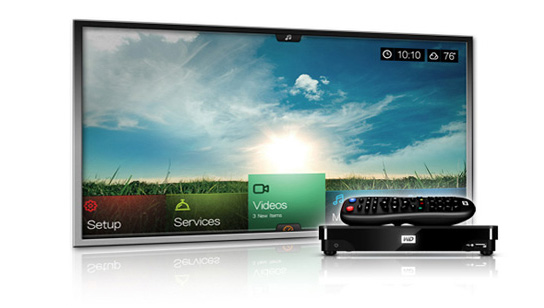 Depending on your TV setup, the device supports resolution from 720p to 1080p plus the ability to connect component, composite, Ethernet, HDMI or Wireless settings from your TV to PC.

Copying files to the WD TV Live Hub is simplicity at its best and all you need to do is select your file and then drag it to the drive via your network. Another really cool aspect is that you can even control the hub from smart devices such as your iPhone or iPad. Aside from movies and photos, the hub can be loaded with a healthy dose of music as well that once again surrounded phenomenal through our surround sound setup.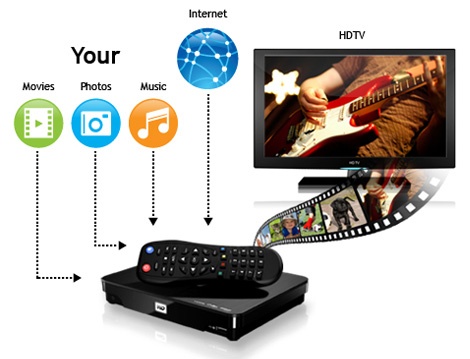 In conclusion, if you are looking for one device that acts as a network media player and a network media server, than the WD TV Live Hub is your one stop shop. Boasting easy access, a great interface and both amazing video and audio quality, the WD TV Live Hub is a device that can be used by everyone and whether you're a FaceBook fan or a YouTube fan, than this is the device to maximise your home entertainment experience... I still can't get over the FaceBook side of it!