Targus Topload Simone Laptop Tote
(Model #TLT06401AU)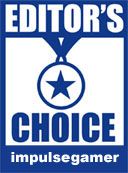 The Topload Simone Laptop Tote is one of the latest women's collection laptop "bags" from Targus which is definitely for the fashion conscious user. Made from Croc Imitation Leather & durable Twill Poly, this tote would not look out of place in a fashion parade with its sleek red design. It should also be noted that the bag was been designed by women for women. Whether it's work, travel or leisure, the Topload Simone Laptop Tote is perfect for all!
Best of all, the Topload Simone Laptop Tote from Targus fits up to 15.4" notebooks and also has a variety of storage options, ensuring that you can carry on all your personal items plus your notebook. For those that don't know that a "tote" is, it's basically a bag that has been inspired by the traditional rectangular shopping bags with an open top and two strap handles.
Features
Removable padded sleeve fits up to a 15.4" widescreen laptop

$5 from the sale of this case is donated by Targus to The National Breast Cancer Foundation

Removable clear pouch to store your cosmetics/laptop accessories

Metal feet and easy to clean base

Fun, red and white polka-dot lining with blue piping

Use this lightweight & stylish tote as your handbag, laptop bag or both

Main compartment comes with separate file section for better organisation

Flat shoulder traps for comfortable carrying

Keep your personal items separate and in easy reach with this spacious zip down compartment

Quick access front and rear pockets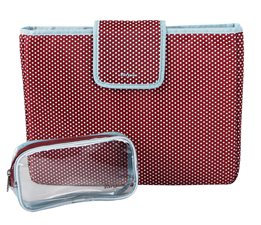 Our first impression of the Simone Laptop Tote was the weight of the bag which was quite lightweight and comes in at an easy 1.42kg. The various storage spaces on the tote was quite impressive and it even comes with a removable cosmetics pouch so you can definitely throw your handbag away. Inside the bag, it contains red and white polka dot lining and blue piping, how's that for fashion?
Storing your mobile phone, business cards and the like, this bag also contains an accessible internal zipper pocket for money or credit cards. We tested this bag with a variety of Laptops that include a Mac, LG PC and a HP PC, all under 15.4" which were easily installed into the bag. Best of all, the bag contains padded protection for bumps and knocks. The shoulder strap for the bag is also quite sturdy and was quite comfortable on the shoulder.
Colour: Red

Device Compatibility: 36.4 x 4 x 28 cm

Exterior Dimensions: 41 x 17.2 x 33 cm

Material: Croc Imitation Leather & durable Twill Poly

Warranty: Limited Lifetime

Weight: 1.42 kg
In conclusion, the Targus Topload Simone Laptop Tote is the perfect carry option for those wanting to transport their laptop without the need of carrying another handbag. Targus will also donate $5 of the sale to the National Breast Cancer Foundation (Pink Ribbon) which makes this an even worthier purchase. Relatively lightweight, a synthetic crocodile skin design with sporty red, your laptop bag just became a fashion statement. Lastly, the bag comes with Targus' lifetime warranty, highly recommended!