TomTom Go 950
The TomTom Go 950 is here and if you're looking for a fully functional GPS with all the latest features, than this model may be for you. Priced between $549 to $649AUD (August 2010), the TomTom Go 950 not only supports maps in Australia but also New Zealand, Europe, USA and the Canada, making it the perfect travel accessory. To be more specific, it supports maps of 49 countries!
Technical Features
Battery
Battery Life
Up to 3 hours autonomous operation
Connectivity
Live services connectivity
Yes
Bluetooth® for hands-free calling
Yes
GPS
Highly sensitive GPS chipset
Yes
Memory
Internal memory
4GB internal flash memory
SD Slot
microSD card socket compatible with microSD cards
Screen
screen size
4.3" (11 cm)
screen type
16:9 LCD widescreen
Screen resolution
480 x 272 pixels
Dimensions
Size
127 x 85 x 23 mm
Weight
224 grams
The design of the TomTom Go 950 is relatively quite light and contains a great windshield mount, although it only fell off once during our testing but bare in mind that this was a review unit and may have lost a little of its suction. The unit comes with an 11cm screen with a resolution of 480x262 that boasts clear images and text that can be read at a glance. The bottom of the unit contains a docking port, micro SD card slot with the top of the unit containing the on and off button. There is also a large speaker on the back of the unit which can be quite loud and a microphone and light sensor on the front of the unit. Overall, it's a well designed GPS.
Contents
Go 950 satnav device

Active Dock

Car Charger

USB connect cable for charging and computer connection

Documentation
The device also comes with a car kit charger and compared to some other GPS units, the battery life is relatively quite long for a satnav system (3 hours of ongoing use). In terms of GPS reception, the TomTom Go 950 had a great reception and we had no issues with poor reception while using this device. As mentioned, the screen supports a resolution of 480x272 with an 11cm touch screen which supported a good resolution but in terms of navigating the unit, we found it a little clunky to use and its responsiveness wasn't the best.
We did find the onscreen QWERTY keyboard quite well designed and large which is ideal for those who may have some vision impairment. Boot-up time of the device took about one minute to successfully turn on. When turning the unit on for the first time, you need to select which side of the road you drive on, which country you are on and of course what voice you would like to listen to plus a few other tweaks. There is even a brief demo of the demo for first time users which is recommended to those who have never used one of these before.
The menu of TomTom Go 950 contained the following;
To navigate to a destination, simply push Navigate To and type in the City, Suburb, Street and number. The TomTom Go 950 will then do the rest. We did attempt to visit a country town called Bannockburn, however were unable to find the street but when we asked the unit to take us to Bannockburn, it actually took us to the correct street. More impressively, it found an alternative route that was considerably faster and with less traffic. Apart from that, we had no issues in navigating around Melbourne or the Bellarine Peninsula in Victoria Australia.
For safety, the unit comes with an anti-glare screen, hands free for mobile phones (provided they have Bluetooth), Help Me feature such as hospitals or roadside assistance and notifications of fixed speed cameras and red light cameras. Add in advanced lane guidance and voice control and your driving experience should be quite flawless with this device. Lastly, it does support IQ Routes technology that links various information from other users to highlight issues on the road such as traffic jams or even crowds. Perfect for Christmas shopping!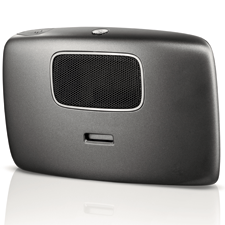 Compared to some other TomTom units, some users may be a little upset to discover that it does not contain an FM transmitter nor an MP3 player but nonetheless, it is still a fully functional and powerful satnav system. It detected all fixed speed and red light cameras in our area, detected tolls, calculated alternative routes and featured some great map correction. This unit contains a variety of voices, although no Yoda nor Darth Vader (additional downloads required). All kidding aside, another great aspect of the Go 950 is the RDS-TMC Traffic tool which alerts the driver to real-time traffic jams and accidents.
The voice commands on the Go 950 works well and is definitely a must have recommended feature for driving. We only had a few issues using the voice commands on the Go 950 but considering for what it's worth, it done a good job. The unit will display the vehicle speed on the unit (thanks to GPS) and the maximum speed limit in the current street you are driving. If you do miss a street or become distracted, the unit will calculate an alternative route to fix your error and is relatively quite fast.
In conclusion, the TomTom Go 950 is a sturdy satnav system that we would recommend to most users who require the features of this device on a permanent basis. Best of all, it's ideal for people travelling overseas and it comes with great support from TomTom. It may not have an FM transmitter nor MP3 playback but most people already have a phone that supports these systems or addons, including Bluetooth.
Definitely one to investigate if you're in the market for a new satnav system, especially for those travellers!