eVGA GeForce 6800 GT
(256MB GDDR3 AGP 8X)
Oh the joy of upgrading your computer. Now this is an actual review of the eVGA GeForce 6800 GT 256 mb card. But it is also giving some hints in tips of how to upgrade by telling you my journey to eventual upgrading of my system. The tale is not for the faint of heart, but it may well arm you and prepare you for your own journey down the upgrade path.

The newer games coming out for the PC are getting more and more power hungry. Let's face it, if you want some of those more immersive worlds there has got to be some changes. I am here to tell you, the older cards like the Ge-force MX cards are just not the way to go. Oh sure, they are nice and cheap and do the job…but what are you going to do when Half Life 2 comes out? Play it only at a friend's house? No... It is time to upgrade.

Now here is the fun part and rather than give you a blow by blow play of what I went through, I will make it simple.

First you will have to figure out what video card you want. Then you're going to have to see what its power supply requirements are. Surprise, for those who may not know. Some of the mid to higher end cards hook up to your power supply and if you have a tiny power supply like I originally had …a 160 watt power supply…you will need to upgrade the power supply. But wait it may not be that simple. Some mother boards can only handle a certain amount of power…who knew? I didn't. So now you have to find out either by your computers documents or the mother board manufacturer what the highest powered power supply is that you can slap in your system. After upgrading the power supply as needed, you are now ready to choose a video card. My choice was the eVGA eForce 6800 GT 256 mb card.

The 6800 came with detailed information on how to install the card and the drivers. It was surprisingly painless and within 15 minutes I was up and running with my new video card. The card itself from eVGA comes bundled with Far Cry. Very sweet, since both Far Cry and Doom 3 look and run silky smooth on this card.

The card I got is an AGP card and is compliant with AGP 2.0 or above slots, now as I stated earlier the card is also equipped with a supplemental power adapter. This is to make sure the card gets a strong power signal and will function at its best potentials. Other cards in the series that require a supplemental power source are the FX 5200 Ultra, the FX 5600 Ultra, FX 5700 Ultra, FX 5900 SE and the 5900 Ultra. It's not just limited to these cards there may be others, this is just the short list.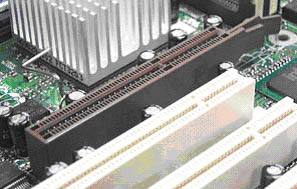 eVGA does it right when it comes to installing its drivers. Most of it is pretty automated and holds no nasty surprises. There system is called ADM ™ or Automated Driver Management. After installing the card and rebooting the system see's that there is new hardware and in most cases prompt for a new driver search. In my case it did not, I placed the driver disk in the drive and made my choice to install the drivers. In some cases a user may be prompted to reboot several times during the whole process. I lucked out and only had one reboot.

The eVGA Ge force 6800 comes with a lot of really cool features, first off the card allows for a multi display. Yes, you can set the card up so that it will run two monitors at once, or even using the computer monitor as well as a Television set. Why would you want to you may ask? Well, I for one have seen this used in a business environment. In my case in the alarm industry. Using this ability in the windows environment you can spread out multiple windows between the two monitors and it brings whole new meanings to multi tasking. This feature called duel view works across most operating systems except for Windows 95 or Windows NT. In this mode you can also have two different resolutions between the two monitors, color depth and even refresh rates.

Horizontal and vertical span modes, again this is a feature used more for two displays, most standard users would not use duel monitors I would think. But in this mode the desk tops area is spread out across both displays and the mode can be set for either horizontal or vertical orientation.

There is Clone Mode also, this feature uses two monitors as well, and causes the two monitors to display identical images. Again this may be geared more for the business world for use in presentations perhaps.

Video Mirror works with nView to allow a video or DVD application to mirror its playback in full screen on any of the connected display devices.

The soft ware also comes with Nvidia's nView desk top manager and really makes things simple and direct when dealing with the cards features. Changing resolutions and color depth is a real snap. Access to the controls is accomplished by the icon in the system tray or even preprogrammed Hot Keys and you can changed certain viewing modes and setup profiles and preferences per user. There is a maximum of 32 separate profiles that can be made.

Enhanced application support for such windows applications as Internet Explorer include being able to view search engines sites or opening a secondary browser on a separate display all without loosing the master search window. There are also some really cool Zoom and transparency tools as well, for those that like to do some photo editing; these abilities alone are well worth it. Making very detailed changes to a photo has never been easier.

Now the fact that so much can go wrong with installing a video card weighed very heavily on my mind, thankfully everything went smooth. When running into problems it may well be traced back to the mother board and BIOS settings. Don't get me started, for me even thinking about doing a tweak on the BIOS is cause for cold sweats. The thought that there is no industry standardization for BIOS settings is almost maddening. Each one is written specifically for the model of the motherboard in question. What does this say? Keep hold of your systems manuals at all costs folks because some where down the line you may well need them.

Now for the cards main purpose. Well the main purpose in my mind anyway…gaming. Now the eVGA Geforce 6800 GT looks to me to be a very good deal, while its size is rather large, it is still a bit smaller than some of the ULTRA cards such as the GeForce 6800 Ultra. The card has its own on board cooling fan which tells you right off the bat that it's a hot running card, and the size itself may be a problem for those that do not have the PCI slot next the AGP slot open. Because of the cards size it may well extend a bit over to the neighboring PCI slot, so makes sure you don't have anything next door to the AGP slot.

Games such as Doom 3 and Far Cry, Rome Total War, Silent Hunter III, and Brother In Arms Road to Hill 30, and so far...SWAT 4, all run very well with all the bells and whistles set to the highest settings in those games. I was more than a little impressed with Doom 3's performance. There was not even the slightest pause in graphics even when things got very busy during combat. While Far Cry had to be taken down a few notches in graphics due to some black patches that seemed to crop up on some of the terrain. But even with some of Far Cry's settings being on medium the play was smooth and looked very impressive. The only game that I did have a few pauses on with everything set to the highest graphics settings was Call of Duty causing me to have to back down on the graphics ever so slightly. While Medal Of Honor Pacific Assault ran at the highest settings and looked incredible while running very smooth with out any problems at all.

Now the final couple of notes on the card. You may want to shop around for a good price for the eVGA GeForce 6800 GT 256 MB card. It can be a bit pricey for the standard gamer. My card was a whopping 425.00 dollars in U.S. I will say in my humble opinion the card is well worth it if cutting edge gaming and graphics are what your craving for.

Full specs
Port(s) Total (Free) / Connector Type:Port(s) Total (Free) / Connector Type Port(s) Total (Free) / Connector Type 1 15 pin HD D-Sub (HD-15), 1 29 pin combined DVI, 1
Expansion / Port(s) Required
Slot(s) Required 1 AGP
Port(s) / Connector(s) Required 1
Software / System Requirements
Min operating system Microsoft Windows 98, Microsoft Windows XP, Microsoft Windows 2000, Microsoft Windows NT 4.0, Microsoft Windows Millennium Edition
Software type bundled: Far Cry

API Supported
Direct 3D , OpenGL
RAMDAC Clock Speed:
400
Multiple Display Support:
Yes
Dual VGA Support:
Yes
Video Input:
No
Available Connectors:
DB15&DVI and S-Video
2D/3D Graphics Support:
Yes
Vendor:
NVIDIA chipset card by eVGA Visit eVGA.com for more information.
Video Memory Installed:
256MB 256-bit 2ns DDR3
Compliant Standards:
Plug-N-Play
Interface Type:
AGP
Supported O/S:
Win9X Windows 2000 Windows XP
System Requirements:
AGP 3.0 Compliant and a 350 watt power supply or higher.

Based on the NV40 GPU, this graphics card features 256MB DDR memory on a 256-bit DDR memory interface, 350/1000 MHz core/memory clock speeds, 32GB/s memory bandwidth, 16 parallel rendering pipelines, and dual integrated display controllers. Comes with 15-pin VGA, S-video or composite, and DVI connectors. DirectX 9 API and pixel shader 3.0 technology support.

Have fun, play games

Edwin Millheim
Impulsegamer U.S.A