What started as a love affair soon turned into a horribly divorce and this was just after a week! Welcome to my Telstra T-Box review! Contractor beware!
The T-Box from Telstra is not just a HD digital set-top box with PVR capabilities but it also offers a lot more from a slick interface to YouTube connectivity. On paper it successfully links the user to free to air TV, 11 BigPond TV channels, BigPond Movies, Internet Applications (e.g. YouTube) and even Foxtel (not available in all areas). It's Telstra answer to TiVo!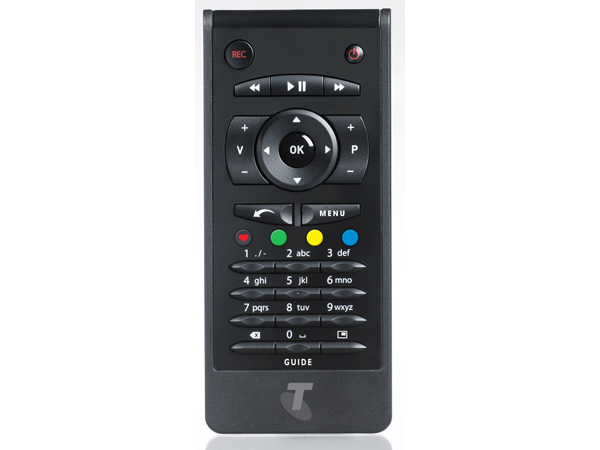 Upon signing our 24-month contract, we were given the opportunity of either a T-Hub or a T-Box. We chose the T-Box.
Design and build. When we received the T-Box, we were surprised at how small the device was. It measured at 58 x 205 x 210mm and is extremely light that would not look out of place in any home with its jet black colouring. It is however a little cheap looking.
The T-Box contains everything you need to get your device connected to the internet and free to air TV. It should also be noted that the product requires BigPond internet for full features. Without it, you can just only watch free to air TV and that's it. All the connections of the T-Box are on the back such as HDMI, Ethernet and SP/DIF optical. It even supports USB for transferring files via its proprietary format.
Setup
Installation of the T-Box was a breeze. Just plug the power, antenna and HDMI cable into the unit and then power up the T-Box. Once you pair the remote control with the T-Box, you then begin the basic setup of the unit such as TV format (e.g. widescreen), parental controls, WiFi setup and then channel scan. Although the unit does support Ethernet (10/100MBps), we chose to use the T-Box wirelessly via the 802.11b/g/n protocol.
The only annoying aspect of the T-Box installation is that you need to register the unit via the web at www.telstra.com/tboxsetup and enter your unique T-Box code. Another frustrating aspect of the installation is how in your face Foxtel is. I think I recall at least two screens during the online activation of the T-Box that tries to get the user to join Foxtel. Not cool Telstra.
If you used a device like TiVo before, navigating the T-Box menu is quite a flawless experience. What I did like about the T-Box was that you can set reminders for TV shows to watch. This brings up a reminder box to inform the viewer that their show is about to start. Recording TV shows is easy as a one-button click and you can record "season passes" and add additional times to the recordings in case it is running late.
Opposed to just free to air TV, there are a handful of BigPond TV Channels that must be accessed through your internet connection. These include channels like music, news and sports. BigPond Movies is also integrated into the T-Box which allows you to download the latest release movies direct to your unit. As mentioned you can link the T-Box to Foxtel for a "price", however you cannot record Foxtel... what the? In relation to BigPond movies, this is directly linked to your Telstra account but fortunately you have a PIN which will prevent your family from going crazy.
There are a handful of BigPond TV channels like music and sport which adds to the amount of "free" channels available to the user. As mentioned, Foxtel is quite integrated into the T-Box system and when you're accessing the TV guide menu on the unit, it displays all the Foxtel channels for the user. Even though they are greyed out, its another attempt at Telstra to get the user to join with this subtle method of window shopping. On a perfect T-Box, these would be removed. However strange aspect of the device and unlike the TiVo, the T-Box will only allow you to record one station at a time. It does have a 7-day EPG.
The Problems
Unfortunately things started going wrong with the T-Box in the first few days. The first issue was the remote control that stopped working... or was this the T-Box? No matter what button I pushed on the remote control, the T-Box did not respond. The T-Box light flashed on the front of the device but that's as far as it went. In order to solve this problem, I needed to unplug the device from the wall and plug it back in. Unfortunately there is no power button on the T-Box. Then as the days went on, I lost ALL sound on the T-Box. The solution was to unplug the device and then reconnect it. Finally, the T-Box would just power down (it does have a sleep mode) and then not power up.
Fortunately Telstra sent me a replacement unit and a pre-paid satchel to send the faulty T-Box back to them. Then something unusual happened. I received another T-Box, however the model I received looked like a refurbished model. I went through all the setup procedures again and before long, I was experiencing all the same three problems again. Solution... contacted Telstra and another T-Box was sent out. The third and final T-Box arrived and it looked like another refurbished model. Unlike all the problems on the first two T-Boxes, this time the device would not get past the setup, even after several resets.
While I discussed the issues with my T-Box with the second support person from Telstra, I specifically asked not to be sent a refurbished model, however he could not guarantee this and said this would be dependent on the warehouse. I asked him what will happen if I have problems on the third unit. The support person informed me that I could send back the unit and my bill would be reduced by $11 per month. That was a good solution and I asked him to case note this into my Telstra file. Unfortunately the third time I contacted Telstra, they could not find my original reference number nor the case note. I was informed by the third support person that if I returned the T-Box, I would be liable to pay out the contract.
Not so fast, I mentioned I would be onto Consumer Affairs and the Telecommunication Ombudsman in no-time. After a discussion with their supervisor, they honoured the second support person and noted that once the second and third faulty T-Boxes were returned, my monthly bill would be $11 less per month for another 22 months. I could live with that as I was getting super fast ADSL2 speeds, free line rental and free local calls plus a few additional extras.
Final Thoughts?
Wow... where do I start? It's been a roller coaster ride with Telstra and when I first received unit, I did notice how cheap it looked but was willing to give it a go. Just over a month, I tried to get my T-Box working but had no luck whatsoever. The majority of people apparently have no issues whatsoever, however if you look on forums.whirlpool.net.au and go to the T-Box forums, you will see other people having similar issues with the device. The forums have lots more issues with the T-Box that include BigPond Movies and Foxtel issues... thankfully, I did not commit.
Honestly though, how I can score this device as I've had three faulty units? If it worked and done what it should, I would have scored it a 7 out of 10, however three T-Boxes later? Sorry Telstra but three strikes gives the T-Box a 3/10 and that's being generous!
Make mine TiVo any day or even an ALDI or Kogan unit!