TARGUS USB 2.0 MOBILE DOCKING STATION (PA075F)
When computer users think of Targus, they immediately associate the company with quality laptop products and once again they deliver a product of exceptional quality with the USB 2.0 Mobile Docking Station (PA075F) For those that are unfamiliar with product, the mobile docking station replaces large desktop docking stations that is not only lightweight but also relatively small in size.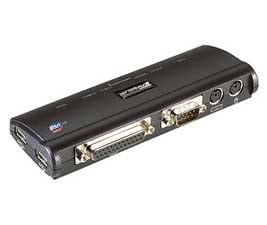 The product was tested on our LG-LS50 laptop and when the product was detected by the operating system, it was flawlessly installed without any kafuffles. Although the product has been designed for USB 2.0, it is also backward compatible and supports USB 1.1 port that is probably a sigh of relief to older laptop users.
With that said, many new laps are missing certain ports such as parallel, serial and even PS/2 ports that forces many users to either update their equipment or sigh in frustration. The Mobile Docking Station resolves this issue as contains the following features;
1 parallel port

1 serial port

2 USB ports

2 PS/2 ports
Once the Mobile Docking Station was installed, the Laptop that was never designed to have these features miraculously had access to them via the USB port. We tested the parallel port with our old HP laser printer that worked flawlessly and even connected an old keyboard and mouse to the unit.
The unit itself measures at 14.6 x 5.7 x 1.7 cm and comes with a limited 2 year warranty and weights only 390 grams which is ideal for portability. It should also be noted that this device is not only designed for laptops but can also be used on desktop computers but the only downside to the product that we have seen is that it must have Windows 2000 or Windows XP to run the device.
In conclusion, the Targus USB 2.0 Mobile Docking Station (PA075F) is a brilliant device that I would recommend to all laptop and desktop users who need a parallel, serial or PS/2 ports on their computer. With simple installation and backwards compatibility on older products, this is one device that will not only save you time and money but also a lot of frustration. Check it out!