Targus Platinum Roller Notebook Case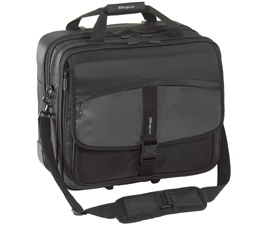 Introducing the Platinum Roller Notebook Case from Targus which is the perfect accessory for those on the go with a relatively compact design and a plethora of storage options with a modern yet chic design. The design of the Platinum Roller Notebook Case is predominately black but with grey accents and is made from Poly/nylon twill for added durability and protection. Weighing in at a comfortable 3.92kg, it is rather lightweight but does come with handle an inline skate wheels for pulling the item behind you as you walk.
Technical Specifications
Colour
Black with Grey Accents
Device Compatibility
41.9 x 32 x 5.5 cm
Exterior Dimensions
45.7 x 38.1 x 22.9 cm
Material
Poly/nylon twill
Warranty
Limited Lifetime
Weight
3.92 kg
The unit supports notebooks of up to 17" but also contains a variety of compartments from mobile phones, PDA's, pens, books and the likes, making this perfect for the business traveler as the item also contains a back compartment that would allow you to store clothes and other accessories. It's like having two cases in one and when the weight does start becoming an issue, a telescopic trolley handle can be withdrawn from the unit to easily allow you to drag the unit.
There is a comfortable shoulder strap and handles when weight is not an issue. The wheels on the Platinum are concealed at the bottom of the case and are quite sturdy which can be pulled along a variety of different surfaces. As the unit is relatively small, it can easily fit into an overhead compartment in a plane. The front pocket allows for easy access to a variety of small items such as pens and a removable phone compartment. Needless to say, Targus have created a well thought out design for the business traveler in an all inclusive case.
The unit however has been specifically designed for notebooks and we can happily report that the protection given to your laptop is quite impressive and will protect your investment from a variety of knocks and bumps. In conclusion, this device is the perfect accessory for those who need to cart a considerably amount of items, without it becoming too much of a burden.
Features
Capacity: Padded notebook section fits notebooks with 17" widescreens
Organisation: Front pocket workstation includes key clip, pen/pencil holder, business/I.D. card holder, removable mobile phone compartment and a front file folder for additional documents while the interior work station includes a removable accessories pouch, self-closing MP3/PDA compartment and a large mesh zippered pouch
2-in-1 Case: Back compartment fits a set of clothes for your overnight travels
Transportation: Includes padded shoulder strap, telescoping trolley handle, inline skate wheels, fits airline standards as a carry on luggage. Meets most airline carry-on standards – please verify airline specific compliance before travel.