Targus Universal 70 Watt AC/DC Power Adapter
(Model #APM10AU)
Replacing notebook power supplies is sometimes an expensive process as it the purchase of an air/auto power supply for your laptop. However for those users who need a new power supply for their notebooks or for users planning to travel, Targus have available a Universal adapter series called the Universal 70 Watt AC/DC Power Adapter that gives the user a variety of ways to power their notebooks.
Features
Power on the go, anywhere: Works at home, office, car, boat, or aeroplane

Lightweight design: At just 213g, this adaptor is lightweight, compact and ideal for travel

Compatible with other mobile devices: With the optional Targus Accessory Powering System and device tips, you can power your mobile phone or PDA as well as your notebook
Still a little unsure? Basically the Universal 70 Watt AC/DC Power Adapter allows you to plug your laptop into a car cigarette lighter, an aero plane power seat system or into the mains to give your notebook the electricity needed to run the unit. Best of all, the device is 98% compatible with popular 70W notebooks and covers a whopping 6,300 models.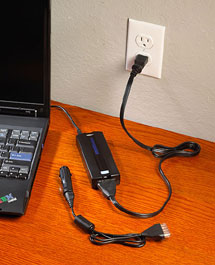 Although the back of the packet gives the user a comprehensive list of more popular notebooks, if you are still unsure as to whether this device will power your laptop, you can call Targus on 1800 641 645 (Australia) for assistance.
The device is also quite lightweight which weighs at 213grams and is only 13.7 x 5.5 x 2.2 centimeters which is exceptionally small. We tested the unit with our Mac Powerbook G4 and also a HP laptop that we had to contact Targus as to whether the device supported this laptop (which it did) and it worked quite well.
Fortunately we had a conference in Sydney, so what better place to test the laptop than on the way to the airport which simply plugged into the cigarette lighter providing much needed power to our unit, rather than wasting battery power. Then on our flight to Sydney, it simple connected into the inflight power seat system and presto, the unit was successfully powered.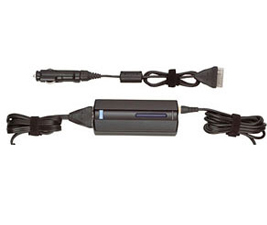 Technical Specifications
Compatibility: Airline Compatibility Chart Always call your airline to confirm inflight power seat system and Targus auto/air compatibility

Varied models of Acer, Apple, Compaq/HP, Dell, Fujitsu, IBM, Panasonic, Sony and Toshiba

Other: Includes9 tips 91cm AC input cord 91cm DC input cord 1.82m DC output cord User guide

Size: 13.7 x 5.5 x 2.2 cm

Technical: 100-230 VAC 11.75-16.00 VDC

Warranty: Limited Two Year Warranty

Weight: 213g
In conclusion, the Targus Universal 70 Watt AC/DC Power Adapter is a must have device for those notebook users who travel or even for users that need a second power supply for their PC. The unit is relatively quite small and does not weigh much which is perfect for users on the go.