Targus 100W Auto Power Inverter - Cupholder Style
Designed for the mobile professional and recreational user, Targus have released another one of their innovative products called the Targus 100W Auto Power Inverter – Cupholder Style that gives the user access to not only a 240V AC socket but also a USB port and a Targus PPS Port.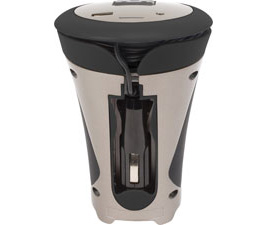 Features
Simultaneously charge 3 devices: Use standard cigarette lighter to power and charge your notebook, PDA, CD/DVD player, mobile phone, MP3 player/iPod®, digital camera, portable printer, work light & other devices

Battery management system:Built-in surge protector and auto shutoff features prevent damage or draining of battery

Multiple power options: Provides one standard grounded AC outlet, USB power outlet and Targus power port for use with the Targus Digital Device Adaptor (APP20AP - sold separately)

Safety feature: Built-in over-current, over-temperature and surge protection. Electrically isolates the 12V DC separating it from the 240V AC to prevent power surges or electrical malfunctions. Will prevent power from feeding back into the cigarette lighter which can potentially cause harm. Complies with the SAA outlet requirements.

Portable: Convenient size to fit neatly in the cup holder of your car
Although its appearance is like a coffee cup from Gloria Jean, the unit is quite powerful in the aspect that it gives the user access to the above functionality at various mobile locations, be it a car or even a boat. The design of the Targus 100W Auto Power Inverter is to mimic a cup which can then be used to sit comfortably in any standard cup holder.
Installation? What installation, the Targus 100W Auto Power Inverter simply plugs into a a cigarette lighter port which then allows the device to be used by a variety of devices such as a laptop, games console, MP3 player or by using the Targus PPS Port, it can be used with the Targus Auto/Dual Digital Device Power Adapter for additional functionality. Virtually anything with a power cord can be used on this powerful item from Targus.
The device itself boasts 100W of continuous and up to 150W of peak power plus it features Targus' fail safe technology that includes an over current, over-temperature and surge protection features. This will ensure that your items are protected from the device should something occur to the unit which will prevent the surge from ruining your items or the device from over heating.
In conclusion, this device can be used by a variety of people, whether or not you have technological devices such as laptops or PDAs because the unit is also suited for recreational people that want their portable freezer powered by the device or if they wish to charge their digital camera. The possibilities are endless and this is one device that we could happily recommend to all.
Technical Specifications
Ouput Power Ports1 Grounded AC outlet; 1 USB power outlet; 1 Targus Power Port (made for use with Targus APP20AP – sold separately)

Output Power100 Watts- Continuous, 150 Watts – Peak (modified sine wave)

Input Power11.5 – 15.9 Volt DC

Warranty - Limited One Year