FINIS SWIMP3 V2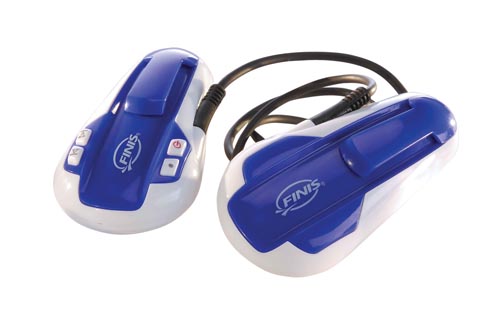 The SwiMP3 (Version 2.0) is one of the most unusual MP3 players available on the market which has been exclusively designed for swimmers that allows you to listen to music while you're swimming or even snorkeling. The best part of this process is that all you need to do is attach your SwiMP3 to your existing goggles and presto, you'll be listening to your favourite songs while in the water.
The design of the SwiMP3 is quite streamlined and does fit naturally on your face with a modern and stylish design. The control scheme on the SwiMP3 is perfect and it contains four buttons on the right disc which allows you to navigate through your songs, increase the volume and power the unit. It does take a little time in getting use to the process but after a few laps, you should have no problems whatsoever. There is also a pause button and a shuffle button if you feel like some random music.
So how does the sound work underwater? The sound of the SwiMP3 works by placing two discs against your cheekbones and uses patented bone conduction technology to produce the "sound" which is relayed through the bones to your inner ear. Needless to say, it is a strange experience but it actually works in producing high-fidelity sound. The studies on bone conduction technology have proved that this is a safe technology and like all headphones, incorrect use may cause damage.
The audio quality of the SwiMP3 is quite impressive considering its using bone-conduction audio technology which is exceptionally clear underwater. It also muffles the sound of you swimming and I must admit that it is quite groovy, even though you might get a few strange looks from people in the pool. It also takes some fiddling in getting the right volume level because it can be quite loud via the bone-conduction audio technology.
Installing music onto the device is quite simple and it comes with a USB cable (also used to charge the device) and software to transfer your tunes to the unit. Even or the computer novice, it will be a painless experience. The battery life of the unit did vary but we managed to get between 8 - 10 hours of battery life, depending on usage and the music files.
With that said, it is quite acceptable and probably ample for all swimmers.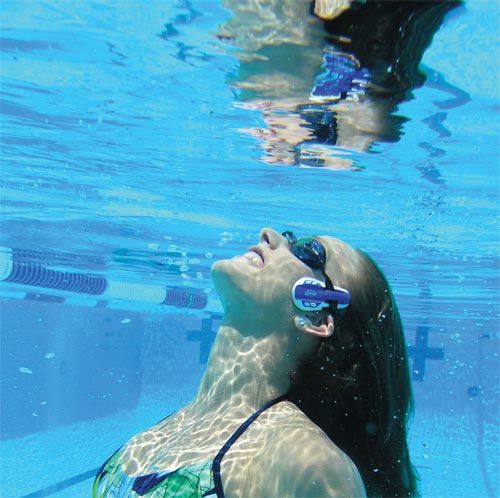 In conclusion, the SwiMP3 is a great little MP3 player that has been created for a niche market and the only cons of the unit is the price and the limited amount of storage space. However it does support both MP3 and WMA formats, has decent battery life, stores around 60 songs, contains an easy installation process and one device that we could happily recommend for those swimmers who perform monotonous laps over and over again as this may be the device to give your training some excitement.
Quite a clever device!

SwiMP3 v.2™ Specs
Specific Features
• Transmits high-fidelity sound utilizing Bone Conduction Technology
• Sleek design has MP3 control panel built into side paddle
• Includes, Volume, Shuffle, and Resume controls
• Plays both MP3 and WMA files with 256MB of memory
• 8 hour rechargeable battery
• Holds approximately 60 songs
U.S.A. Patented and International Patent Pending
General SwiMP3 System Requirements
• Windows 98SE, 2000, ME, XP, VISTA, Mac OS 9, OS X
• Intel Pentium II 233 Mhz or equivalent
• 256 MB Ram
• 35 MB available hard drive space
• USB port
• CD-ROM drive
• Internet connection recommended