OLYMPUS SP-500 UZ REVIEW
Before I start this review, I must admit that I am a procrastinator when it comes to purchasing new technology and before buying my last camera, it look me almost 6-months of thoroughly researching the internet and various photography magazines before I bought my Olympus C770 digital camera. I've owned the camera for almost 2 years and I must admit that it was probably the best damn camera on the market when I purchased it.
To my joy, Olympus sent impulsegamer the SP-500UZ which is considered the successor to my camera and not only does it feature the same highlights of the previous model (10-optical, easy-to-use and 21 scene selections) but now the camera supports a whopping 6.0 megapixels (effective) at an affordable price of $599AUD.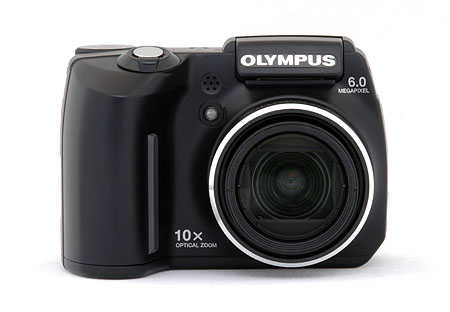 Model
SP-500 ULTRA ZOOM
Type
Digital camera with 6.4cm/2.5" colour TFT LCD monitor.
Image sensor
Image sensor
1/2.5'' CCD with 6.37 million pixels.
Effective pixel number
6.0 million pixels (the actual number of pixels used in image processing).
Filter array
Primary colour filter (RGB).
Media
Storage media type
10 MB internal memory for image data. Removable xD-Picture Card (16, 32, 64, 128, 256, 512MB and 1GB).
Lens
Optical zoom
10x.
Structure
11 lenses in 7 groups, including 2 double-sided aspherical lens elements.
Filter diameter
45.6mm ( Use CLA-4 to attach conversion lenses).
Focal length
6.3 – 63mm (equivalent to 38 – 380mm lens in 35mm format).
Maximum aperture
1:2.8 (wide) – 3.7 (tele).
Digital zoom
1x – 5x.
Viewfinder
Electronic Viewfinder with 201,600 pixels.
LCD monitor
6.4cm/2.5'' colour TFT LCD monitor with 115,000 pixels.
Focusing
System
TTL autofocus with contrast detection.
Function
AF illuminato.
Mode
Auto
Spot, iESP autofocus, Predictive AF, AF area is selectable from 143 points.
Manual
Yes, with enlarged focusing area.
Working range
Standard mode
0,6m (wide) / 2m (tele)-infinity.
Macro mode
Up to 7 cm (wide) / 120cm (tele).
Super Macro mode
From as close as 3cm (wide).
Light metering
Mode
Digital ESP metering, spot metering, centre weighted metering.
Function
Histogram in shooting and playback mode, AE lock.
Exposure
Exposure control
Programme AE.
Auto, Programme, Aperture Priority, Shutter Priority, Manual Exposure.
21 Scene modes (Portrait, Landscape, Landscape and Portrait, Night Scene, Night & Portrait, Sports, Indoor, Candle, Self Portrait, Available Light Portrait, Sunset, Fireworks, Museum, Cuisine, Behind Glass, Documents, Auction, Beach, Snow, Shot & Select 1, Shot & Select 2).
4 settings storable ("My Mode").
Shutter speed
15 – 1/1000 sec. (with Bulb mode up to 8 min.)
Compensation
±2 EV in 1/3 EV steps.
Auto bracketing
Up to 5 frames in 1/3 EV steps.
Sensitivity
Auto
ISO automatically adjusted.
Manual
ISO 80 / 100 / 200 / 400.
White balance
Mode
Auto
Full-auto TTL ESP.
WB adjustment
(red ) -7 – (blue ) +7.
Pre-set
Overcast, Sunlight, Evening Sun, Tungsten, Fluorescent1, Fluorescent2, Fluorescent3.
Full manual
One-touch.
Flash
Pop-up flash
Modes
Auto (automatic activation in low and backlight), red-eye reduction,
fill-in (forced activation), fill-in & red-eye reduction, off (no flash).
Working range
0.3m – 4.5m (wide) or 1.2m- 3.4m (tele).
Guide number
Approx. 9.
Function
Flash compensation (±2 EV).
Salve function for studio flash available.
Sequence shooting
2.5 shots per second up to 3 images ( High speed mode).
Interval shooting
2-99 frames with interval between the shots from 1 to 60 min.
Processing
Image processing
TruePic TURBO, Pixel mapping, Noise reduction.
Image quality Adjustment
Brightness ± 5.
Saturation ± 5.
Contrast ± 5.
Function shooting
Panorama function ( only with optional Olympus xD-picture Card).
Movie processing
Digital image stabilizer.
Viewing
Still image
Slide-show with several effects, Calendar, Album, Demo Mode.
Motion picture
Fast forward, Frame by Frame.
Editing
Still image edit
RAW Data Edit, Red-eye fix, Re-size, Rotation, Trimming, Sepia mode, Black & White mode, Frame insert, Title insert, Calendar insert, Layout composition.
Motion picture edit
Index, Edit.
Recording system
Still image
JPEG (DCF: "Design rule for Camera File system"),RAW, Exif 2.2 support, DPS and Print Image Matching III support, DPOF support.
Motion picture
QuickTime Motion JPEG®* with Sound.
Movie sound / voice recording
WAVE format.
Number of storable frames (approx., with internal memory)
2,816 x 2,112
RAW: 1
SHQ: 2
HQ: 7
2,816 x 1,877 ( 3:2 )
SHQ: 2
HQ: 8
2,592 x 1,944
SQ1 high: 2
normal: 8
2,288 x 1,712
SQ1 high: 3
normal: 10
2,048 x 1,536
SQ1 high: 4
normal: 13
1,600 x 1,200
SQ1 high: 7
normal: 21
1,280 x 960
SQ2 high: 11
normal: 32
1,024 x 768
SQ2 high: 17
normal: 50
640 x 480
SQ2 high: 43
normal: 103
Motion picture mode
Up to the capacity of the xD-Picture Card. With internal memory: QVGA (320 x 240 pixels), at 30 frames/sec.: 15 sec. QVGA (320 x 240 pixels), at 15 frames/sec.: 31 sec.
Power supply
Rechargeable batteries
4 x AA Ni-MH rechargeable batteries,
One time use batteries
4 x AA alkaline batteries.
AC adapter
Optional AC adapter C-8AC;
AC 100V-240V, 50-60Hz; DC 6.5V and 2A.
Interface
DC input terminal,
USB Auto Connect interface combined with audio/video output terminal (PAL).
Other features
DPOF setting
Single-frame print reservation, all print reservation, number of prints, date display.
Direct printing (DPS)
PictBridge and PictBridge EasyPrint support allows direct printing with compatible printers.
Multilingual menu
English / French / German / Spanish / Italian / Russian. Additional languages can be downloaded through OLYMPUS Master software.
Guide function
Displays help text for several functions.
Setting memorisation
Yes.
Date/time/calendar system
Up to year 2099.
Size
Dimensions
105.5 x 74.5 x 71.0 mm (W x H x D).
Weight
285 g (without batteries and memory card).
Box contents
Strap, USB cable, audio/video cable, 4x AA batteries, OLYMPUS Master 1.31.
Box Contents & Warranty
The Olympus SP-500 UltraZoom comes with everything you need to start taking photos that includes the camera, neck strap, 4 alkaline batteries, USB cable, audio/video cable, instruction manual, warranty card and a software CD-ROM.
Probably the three main differences between the SP-500UZ and the C770UZ is that the SP-500 now comes with 6 megapixels, alkaline batteries and 10meg internal memory as compared to 4 megapixels, Lithium Ion Battery and a 128MB external XD memory card.
I must admit that I was a little bemused to the change from lithium ion batteries to AA batteries but I'm guessing that this is a move to suit the current climate of digital cameras (pushed by Kodak and Fuji) to use standard AA batteries which makes it easy to replace in those times of need.
Installation
The installation of the SP-500 was simplicity at its best and all we had to do was install the batteries into the camera itself and turn it on. Although it comes with an internal 10MB of memory, we installed a 512MB XD memory card to take this camera through its steps. With that said, the 10MB of internal memory allows you to take around 10 photos on high quality (6 megapixel) and also one RAW format picture that could be used for high quality print media.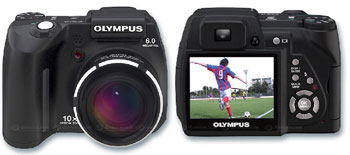 Design
The design and feel of the SP-500 is a huge improvement over its predecessors as the camera now comfortably fits in the users hand. The C770 was a little difficult to hold (although tiny) because it had no grip for the fingers, however this has all changed with the current model of the Ultra Zoom series as the SP-500 feels like a mini digital SLR. With that said, all the buttons and dials are located in ideal places and Olympus seem to have done their homework where everything should be located. The scene dial is located at the top of the camera with the zoom button also located at the top that allows for flawless zooming in and out.
Zoom zoom zoom!
The zoom mode of the SP-500UZ is phenomenal that boasts a full 10 optical that is equivalent to a 38-380mm non digital camera. Not only is the zoom flawless but the auto-focus of the camera is rather adept when it is fully zoomed. The only downside to this the SP-500UZ is that it does not contain any image stabilization (like the Panasonic or Minolta) but Olympus have addressed this issue by allowing the camera synchronises to 1/250th of a second which is rather fast.
As shooting in direct sunlight can be difficult, the SP500-UZ features an electronic viewfinder that is basically a mini LCD screen that is ideal for using outside and actually saves the battery life of the camera.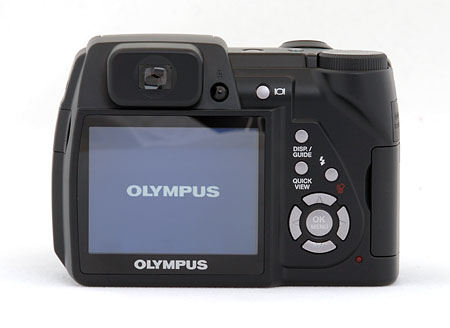 New Features
Olympus have also introduced a new feature to this series with a light portrait scene function that basically adjusts the lighting of the photo without the use of a flash. The SP500-UZ also supports a huge 2.5" LCD screen that is a nice change from the C770 1.8" LCD screen which means a bigger display on the back, so more detail and a lot more easier on the eyes.
Conclusion
In conclusion, SP500-UZ is the perfect camera for a whole variety of camera enthusiasts who wish high quality photos, extraordinary zoom and great value for money. Great stuff from Olympus!