PC gaming is all about the hardware and in order to get that edge on your competitors, Creative have just released the Sound Blaster Tactic3D Rage USB headset. Boasting superior quality, some great features targeting gamers and adjustable comfort, the Sound Blaster Tactic3D Rage has been made for gamers. It should also be known that a wireless version of this headset exists as well but Impulse Gamer just reviewed the cabled version which still rocked!
Technical Features

Description

Headphone
Driver Units:
50mm Neodymium magnet
Frequency Response:
20Hz ~ 20kHz
Impedance:
32ohms
Sensitivity:
102dB/mW
Microphone
Microphone Type:
Noise-canceling condenser
Frequency Response:
100Hz ~ 6.5kHz
Impedance:
<2.2kohms
Sensitivity:
-40dBV/Pa
Interface
Connector:
USB
The first thing that you notice about the Tactic3D Rage is its military inspired design. It actually feels quite rugged and supports a very unique illumination on the outside of the ear cups. This feature basically lights up the outside ear cups and supports 16 million colours to choose from. So whether you're at your friends or participating in a massive LAN competition, you'll definitely stand out from the crowd. This feature does require you to install the software however.
Installation
Installation of the Tactic3D Rage is quite simple. You simply connect it to your PC and Windows will automatically install the drivers. You do need to install the software if you want to take full control of the headset. Another interesting aspect of the headset is the high quality USB cable that is quite strong and durable. It's probably the most rugged cable I've seen. Volume control is also conveniently located on the left of the headset and the microphone can even be detached.
Audio quality is exceptional with the headset and supports 3D Surround Sound which can sometimes mean the difference between life and death on the Battlefield or when you are Called to Duty... sorry, bad puns! However to take things beyond the norm, you can even modify your voice thanks to the VoiceFX software included.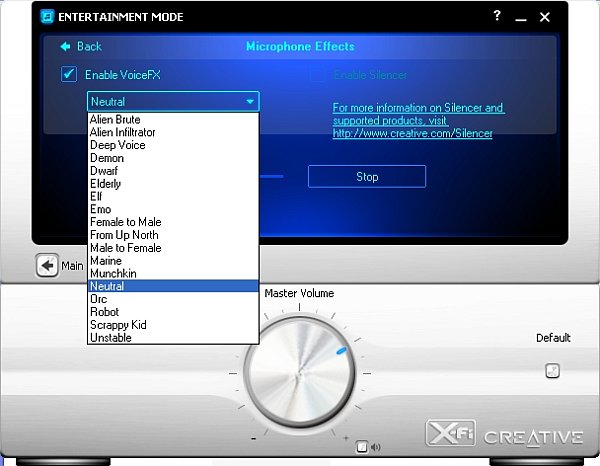 This allows you change your voice in real-time to become a crazy Orc or forceful battlefield commander. The reason why the audio quality is so decent is that Creative have used 50mm FullSpectrum Speakers which really creates some great levels, especially the bass which is ideal for first person shooters. Surround 3D sound is quite good too, especially when you hear the enemy in the background.
I tested this headset on a variety of games that include Battlefield, Call of Duty, Warcraft and Starcraft II. It is definitely more intense when playing games thanks to the audio quality of the speakers. My teammates got a real kick out of the VoiceFX software and I'm sure many people will now be investigating this headset due to this ability. Whether I was listening to music, watching a Blu-ray, the audio quality was quite exceptional.
In terms of comfort, the cushioned ear cups are quite comfortable, however after long and I do mean long bouts of online gaming, I did need to take off the headset for a break. The cushioning also serves a little to cancel the background sound. In terms of noise-cancellation, the microphone included does its best to reduce the sound of real-life when your out and about on the field of death. All in all, it's a a great headset for gaming.
Final Thoughts?
The Sound Blaster Tactic3D Rage USB Headset is a powerful artillery in your online gaming experience. Boasting some great audio quality and comfort, the only downside to the headset which is quite slight is that its weight does make it a little heavy during extremely long sessions.
But apart from that, it's affordably priced and sounds brilliant!