Welcome to the next generation of Sony Flash Memory Camcorders that not only allows you to record in pristine FULL HD but it also comes with a built-in projector which allows you to immediately watch your movies on the big screen. Add in 32GB of internal memory which is roughly 12 hours of HD footage, Dolby Digital 5.1 and 8.9 megapixel still images and the HDR-PJ430V is the perfect camcorder for holidays, events and other outings which require you to capture the moment. For us, it was as close to perfect as humanly possible!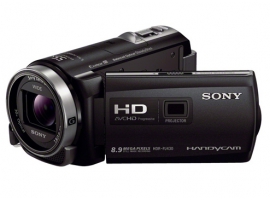 Highlights
Built-in Projector with Input Function (up to 100inch)

Balanced Optical SteadyShot

Exmor R™ CMOS Sensor

26.8mm Wide-angle Lens

55x Extended Zoom

32GB Internal Memory
The first thing that we noticed about the HDR-PJ430V was the size of the camcorder and it was quite light, weighing in at just 340 grams. Considering the features, the HDR-PJ430V is very compact and more importantly feels just right in terms of handling. Sony have also ensured that accessing the various facets of the camcorder can easily be done with the user being able to record or take photos immediately.
With that said, the HDR-PJ430V is a well designed camcorder that looks quite professional with its matte black finish and streamlined design. The LCD of the camcorder uses a 3.0" Clear Photo LCD Plus™ display (230K dots/Wide 16:9) which displays the video and menu well, even in bright conditions. It's also a touch screen display!
Specifications
HD Video Codec

AVCHD

format ver.2.0 compatible:MPEG4-AVC/H.264
| | |
| --- | --- |
| SD Video Codec | MPEG2-PS:MPEG-2 (Video) |
Media Storage Type
Internal Flash Memory,

Memory Stick PRO

Duo™ (Mark 2),Memory Stick PRO-HG Duo™, Memory Stick XC-HG Duo™, SD/SDHC/SDXC Memory Card(Class 4 or Higher)
Image Sensor

Exmor R"

CMOS Sensor
| | |
| --- | --- |
| Image Processor | BIONZ® image processor |
| | |
| --- | --- |
| Lens / Filter Diameter | Sony G Lens/ 46mm |
Optical / Digital Zoom

Optical Zoom:

30x, Extended Zoom: 55x, Digital Zoom: 350x
| | |
| --- | --- |
| Audio Format | Dolby® Digital 5.1ch, Dolby® Digital 5.1 Creator *9 , Dolby® Digital 2ch Stereo, Dolby® Digital Stereo Creator *9 , MPEG-4 AAC-LC 2ch *10 |
| | |
| --- | --- |
| Zoom Mic | Built-in Zoom Microphone |
| | |
| --- | --- |
| Maximum Still Image Resolution (Photo Mode) | 8.9 megapixels 16:9(3984x2240) |
| | |
| --- | --- |
| Image Stabilisation | Balanced Optical SteadyShot™ image stabilization w/ Active mode (Wide to Tele) |
LCD Screen Size & Type
3.0"

Clear Photo LCD

Plus™ display (230K dots/Wide 16:9)
| | |
| --- | --- |
| Smile Shutter | Dual Capture/Always On/Off |
Intelligent Auto

Portrait/Baby/Walk/Tripod/Backlight/Landscape/Spotlight/
Twilight/Macro/Low light/Auto wind noise reduction
| | |
| --- | --- |
| Backlight Compensation | Yes(Auto) |
HDMI

Terminal
Yes (HDMI micro) *20
| | |
| --- | --- |
| Active Interface Shoe | Yes(Multi Interface Shoe) |
| | |
| --- | --- |
| External Mic. Input | Yes (Stereo Minijack) |
| | |
| --- | --- |
| Dimensions (W x H x D) | Approx.61.5 x 66 x 121mm |
| | |
| --- | --- |
| Mass (w/o Tape, Battery, etc.) | Approx.340g |
Box Contents
| | |
| --- | --- |
| AC Adaptor | AC Adaptor (1) |
| | |
| --- | --- |
| Rechargeable Battery Pack | Rechargeable Battery Pack(NP-FV50) (1) |
HDMI

Mini Cable
HDMI(micro) Cable (1)
| | |
| --- | --- |
| USB Cable | USB Connection Support Cable (1) |
| | |
| --- | --- |
| Power Cord | Power Cord (1) |
| | |
| --- | --- |
| Application Software | "Operating Guide"(1) |
| | |
| --- | --- |
| Step Down Ring | Step Down Ring (1) |
Manual & Software
The HDR-PJ430V comes with a 72-page operating manual that gives you all the information you need to work the camera such as advanced operations, editing or saving images on an external media device. The only thing I didn't like about the camera and considering the price of it was the flimsy manual that was printed on recycled paper. But I'm being really picky here!
It also comes with a WiFi user guide and a cool pamphlet on all the accessories you can get plus warranty information. Although the camera does not come with any software, this is available via a link included with the camera. Sony do a good job to remind the user where the software, PlayMemories Home is available, with a sticker on the LCD screen and when the camera first boots up. We've used PlayMemories before and it's quite an easy to use software package that has more than enough features for the end-user.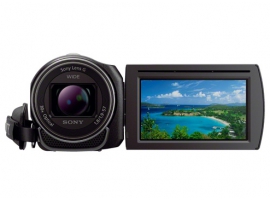 Camera Design
When you first turn the camera on, you need to select your language (e.g. English), time zone, summer time, date/time format and finally set the date/time. It will remind you again to visit the Sony site to download the software. The top of the camera has a multi-interface shoe, zoom functionality and a button for photos. On the front of the camera is the lens (obviously) and just under it is the built-in microphone which works brilliantly.
On the right of the camera, there is a compartment for DC In and Multi with the back of the camera having a start/stop button with a green LED to indicate power or charging. Also on the back is where the battery fits. On the left, you have the rotatable LCD screen and behind that are buttons for Power, Play and Projector. Next to these is another compartment for memory cards, HDMI, project in, external microphone and headphones. On the bottom, there is a place for the tripod. Finally to charge the camcorder, you simply connect the power cable into the A/C port and presto!
The LCD touch screen is easy to use and makes navigating the camera a breeze. Camera Menu includes Shooting Mode, Camera/Mic, Image Quality/Size, Playback Function, Edit/Copy and Setup. The LCD screen can be rotated and displays useful information like battery life, menu, W/T/Record, sound direction and shooting mode. It even comes with a little Sony commercial about the camera itself. That's kind of cool! In terms of booting up, the camcorder boots up immediately when the LCD screen is opened!

Video

The video quality of the HDR-PJ430V is impressive to say the least. The camcorder managed to capture video in a variety of conditions from low-light to bright conditions. Colours were vibrant and images were exceptionally smooth thanks to the image stabilisation of the camera.
The great aspect about the Balanced Optical SteadyShot technology by Sony is that it minimised the shaking and blurring. I was literally shocked at how smooth the video was, even when I was walking or running. It's not 100% but the technology has come tenfold since it was originally released. The focus of the HDR-PJ430V worked well, even when there was a considerable amount of people in the shot and the camera does support intelligent auto.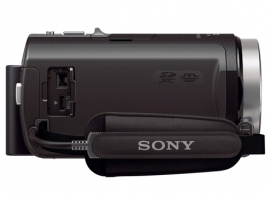 For those users wanting to capture a certain moment to analyse later down the track, the Golf Shot Mode and Smooth Slow Recording will assist. This is basically a slow-motion video recording option which allows you to capture fast video that has been considerably slowed down such as a golf swing or someone performing a dive.
Zoom
The zoom HDR-PJ430V capabilities of this camcorder is nothing to be scoffed and supports an optical zoom of 30x (without digital) which allows you to get extremely close to objects or people in the background. There is an extended zoom of 55x and finally a digital zoom of 350x.
While we're not a huge fan on digital zooms, this camcorder almost changed our minds. By taking this camcorder to a football match, you could easily zoom in onto the other side of the stadium. One thing that we did notice about the optical zoom is that the camera uses the image stabilisation well but when you switch to digital, things do become shaky. Needless to say, using the zoom function was quite smooth and responsive with limited interference while filming.

Photos

Boasting a 8.9 megapixel camera with a 26.8mm Wide-angle Lens, we were pleasantly surprised at the images this camcorder captured. Even though you cannot beat a standalone Digital SLR, the HDR-PJ430V comes close in terms of quality. The camera even has an in-built GPS to record the location of where your photos and videos were taken. Another cool function!

Projector

The highlight of the HDR-PJ430V is definitely the in-built projector which is a high contrast projector which allows the camera to project the video onto any blank surface such as a white wall. Simply just push the projector button, select either the camera or external device and you will see your movies come to life on the wall which harkens back to the old family projector or slide nights and is a really great way to get the family connected.
Well, almost... there is a projector focus slider on the top of the LCD screen and you use the zoom button to navigate and the photo button for ok. However once you have set it up and made the image clear, it's almost like watching a large LCD TV. Another impressive feature is that as the camcorder is HDMI compatible, you can watch movies from your laptop or other devices via the projector as well.

Audio

To capture the FULL HD videos, the HDR-PJ430V compliments the video with crystal clear Dolby Digital 5.1 Audio. By using Dolby Digital 5.1, this assists in capturing the moment of the video recording as it accurately records sound from a variety of sources and directions. Another interesting feature is the Zoom Mic which basically allows you to zoom in on the sound as you would with the video. Perfect for events such as weddings where you want to capture the sound you are filming, not the entire function room.
WiFi
The HDR-PJ430V supports WiFi but this is through an additional adapter called the Wireless Adapter (ADP-WL1M) which is sold separately. Hopefully in future editions of the camera, this will be an in-built feature.

Final Thoughts?
Okay... this camera is awesome! It's easy to use, has a great ergonomic grip and comes with a plethora of features from FULL HD video, Dolby Digital 5.1, a built-in projector, GPS and so much more. Whether you're an amateur or professional, the Sony HDR-PJ430V gives you all the tools needed to create professional videos without spending thousands.