Welcome to the world of extreme supports and do-it yourself YouTube celebrities that thanks to the GoPro HD Hero Camera has made publishing high quality videos a breeze. Especially action ones! Although the GoPro HD Hero Camera is not the only action cam available, Contour is another brand and Sony have also just released their own extreme sports camera.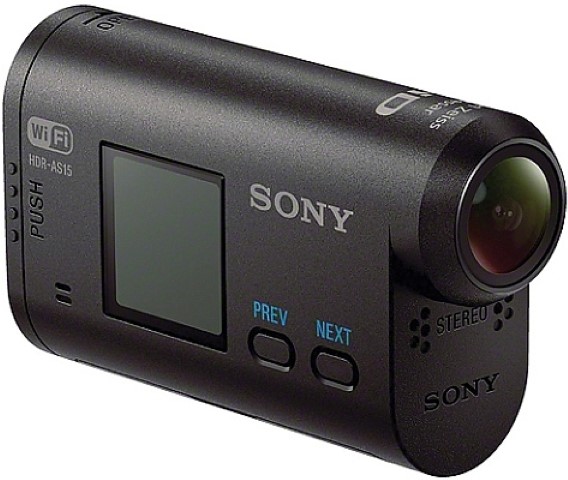 The camera in question is the Sony Action Cam (HRS-AS15) which is an ultra-compact, lightweight and point of view (POV) camera which allows you to capture FULL HD videos with just a touch of the button. Whether you're surfing, skating or riding, the Action Cam allows you to capture the moment in glorious Full HD from your very own POV. Or for us... our dog Ruby who is the star of this review!
The great aspect about this camera is the size that easily fits in your hand or attaches to a head mount (sold separately) to capture the action. The camera itself weighs in at just under 100grams making it the perfect accessory for those budding movie makers.
Sony have also included a waterproof case and a USB cable to connect it to your PC which is used for charging as well. Another selling feature of the camera is that it supports WiFi which not only allows you to transfer your videos but you can use your SmartPhone to control it.

Features
16MP Exmor 'R' CMOS Sensor

Full HD 1080 (30p) HD 720 (60p, 120p)

Steadyshot Image Stabilisation

Built-in WiFi

170 degree Wide Angle Carl Zeiss lens
Supplied Accessories
Rechargeable Battery Pack - NP-BX1

USB Cable - Micro USB Cable

Microphone - Built-in Microphone

Water Proof Housing - 197ft/60m
The design of the Action Cam is quite simplistic with a black rectangular body, an LCD on the side with two buttons, a rounded 170 degree Wide Angle Carl Zeiss lens on the front, sliding cover on the bottom for ports and a large red record button on the back which can be opened to store your memory card and battery. The Action Cam supports two memory cards that include either a microSD or a Memory Stick Micro.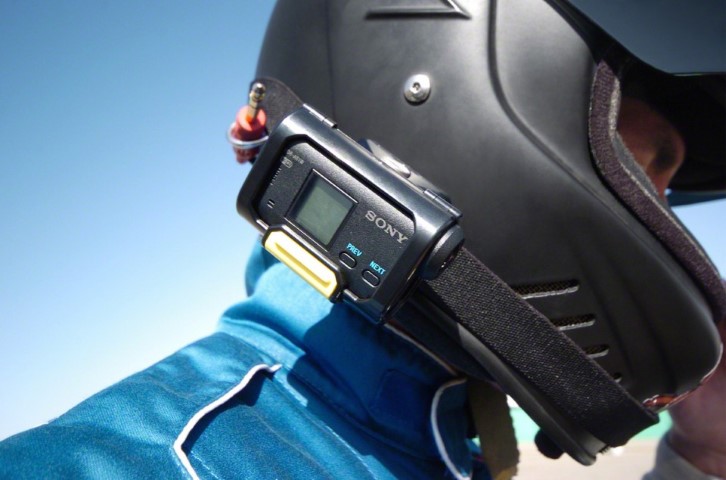 The sliding cover at the bottom of the unit is where the ports are located which allows for HDMI, USB, 3.55mm microphone input and an expansion connector. What I liked about the camera was the simplicity and by pushing the red record button, it immediately starts recording. Next to this button is a hold switch which prevents any accidentally filming.
In terms of design, the Action Cam is a well designed video camera, however the door at the back of the unit does feel a little flimsy. But apart from that, it's a well designed product for its size. The only other issue we had with the camera was condensation building up inside the water proof housing. However... an anti-fog sheet is available which is once again sold separately.

Specifications
HD Video Codec - MPEG4-AVC/H.264

Media Storage Type - Memory Stick Micro™ (Mark 2) Micro SD/SDHC Memory Card(Class 4 or Higher)

Image Sensor - 1/2.3 type(7.77mm) back-illuminated "Exmor R" CMOS Sensor

Image Processor - BIONZ® image processor

Lens / Filter Diameter - Carl Zeiss® Tessar® Lens

Audio Format - MPEG-4 AAC-LC 2ch

Maximum Still Image Resolution (Photo Mode) - 2.0 megapixels 16:9 (1920x1080)

Image Stabilisation - Electrical SteadyShot™ image stabilization w/ Active mode

Backlight Compensation - Yes(Auto)

BRAVIA Sync - Yes

HDMI Terminal - Yes(micro)

USB Terminal - micro-B/USB2.0 Hi-speed (mass-storage)

Dimensions (W x H x D) - Approx.24.5mm x 47.0mm x 82.0mm

Mass (w/o Tape, Battery, etc.) - 65g
Navigating the camera via the menu system is quite simplistic which allows you to tweak the settings and modify the resolution such as 1080 or 720p . The video quality of the camera is quite impressive and thanks to the Electrical SteadyShot™ image stabilization of the Action Cam, it produces very smooth videos with minimal jitter.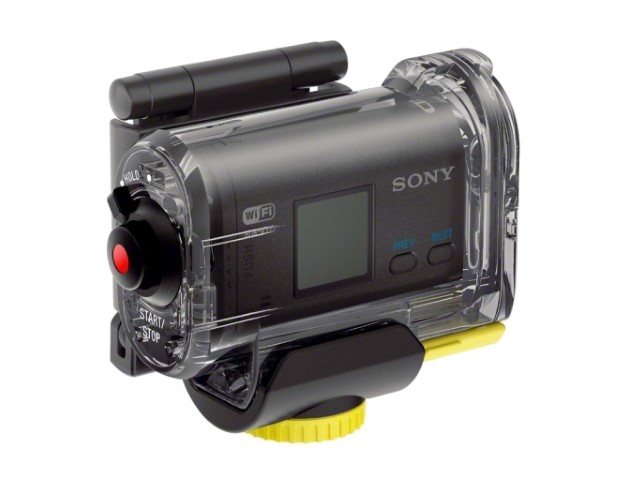 Another selling point of the camera is the ability of recording at 720p with 120 frames per second which creates some extremely smooth video. Audio is also quite clear but inside the housing, it does become muted.
Still shots using the Action Cam, although not as impressive as the video, produces medium quality photos. Given that, you cannot beat a standalone D-SLR or even an iPhone 5 for that matter. There is some noise but colours are crisp and images are relatively sharp.
Ruby Cam - Our Dog Ruby captured at 120 frames per second at 720p - The Camera was attached to her walk harness
As mentioned, Sony have made the camera very simple to use, especially connecting it to the waterproof casing. The case itself allows you to take the camera to a very impressive 60 metres underwater but make sure you have set the camera before you do this because once it is in the waterproof casing, you cannot access the buttons beside the record button. The product also comes with an accessory to attach the camera to helmets and skateboards. It is however not a mount.
Ruby Cam - Our Dog Ruby captured at 30 frames per second at 1080p - POV Dog Walking
Ruby the Dog captured drinking - 1080p
The most difficult aspect of the camera is actually setting it up for WiFi but if you read the instructions, you should have no problems at all. Once you have the app installed onto your SmartPhone, it allows you change the settings of the camera such as field of view (120 degrees to 170) or turn image stabilisation on or off. The PC software called PlayMemories works well, although the editing features are very limiting. We had to use another program to edit our videos unfortunately.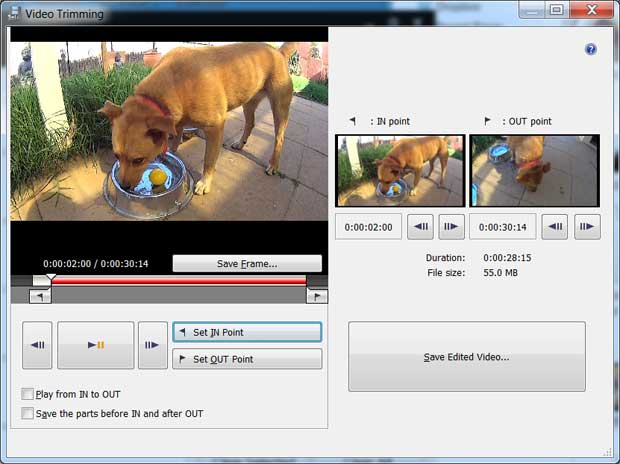 Sony Play Memories Software
Still shot from Camera
Final Thoughts?

The Sony Action Cam is relatively on par with the GoPro HD Hero 2 in terms of features and quality. What I did like about the Sony Action Cam is the weight, ease of setup and quality of the video. Although it has the ability to take stills, the majority of users would probably not use the 2-megapixel capacity.
I would have also like to see a rotating lens feature that the GoPro HD Hero 2 has which increases the video capabilities of the camera. Nonetheless, it's quite affordably priced, weather/waterproof and it produces some decent FULL HD videos.
Check it out!