Last year, Impulse Gamer reviewed the excellent Silencio 550 Chassis which was a case designed by Cooler Master to be as quiet as a mouse and best of all, it had some excellent cooling designs implemented into the case. The case was so silent that when our PC was turned on, the only way we could tell that it was powered was by the lights on the top of case.
The sound dampening of the case was due to the sound-absorbing foam in the case but the biggest issue with the Silencio 550 was that the case could not handle large graphic cards easily. This is not the case with the Silencio 650 which is a mid-tower sized case with a plethora of new features that makes this case perfect for gamers or computer enthusiasts.
In terms of looks, the case is quite streamlined with its jet black appearance with hidden compartments, great access inside the case but under its hood, there's a wide gamut of interesting features from additional fans, HDD switches and more importantly USB 3.0. Best of all, the case is quite affordably priced and reduces any stress when it comes to building a new PC.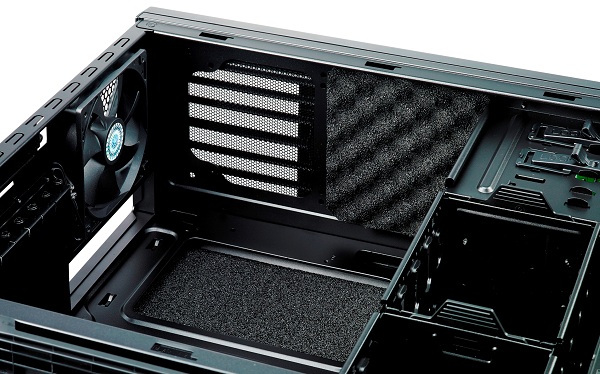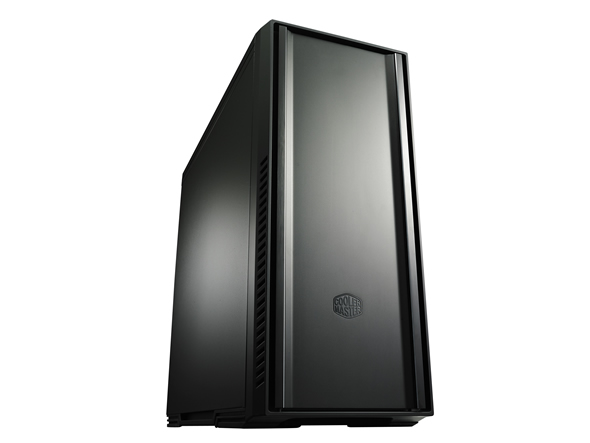 Features
Elegant and simple design
Diamond precision cut aluminium front panel
Sound-absorbing foam mat equipped interior
Fan controller to fine-tune airflow with noise ratio
DualBoot HDD Switch to conveniently switch between two operating systems (ex. Windows & Mac OS)
High performance I/O panel interface with two USB 3.0 super speed ports and a memory card reader
High-speed smart phone and tablet charging (~1A)
Sliding cover to seal the I/O panel and the top fan to reduce noise and keep dust out of the system and its ports
7+1 expansion slots for 3-Way SLI/CF
As mentioned, the first thing that you notice about the Silencio 650 is the design of the case that looks quite stylised and minimalistic in its appearance with the jet black colouring.
There are a variety of air events on the case to help with the airflow and the buttons on the case are located on the top which is covered by a sliding panel. Another highlight of the case are the two USB 3.0 ports, a fan controller and DualBoot HDD switch which allows users to easily boot between two hard drives. (See following screenshot)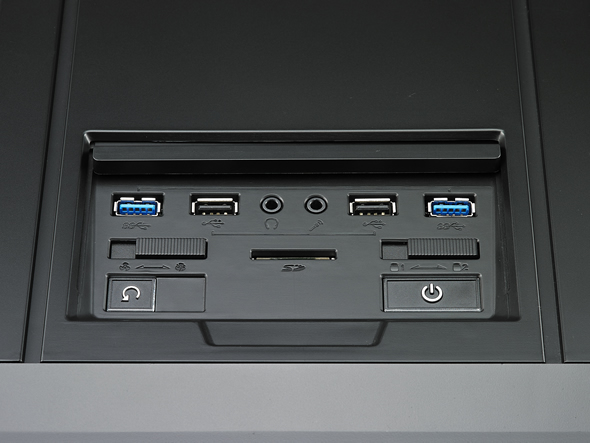 For those PC users that like to dabble (myself included), the DualBoot HDD switch is ideal for easily swapping between different operating systems (e.g. Windows 7 and Linux) and best of all, it's done via a switch.
The Silencio 650 even supports a fan control switch which allows users to easily switch between 700 RPM and 1200 RPM fan speeds which is ideal for gaming and your components need to be cooled. Functionality is the name and Cooler Master have once again succeeded in producing a user friendly case with all the features of a high-end case.

The airflow of the Silencio 650 supports up to 6 fans and takes cool airflow from the bottom and front of the case, with warm air being discharged from the back and top. Cooler Master also use high quality fans with low dBA so when the fans are spinning, they do not generate too much noise.
Specifications

Available Color
Full Midnight Black
Materials
Aluminum Alloy, Synthetics, Steel
Dimension (W / H / D)
207 x 479 x 525.6mm / 8.1 x 18.8 x 20.7 inch
Net Weight
13.0 kg / 28.6 lb
M/B Type
Micro-ATX, ATX
5.25" Drive Bays
3 (w/o the use of exposed 3.5" drive bay)
3.5" Drive Bays
7 (hidden) + 1 (for X-Dock bay)
2.5" Drive Bays
2 (hidden) +1 (for X-Dock bay)
I/O Panel
USB 3.0 x 2 (int.), USB 2.0 x 2, Mic x 1,
Audio x 1 (supports AC97/HD Audio), SD card reader x 1
Expansion Slots
7+1
Cooling System
Front: 120mm fan x 2, 1200 RPM, 17 dBA /
140mm fan x 1 (optional)
Top: 120mm or 140mm fan x 1 (optional)
Rear: 120mm fan x 1, 1200 RPM, 17 dBA
Bottom: 120mm fan x 1 (optional)
HDD cage: 120mm fan x 1 (optional, on removable HDD cage)
Power Supply Type
Standard ATX PS2 / EPS 12V
Maximum Compatibility
VGA card length : 268.0 mm / 10.5 inch (with HDD cage)
434.0 mm / 17.1 inch (without HDD cage)
CPU cooler height: 168.0 mm / 6.6 inch
Installation
We tested the Silencio 650 on a variety of computer components that included an ASUS F2 A85-M PRO Motherboard, Cooler Master GX 750W BRONZE, Cooler Master Gemin II M4 CPU Cooler, Kingston 16GB Memory, ASUS HD 7970 DirectCU II Top Graphics Card & Western Digital 1GB Hard Drive.
When it comes to installation, the first thing that you notice about the Silencio 650 is the weight of the case which weighs in at around 13kgs. It's not the lightest case on the market but it also supports a wide range of features that most cases do not have. You just need to be wary when you are moving the case around.
Opening the case was quite easy thanks to the switching hinges and best of all, there were no bruised knuckles at the end of the installation process. The most difficult aspect of the installation was attaching the Cooler Master Gemin II M4 CPU Cooler to the motherboard but due to the ease of access in the case, this did not cause any major problems.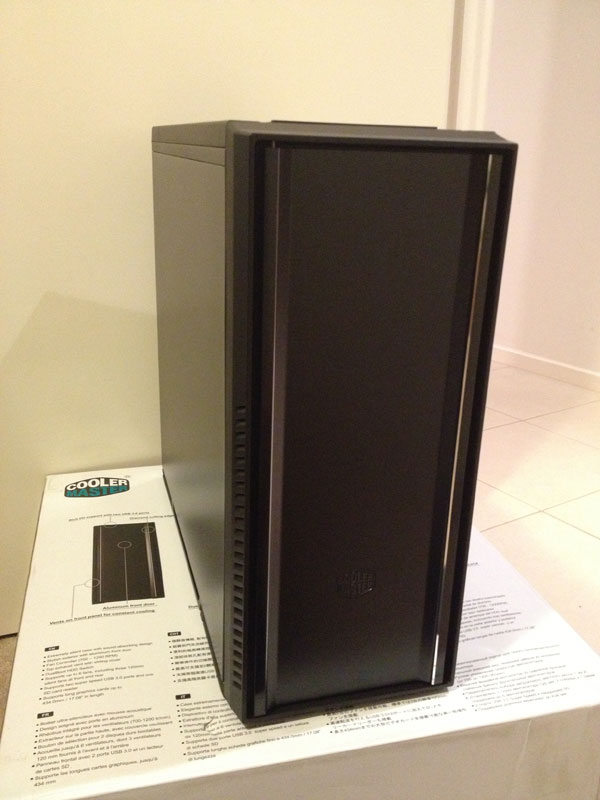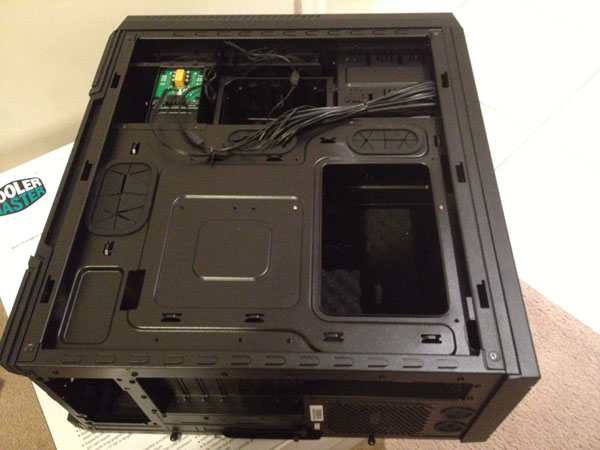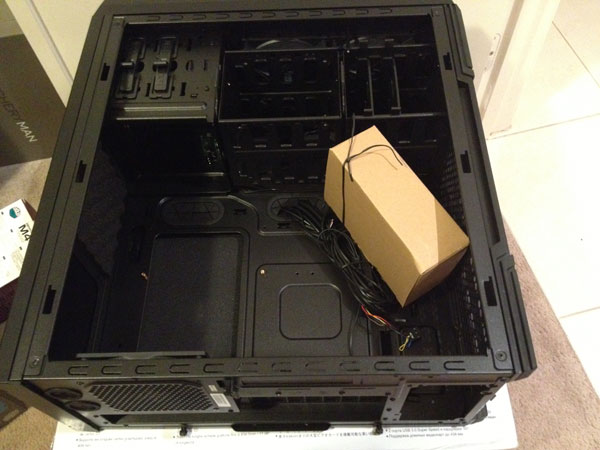 However once the case was open, I was surprised at how much manoeuvrability was inside the case, especially when it came to installing our ASUS HD 7970 DirectCU II Top Graphics Card which is LARGE and HEAVY.
Once the motherboard was securely screwed onto the bottom of the case, I then proceeded to install the RAM, CPU and the Cooler Master fan which was the most trickiest aspect of the installation.
Following this, I installed the connections from the case to the motherboard such as the reset switch, USB cables and power button. I then installed our power supply, graphics card and Western Digital hard drive into the Silencio 650.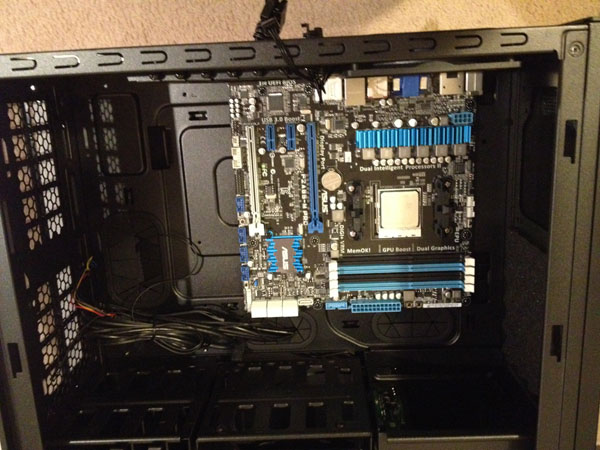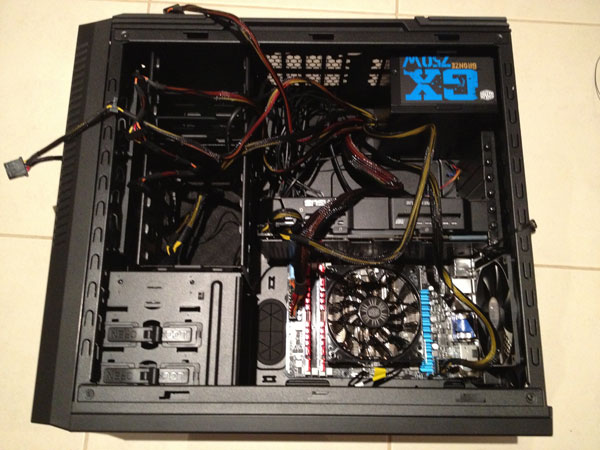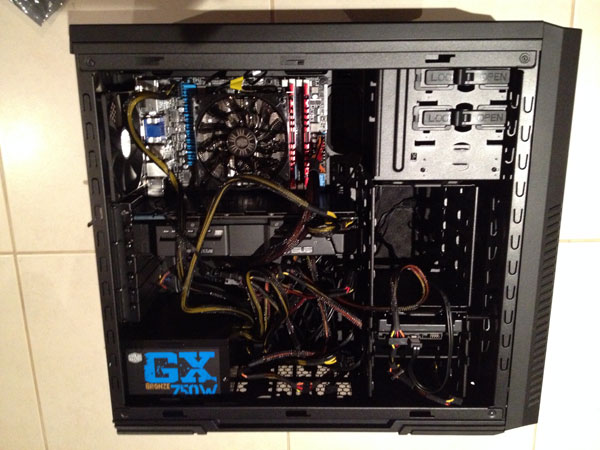 The entire installation process took around 30 minutes and Cooler Master even include cable ties to tidy up the case once the installation is completed. Best of all, if I want to upgrade or install new components into the case, there's quite a large amount of room inside the case for this to be done. The only thing that Cooler Master did not include is a screw driver but hey... this might be neat gimmick for future cases.

Final Thoughts
With the Silencio 650 supporting full-size ATX motherboards and large graphic cards, this is one case that can continually be opened without any stress when it comes to manoeuvrability. With USB 3.0 access right on top of the case and even an SD Card slot or you want to install two graphics cards into this case, it is all possible with the Silencio 650. In our opinion, this case would make the perfect gaming case or media centre.
Check it out!