Seagate Constellation Review
Seagate's latest "Constellation" hard drives have arrived in Australia that boasts a small 2.5" Tier 2/nearline drive with the lowest enterprise power usage. Coming in two distinct sizes that include 500GB and 160GB, these drives are an industry first in terms of size, operating power and speed. It should also be noted that Seagate offer two physical drive sizes that include a 2.5" Constellation and a 3.5" Constellation ES hard drive.
The best aspect of these drives is the inclusion of PowerChoice that decreases power consumption by up to 54% and considering that these drives have been designed to run 24x7, this is definitely a powerful selling point. This was backed up by our tests and even though the drive was connected to our server, the temperature of the unit was considerably quite lower than our other drives.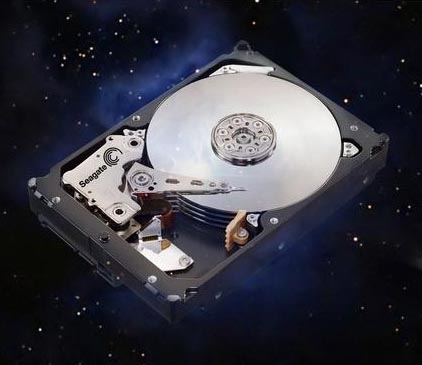 The New Seagate Constellation
Key features and benefits
Lowest operating power & enhanced power options with PowerChoice™ for even greater power savings during slow or idle periods

First 2.5", 15mm business critical drive on the market designed for enterprise reliability, vibration performance and high data integrity. Fits in more server & storage slots!

Fastest Tier 2/Nearline HDD on the market (SAS @ 6Gb/s speed). At a system level (with more drives) the performance will be >2x as compared to 3.5" HDD.

The highest capacity 2.5" enterprise drive with 500GB with both SAS and SATA interfaces. (160GB SATA also available for boot/entry server applications)

6Gbps SAS 2.0 allows for easier integration, enhanced features and outstanding performance

Government-grade self-encrypting drive (SED) on SAS models

Best performing nearline drive with Best-in-class Rotational Vibration
The installation process of the Seagate Constellation was a breeze and without any hassles on our test machine, the drive simply plugged into our SATA connection, followed by the power.
I must admit that we were taken aback at the physical size of the drive which measured at 14.8mm (height), 70mm (width) and 100.5mm (length). Once installed onto our server machine, our operating system automatically detected the drive and we began the formatting process which was a relatively smooth and fast process. We tested the drive on both a Windows and Linux server, including Windows Vista 64-bit.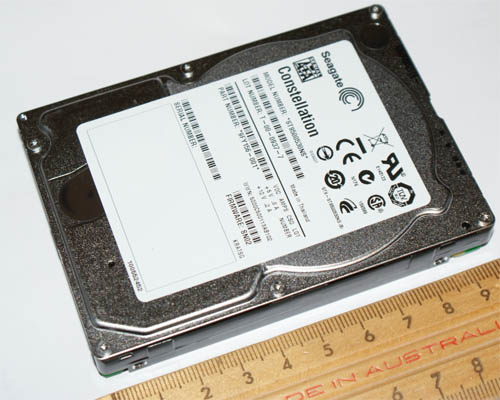 The New Seagate Constellation - Size matters only with storage
When it comes to speed and performance, the Constellation is quite powerful and the 2.5" inch drive boasts a 3 GBps SATA and new SAS 2.0 interface that has speeds of up to 6Gb/s. We tested this on our AMD Phenom II machine and from our testing and benchmarking, the speeds were extremely fast, whether this was booting up Windows Vista, copying large files or accessing files on the hard drive, it was truly a flawless experience. Best of all, the waiting times of loading programs such as Adobe's CS4 or 3DMAX was extremely fast.
| Specifications | 500 GB |
| --- | --- |
| Model Number | ST9500430SS |
| Interface | SAS 2.0 6.0Gb/s |
| Cache | 16 MBytes |
| Capacity | 500 GB |
| Areal density (avg) | 283 Gbits/inch2 |
| Guaranteed Sectors | 976,773,168 |
| PHYSICAL | |
| Height (max) | 14.8 mm (0.583 inches) |
| Width (max) | 70 mm (2.76 inches) |
| Length (max) | 100.5 mm (3.957 inches) |
| Weight (typical) | 227 grams (0.50 pounds) |
| PERFORMANCE | |
| Spindle Speed | 7,200 rpm |
| Average latency | 4.16 msec |
| Random read seek time | 8.0 msec |
| Random write seek time | 8.4 msec |
| RELIABILITY | |
| MTBF | 1,200,000 hours |
| Annual Failure Rate | 0.73% |
| POWER | |
| 12V start max current | 1.05 amps |
| 5V start max current | 0.80 amps |
Although this drive has been targeted for enterprise usage, Seagate also recommend this drive for computer enthusiasts who wish for the ultimate computing performance. For instance, users whose PC's are connected to broadband or cable 24x7, even high-end gamers. Cost wise, the Seagate Constellation can be purchased for around $499AUD depending on store and availability.
At the end of the day, we could happily recommend this drive for a variety of users and considering that the drive has been designed for maximum usage, the 5-year warranty by Seagate is a godsend. Users of servers will appreciate the size, performance and power features of the Constellation that will not break the budget and is a worthy investment.

Best-Fit Applications
High Density Nearline Storage
- Internet Infrastructure, Backup & Restore, Medical Imaging, Nearline Storage, Disaster Recovery, Check Imaging, Video Editing

Blade Servers
- Computation, Scientific Applications, Server Appliance, Web Content

Rack Servers
- Graphics, Security, Firewalls, Email

Network Routers

Video Surveillance

4x7 Availability
- Kiosks, ATMs, Video Lottery Terminals, Video Serves, High Reliability Govt/Military

Workstations & Enthusiast PCs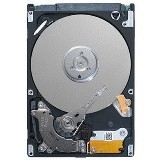 Seagate Constellation