Sapphire HD 7970 Dual-X
Overclock Edition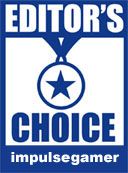 Impulse Gamer were given the chance to test the new Sapphire HD 7970 Dual-X OC Edition which is a high-end gaming card built specifically for gamers. What makes the Sapphire HD 7970 Dual-X so special is that it's one the first cards in the world to use AMD's new 28nm process and features the new GCN optimised graphics processing architecture. In laymen term's, it's one of the world most powerful single chip GPU's that has a whole wealth of features aimed at the high-end gamer.
Best of all, it's been designed for overclocking thanks to the Dual BIOS on this card. The first BIOS has a default speed of 950Mhz, with the second BIOS coming in at 1000Mhz. This allow some very powerful overclocking.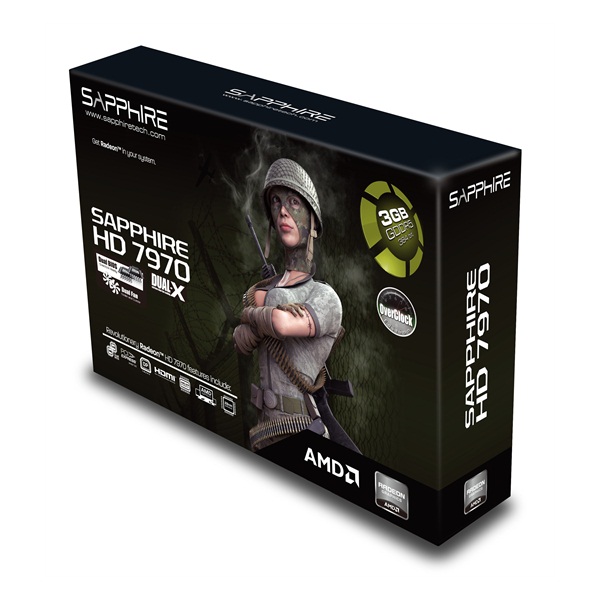 Features
950/1000Mhz GPU (28nm Chip - 2048 x Stream Processors)

3GB Memory (384-bit GDDR5 - 5700/5800Mhz Effective)

PCI Express 3.0

Dual-X Extremely Dual-fan Cooling

Crossfire

Microsoft DirectX 11

Outputs (1 Dual-Link DVI, 1 HDMI (3D), 2 x Mini-Display Ports)

AMD EyeInfinity 2.0

AMD PowerTune
As mentioned, the Sapphire HD 7970 Dual-X even allows you to overclock the card via the included software which allows the user to increase the clock speed, getting even more performance from the card. We did get some impressive improvements with the second Bios on this card.
Another impressive feature of the card is the various outputs that Sapphire have included and with the Dual-Link DVI, this card can boast resolutions of up to 2560 x 1600 (60Hz). Add in the ability of 3D via HDMI and the gamer has everything they need to not only play the latest games but play them in 3D. Welcome to the future of gaming.
Comparison with other AMD GPUs
Graphics card
GPU clock
(MHz)
Stream
processors
Shader clock
(MHz)
Memory clock
(MHz)
Memory bus
(bits)
Sapphire Radeon HD 7970 Dual-X (3,072MB)
950/1,000
2,048
925
5,700/5,800
384
AMD Radeon HD 7970 (3,072MB)
925
2,048
925
5,500
384
AMD Radeon HD 7950 (3,072MB)
800
1,792
800
5,000
384
AMD Radeon HD 6990 (4,096MB)
830
3,072
830
5,000
256 x 2
Box Contents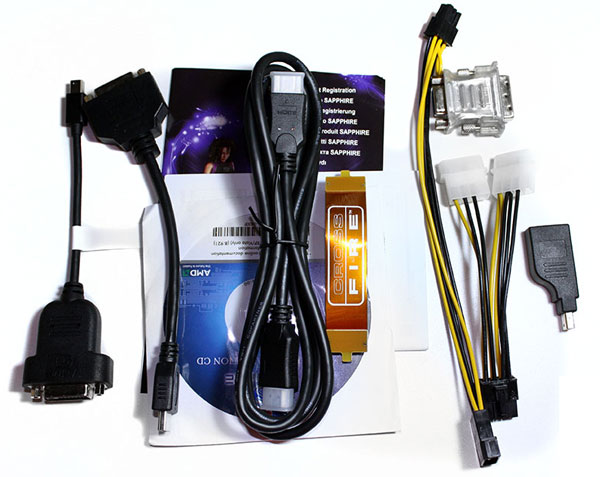 Installation
We recently tested the ASUS HD 7970 DirectCU II Top Graphic Card which scored exceptionally well with not just Impulse Gamer but with other benchmarking sites around the world, so we were eager to test out the new Sapphire HD 7970 Dual-X. As opposed to the ASUS card, the Sapphire is a fraction smaller and measures at 280mm x 115mm x 45mm.
The Sapphire HD 7970 Dual-X is a large card (2.5 slot), so you do need to ensure that you have adequate space in your case and more importantly, the power supply to handle this card. The card also supports up to three screens via AMD EyeFinity 6 technology with one monitor needing to support the DisplayPort architecture in order to maximise this. We tested the screen on a BenQ M2700HD (HDMI) and a BenQ G2411HD (DVI).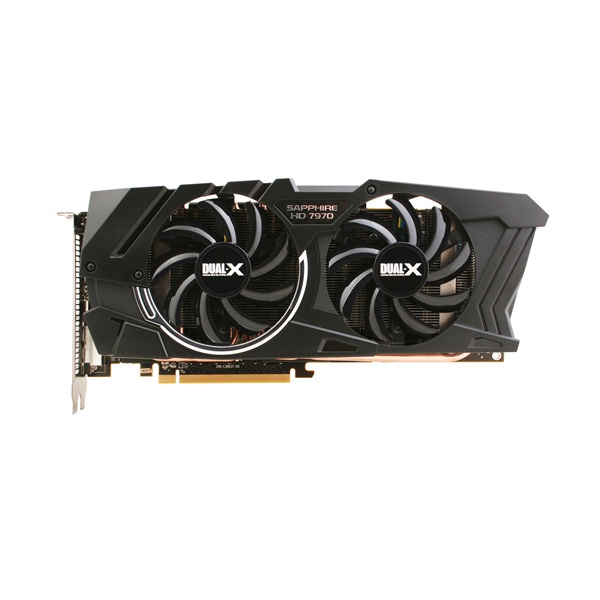 Even with the size of the card, it just fitted into our Cooler Master Silencio Case via a PCI 3.0 slot. PCI 3.0 is twice as fast as the previous PCI standard which adds to the speed of the card. Once slotted neatly into our motherboard (ASUS P9X79), we then proceeded to securely screw the card in and then connect the two power cables for it.
When the card was secured in our case, we then proceeded to boot up our PC and Windows 7 immediately detected the card and we were ready to go. Our test system included the following components which definitely helped our gaming experience.
Test System
Intel Core i7-3960X Processor

Kingston KHX 1600C9D3K4/16GX Memory (16GB)

ASUS P9X79 Motherboard

Cooler Master M2 520W Silent Pro Power Supply

Cooler Master Silencio 550

Cooler Master X6 CPU Fan

Kingston 240GB SSDNow 200 Hard Drive
Seagate Barracuda 1TB (600 MBps - 7200 rpm)

LG CH12LS28 12X BD-R Blu-ray DVD Combo Drive

Windows 7 64 ultimate

Logitech G510 Keyboard

Roccat Savu Gaming Mouse
Before jumping into our gaming sessions, we tested the card with Windows 7, Microsoft Office, Adobe Photoshop, Internet Explorer and we tested two Blu-ray films. General Windows use produced exceptionally sharp colours and fine text with images almost jumping out of our screen.
Surfing the net was a joy as was using Adobe Photoshop. We tested Star Wars Episode III on Blu-ray which was a wow moment. The video quality was extremely sharp and the special effects looked amazing. The next wow moment was with Tron Legacy which produced some exceptional visuals.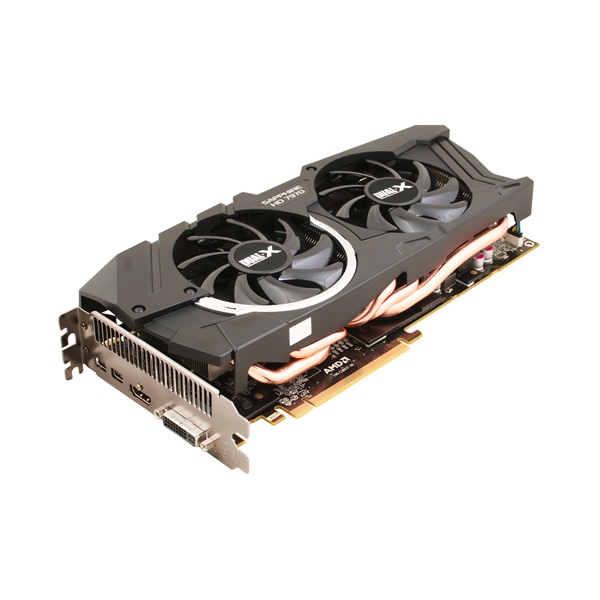 Another curious feature of the card as opposed to the ASUS HD 7970 DirectCU II Top Graphic Card is how quiet the card is. Even when we were playing games such as Battlefield 3, Deus Ex Human Revolution and Blacklight Retribution, the card remained extremely quiet. This also included overclocking.
We actually had to open up the case to make sure the fans were spinning on the card which they were. Generally most high-end graphics card are quite loud when they are running at full speed. This was not the case with the Sapphire HD 7970 thanks to the Dual-X extreme fan cooling. This is done through a highly efficient multi-heatpipe cooler with dual fans that in turn creates some extremely quiet gaming performance.
Benchmarking
In order to benchmark, we used the standard array of suspects that included 3DMark, the world's most popular benchmarking software, Unigine Heaven Benchmark made for DirectX 11 and a plethora of games.
Compared to the previous HD 6970, we were getting improvements of around 40% plus. However before jumping into our benchmarking, let's have a look at what GPU-Z says about the card.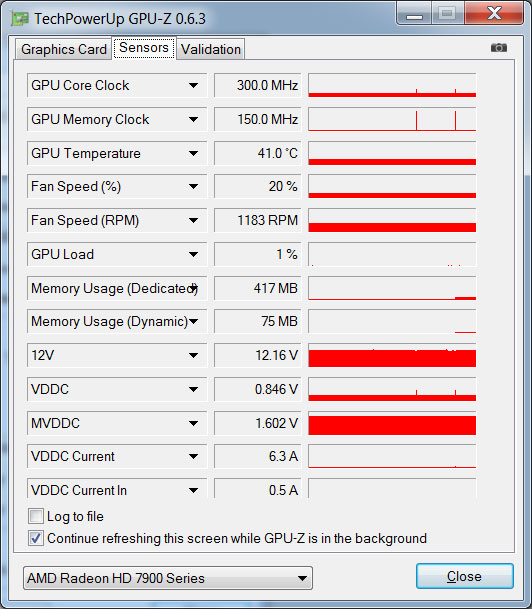 As you can see from the above shots, the statistics mirror the evidence from Sapphire which boasts some exceptionally features. And with that said, let's get onto our benchmarking tests. All tests were done on a clean Windows 7 system, immediately after boot-up.
3DMark
3DMark is a computer benchmarking tool created and developed by the Futuremark Corporation to determine the performance of a computer's graphic rendering and CPU workload processing capabilities.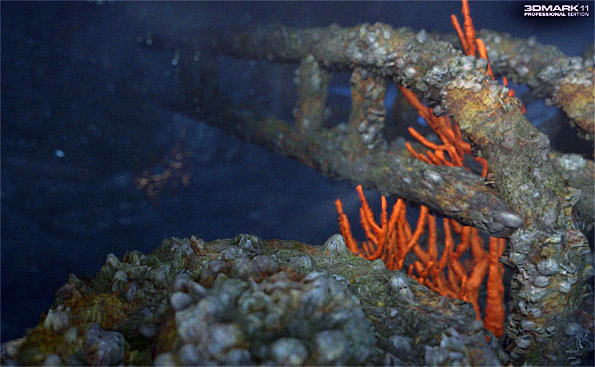 Running 3DMark 11 Enhanced Edition produced a 3DMark score of X2818 with a graphical score of 2552. This score is in line with the top-end graphic cards and does to an extend future proof the card. The problem with 3DMark is that most of the tests are not real-world when it comes to gaming. Nevertheless, the tests look good and it really pushes the card to maximum results.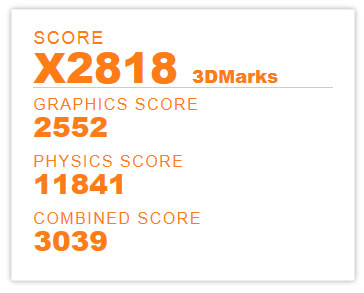 Unigine Heaven DX11 Benchmark Pro
Similar to 3DMark, Heaven DX11 Benchmark Pro is another graphical benchmarking tool based on the UNIGINE engine which is set in a mythical medieval world of floating islands. It offers a variety of settings for the user from advanced tessellation technology, dynamic global illumination and even crossfire technologies. We tested the Heaven DX11 Benchmark Pro with the standard settings (below) and the highest settings. The Sapphire performed exceptionally well on both tests.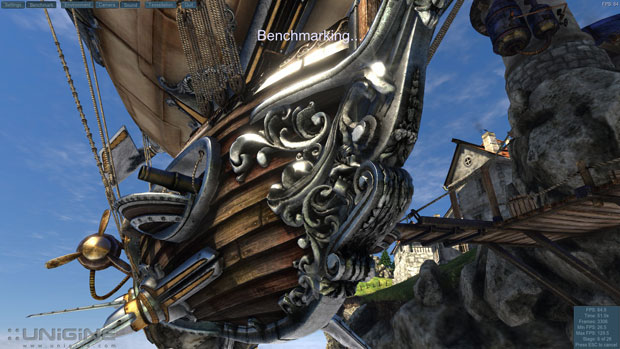 With the standard settings, Shaders, Textures = High, Filter = Trilinear, Anistrophy = 4x, Occulsion, Refraction, Volumetric = Enabled and Tessellation = Moderate, the Sapphire scored an overage of 89.3 frames per second with a minimum of 11.5 and maximum of 182.3.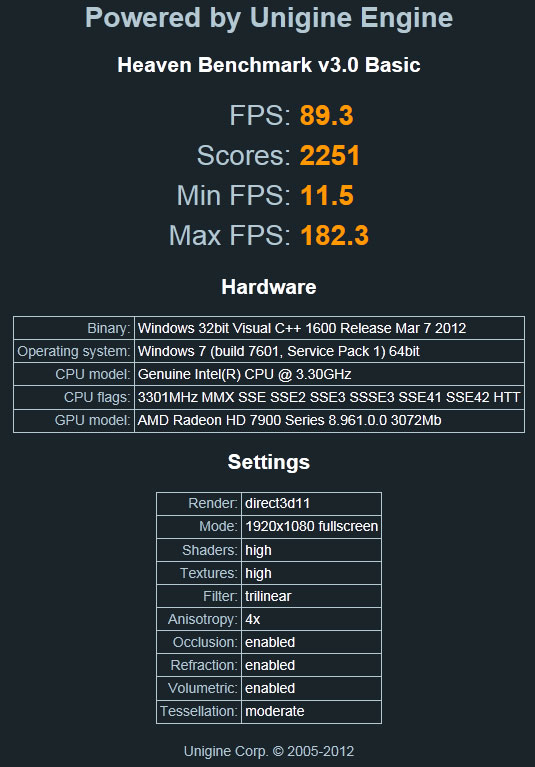 Whereas on the higher settings with a resolution of 1920x1080 and the settings set to Shaders, Textures = High, Filter = Trilinear, Anistrophy = 16x, Occulsion, Refraction, Volumetric = Enabled and Tessellation = Moderate, the Sapphire scored an average of 65.2 frames per second with a minimum of 26.5 and maximum of 131.4. What I do like about Unigine compared to 3DMark is that their benchmarking is more game orientated for the real-world.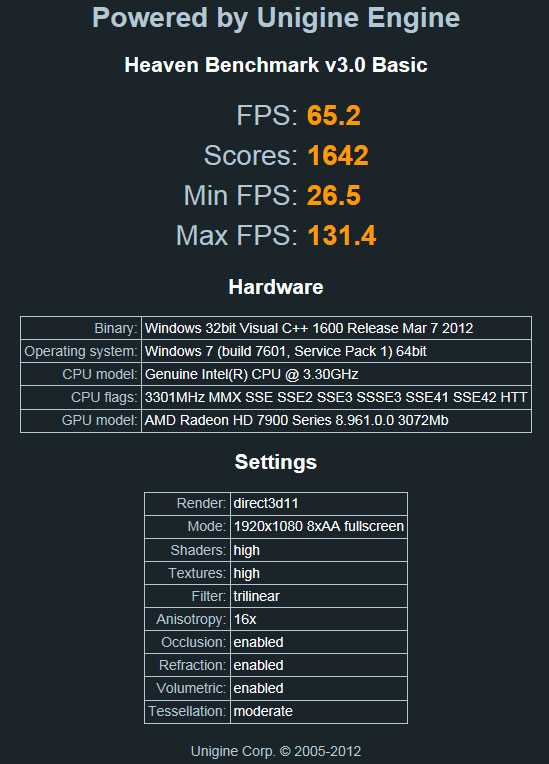 Battlefield 3 (1080 High Detail)
Battlefield 3 is DICE's third numerical installment in the franchise. It features a single-player and co-operative campaign, as well as 64-player multiplayer (on PC). Using Frostbite 2 - Battlefield 3 takes it up to an all new level in visual eye candy. Animation, destruction, lighting, scale and audio all look spectacular in this game. The Sapphire HD 7970 Dual-X was no exception to this rule.
Sapphire HD 7970 Dual-X [BIOS 2] (58)
Sapphire HD 7970 Dual-X (53)
ASUS HD 7970 DirectCU II (52)
ASUS HD 6970 (36)

* Average Frames Per Second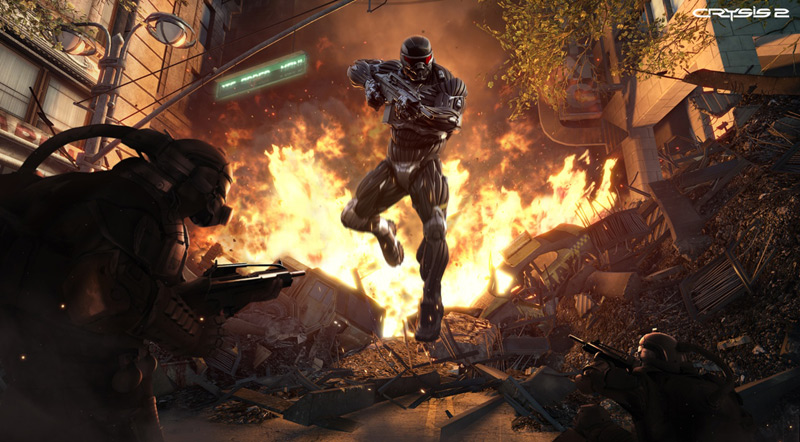 Crysis 2 (1080p High Detail)
Set three years after the original Crysis, an ambushed Marine named Alcatraz dons the famous Nanosuit and fights his way through an obliterated New York City to stop the alien invasion.

Sapphire HD 7970 Dual-X [BIOS 2] (59)


ASUS HD 7970 DirectCU II (57)


Sapphire HD 7970 Dual-X (55)


ASUS HD 6970 (42)

* Average Frames Per Second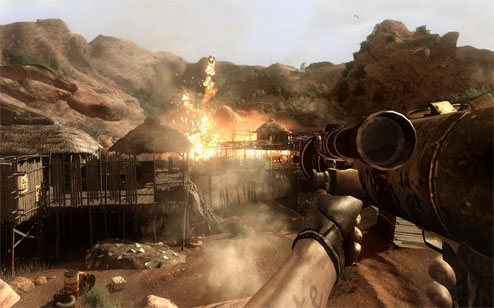 Far Cry 2 (1080p High Detail)
The sequel to the original Far Cry dispenses with Jack Carver, and moves the action to a war-consumed Africa complete with an open-ended storyline involving civil war, several hours of missions, heated gunplay, and a slew of dynamic elements powered by a new engine.

Sapphire HD 7970 Dual-X [BIOS 2] (117)


ASUS HD 7970 DirectCU II (113)


Sapphire HD 7970 Dual-X (113)


ASUS HD 6970 (82)

* Average Frames Per Second
Batman Arkham City (1080p High Detail)
Transform into Bruce Wayne as he takes on the world of Arkham City, a city in Gotham City that is under lockdown. Using the Unreal Engine, the developers of Batman Arkham City have created an amazing wonderland of gaming and stunning graphics.

Sapphire HD 7970 Dual-X [BIOS 2] (94)


Sapphire HD 7970 Dual-X (88)


ASUS HD 7970 DirectCU II (87)

ASUS HD 6970 (64)

* Average Frames Per Second
Dues Ex Human Revolution
The sequel to the highly popular PC game Deus Ex has the player controlling Adam Jensen, a security chief for SARIF Industries who is embroiled in a deadly game of cat and mouse. This first person shooter has the player going head to head with both the government and the business world in order to control the world of cybernetic augmentations.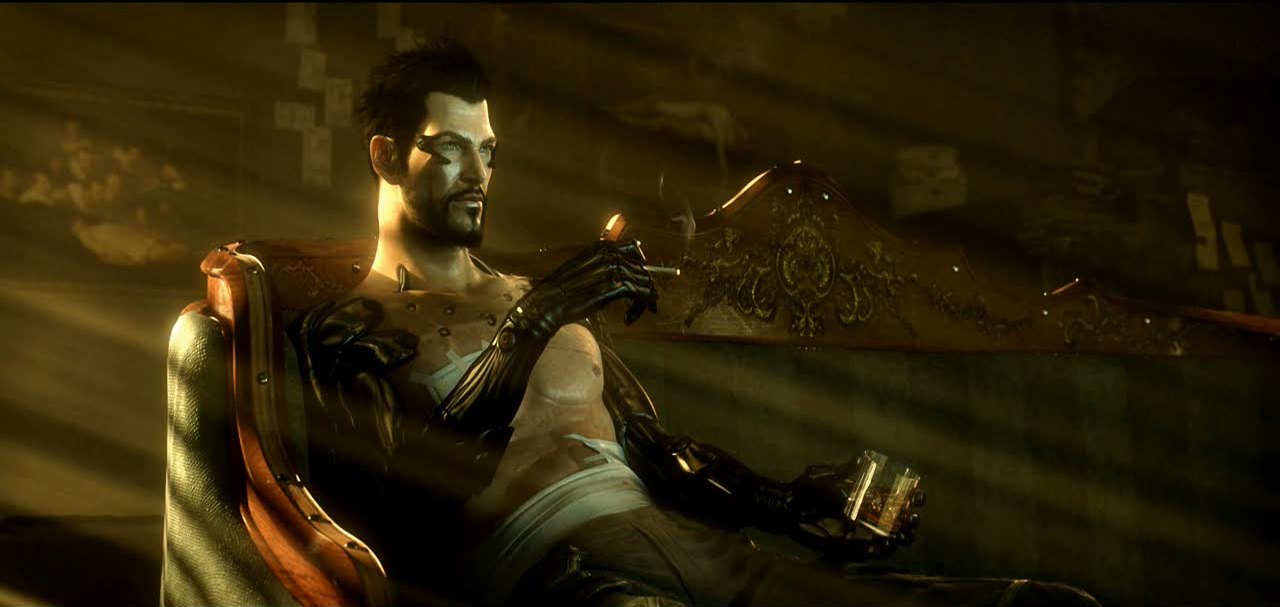 Sapphire HD 7970 Dual-X [BIOS 2] (142)


Sapphire HD 7970 Dual-X (122)


ASUS HD 7970 DirectCU II (119)

ASUS HD 6970 (98)

* Average Frames Per Second
Final Thoughts?
Retailing for around $499 (depending on store), the Sapphire HD 7970 Dual-X is worth every cent. Not only will it allow you to play the latest games with no issues whatsoever but it has some aggressive overclocking up its sleeves. Best of all, the card is super quiet and it performed exceptionally well on all our tests. Even when overclocked, the card remained stable and relatively noise free. It also comes with all the cables and adapters that you need with the ability to attach three monitors, 3D support and DirectX 11, there's little this card can't do. And when games do start to slow down, you can boost the GPU core to around 1300Mhz.
What more can I say but Highly Recommended!