Welcome to the the Samsung NX20, a mid-range compact digital camera that definitely borders on D-SLR and boasts 20.3 megapixels, interchangeable lenses, FULL HD Video Recording and some impressive WiFi abilities which easily allows you to transfer your photos or videos to your PC/Mac or various Social Media and cloud sites. The camera also has a super fast boot-up and it takes photos quite fast. There is however some lag in terms of updating the the LCD and EVF. Let's get to the review!
What's in the box?

- NX20 Body
- 18-55mm kit lens (if purchased as a kit)
- Li-ion Battery
- AC Charger
- A/V Cable
- USB Cable
- Manuals
- Software CD-ROM
With a recommended retail cost of around $799 (Feb 2013), the Samsung NX20 comes with everything the budding amateur photographer needs to capture some decent photos. Supporting a variety of pre-programmed modes such as sports, portrait, 3D or night photography that is accessed through the "scene" mode, there's definitely plethora of options. Samsung also ensure that not only is this camera easy to use but more professional photographers will be pleased with the manual override settings.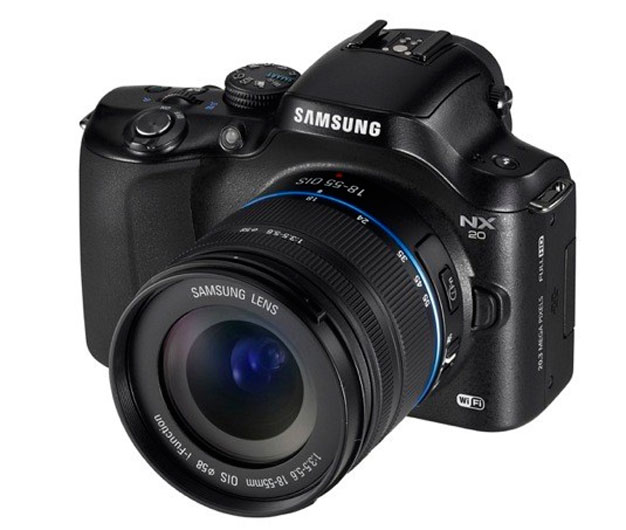 Features

- 20.3 Megapixel APS-C CMOS sensor
- 3.0-inch AMOLED swivel display
- EVF
- i-Function 2.0 System
- WiFi
- 1/8000s Fast Shutter
- Smart Auto
- 1080p HD video capture
- 10 Smart Filters
- 8fps High Speed Continuous
- Selective Color Function
- Panorama / 3D Panorama
- Smart Panel -- access features and menus with ease
- ISO 12,800
- 9 NX-series lenses available
- SVGA EVF
- Look and feel of a dSLR

In terms of design the Samsung NX20 is quite a compact DSLR-like camera that thanks to the ergonomic design fits well in your hands. The controls of the camera are also well placed and I love the rotatable LCD which is weird on this pseudo D-SLR camera. One thing I did notice about the LCD and EVF is that there was some lag when I took the photo and the screens did take a little while to refresh. This was a little annoying.
Apart from the viewfinder (EVF w/ Eye Contact Sensor) to line-up your photos, the NX20 supports a great LCD screen of 3 inches that supports a resolution of 640x480 which definitely opens up some new options on how you can take your photos. In bright light, the LCD provides sharp and vibrant images and works hand-in-hand with the electronic view finder. Using this camera for the last few weeks, I've definitely come to love the LCD opposed to the electronic view finder.

Indoors
Image quality on the NX20 is what is expected of a camera in this price range but similar priced cameras from Nikon produce better images but they are not as easy to use. Using the camera indoors produced some noise and even with the flash, some images were slightly blurry. Where the camera shined was using it outdoors that produced some exceptional images with true to life colours. The camera even comes with a hood to use outdoors to prevent unwanted light. The manual-focus override of the camera is a little strange and indoors it seemed to focus on the wrong thing which resulted in some blurry photos, however outside, it worked fine.
Specifications
Image Sensor
CMOS Image Sensor
23.5 x 15.7mm Sensor Size
Approx. 20.3 Mega-pixels
Approx. 21.6 Mega-pixels
RGB Primary Colour Filter
i-Function
i-Scene (depends on Lens) Smart Filter (Vignetting, Minature, Fish-Eye, Sketch, Defog, Halftone Dot) i-Zoom (x1.2, 1.4, 1.7, 2.0)
Distortion Correct
Mode: LDC On / Off (Depends on Lens)
Display
Swivel Type AMOLED Display
3" Size
VGA (640 x 480) 614k dots (PenTile) OCR
Approx. 100% Field of View
Grid (4types), Histgram, Icons : On / Off, Distance Scale : ft / m / Off, Electronic Level
Focusing
Contrast AF
Single AF / Continuous AF / MF
Lens
Samsung NX Mount
Samsung Lenses for Samsung NX Mount
Image Stabilization
Lens Shift (Depends on Lens)
OIS Mode1 / Mode2 / OFF
Dust Reduction
Super Sonic Drive Dust Reduction Type
ViewFinder
EVF w / Eye Contact Sensor
SVGA Class (800 x 600) 1440000 dots Equiv.
Approx. 100% Field of View
Approx. 0.68x (Equivalent to a 50mm lens on a 35mm camera)
Approx. 18.0mm Eyepoint
Approx. -4 ~ +4m -1 Diopter Adjustment
Another highlight of the Samsung NX20 is how simple it is to use the WiFi functionality. Although there is some setup required in connecting the camera to your PC network to transfer photos, where the WiFi shines is through the free MobileLink App for either the iOS or the Android SmartPhones. This app easily allows you to transfer photos from your camera to your smart device.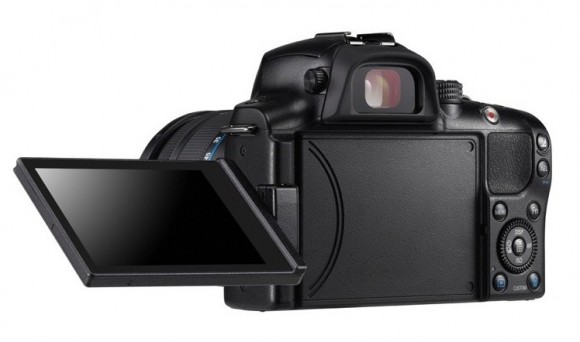 Another great feature is the ability to automatically post your photos online to a variety of sites such as Facebook, YouTube, PhotoBucket and even the Microsoft SkyDrive. If you have a Samsung TV, you can even stream your photos to the big screen. It did take us a little while to get the WiFi connected to our PC but for some strange reason, the other features worked immediately. Personall I loved the SkyDrive option but unfortunately you are limited to 14 photos per upload only.
The camera also takes FULL HD video at 1920x1080p at 30 frames per second which does produce some nice videos, however a video camera is still the real option for movies. Once again, indoor videos in a dimly lit room produced very noisy videos unfortunately. However outside, the camera works wonders again.
Final Thoughts?
I'm impressed that Samsung have simplified digital camera technology for the home user. The menu system on this camera is easy to navigate and it excels at outdoor photography. The camera is also considerably lighter than other D-SLR cameras and you can even change lenses which is a huge bonus. The electronic viewfinder is good but once you've used the LCD, you'll probably won't go back to more traditional view finder. It's definitely a camera for those who want to dabble in the amateur arena!