Roxio Game Capture
Whether you're a gamer, gaming reviewer or someone who just likes to brag about their video game exploits, than the Roxio Game Capture is for you. In essence, it's an external USB capture device that allows you to transfer video from your PS3 and XBox 360 to your PC and best of all, you can still see all the action from your FULL HD TV while you play.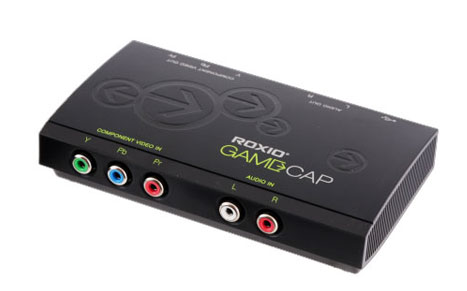 Best of all, the Roxio Game Capture is quite reasonably priced at just $99AUD (July 2011) and contains everything you need (cables & software) to capture real-time gameplay and then publish for others to enjoy from YouTube to the Web and countless other social networking sites.
Contents & Specifications
High Speed Connection via UBS 2.0 por

Vide Inputs: Component Video (Support 1080i/720p pass-through to TV and 480p capture to PC simultaneously)

Support NTSC and PAL

Cables included:
1x 6-foot USB 2.0 cable
1x 6-foot Component to Component Cable (male/male)
1x 6-foot RCA Stereo Audio cable (male/male)
Before we set up the device, we did notice that the unit itself is quite small so it won't be an eyesore once it is setup. It roughly measures at 125mm by 70mm by 25mm. All the cabling comes with the device so no additional purchases are needed to use the device out of the box.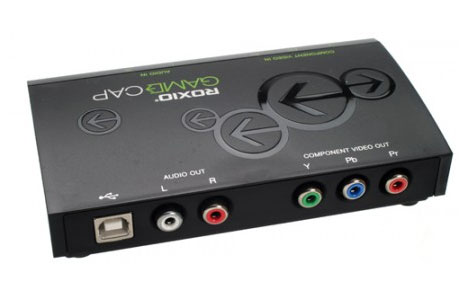 Setting up the system is child's play as you connect your TV to the device via the component cable and then connect your PS3 or XBox 360 to the device via another component cable. Lastly, you simply connect your PC into the device via the supplied USB cable. It's that easy.
Once the hardware is setup, you need to install the software and with that said, you do need a minimum of a 1.8Ghz Intel CPU or 2.0Ghz AMD CPU plus 2GB RAM and a DirectX 9.0 Video Card or higher to successfully use the device. It's also better to err on the side of more power, especially when you are capturing video via a USB cable. Once done, you just load your game and the software on your PC (generally on a laptop) and then start recording. Unfortunately the product only supports the PC for now, so Macintosh users will need to find other alternatives.

As per usual with Roxio, the software included with this product is relatively quite easy to use, even if you only have a minimal amount of PC experience. The editing capabilities, albeit quite simplistic allow you to do basic editing and even some special effects to help jazz up your videos. It's quite easy to add text or edit videos with just a few clicks of the mouse and the storyboard helps keep you track of what you wish to publish. The product also supports a variety of industry standard that are as follows;
Input Formats
Video: AVI, DV-AVI, MOV, WMV, DivX, MP4
Audio: MP3, WAV, WMA, AAC
Image: JPG, PNG, TIFF, BMP, GIF

Output Formats
Video: AVI, DV-AVI, WMV, DivX, MP4
Audio: MP3, WAV, WMA, AAC
Image: JPG, PNG, TIFF, BMP, GIF
We tested the device with a plethora of games from racing to first person shooters and even sport games. The software allowed us to capture stills, video and audio, however where it does shine is through the ability to capture video and then post it on YouTube or Facebook. On our system and whether this was caused by interference, there was some quality loss due to the throughput but it wasn't that noticeable.
In conclusion, we could happily recommend the Roxio Game Capture to any users who want to capture their gaming glory for the world to see, whether you want to publish them on Facebook, YouTube or some other shared networking site. It's all good and it's all easy!