http://www.pinoytechnologies.com/recon-ambidextrous-gaming-mouse-by-cm-storm/
Just released by Cooler Master, the RECON GAMING MOUSE is a true gaming mouse that supports a high precision optical sensor which allows the user to switch between four DPI settings on the fly. Whether you want a mild DPI setting of 800 or something more accurate at 4000 DPI, this mouse not only has the performance in all facets of computer use but more importantly, it feels good to use thanks to the rubberised grip.
This means that when the action heats up, you can ensure full control of the mouse when the bullets are flying or the dragon awakens. Also, from a gamers perspective, the mouse looks very impressive, especially with glowing CM STORM logo and the ability to change the LED's on the mouse itself. Another excellent selling point is that the mouse boasts an ambidexterous form which means both right and left handers can use this product.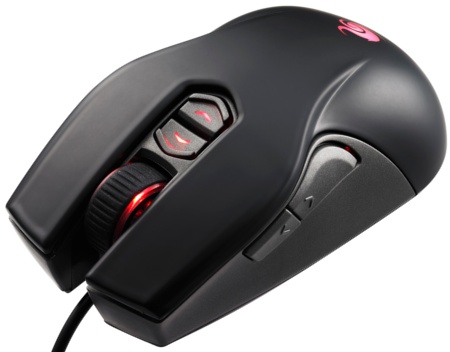 Specifications
Avago 3090 optical sensor with 800-4000 dpi

On-The-Fly Lift-Off-Distance adjustments

On-The-Fly DPI adjustments

On-The Fly USB polling rate adjustments

Up to 1.5m/s or 60"/s tracking speed and 20G of acceleration

Highest grade Japanese Omron micro switches

Extra wide 16-bit USB data path

1000 Hz polling rate / 1ms response time

Super Grip coated ambidextrous mousebody

Ultra swift mouse feet

Flexible 1.8 meter or 78.6 inch long cable

Dimensions (W x H x D): 64.4 x 116.4 x 42 mm/ 2.53 x 4.58 x 1.65 inches

Multicolor Mousewheel light to identify Profiles
The setup of the Recon Gaming Mouse was a breeze and it simply connected to our PC via the USB cable. Windows 7 automatically detected the mouse, however if you want to get the full use out of the mouse (e.g. for gaming), you do need to install the software which allows the user to create their own profiles and macros for the various games that they play.
This software also controls the 3 individual multi-colour LED zones as you can change the colours and even the brightness of each of these zones. It definitely takes night gaming to new heights. Once installed, the mouse felt just right. I've used more mice over my many years of computing and the Recon Gaming Mouse just felt right. Whether I was navigating Windows 7, surfing the net, using Photoshop or just general computer use, there was no fatigue whatsoever.
In terms of gaming, we tested the Recon Gaming Mouse with <INSERT>. One great feature for gaming is that the mouse supports "Lift-Off-Distance" which ...
System Requirements
PC with USB port

Windows® 7 / Windows Vista® / Windows® XP

Internet connection (for driver installation)

At least 35MB of hard disk space