The Roccat ISKU FX is a multicolour gaming keyboard that has been designed for competitive PC gamers to get the edge against their competitors. Not only does it feature a multicolour key illumination (it glows) but it boasts live macro recording, 36 macro keys plus 8 configurable media & hotkeys. It has everything you need to take your gaming to the next level plus it looks quite impressive!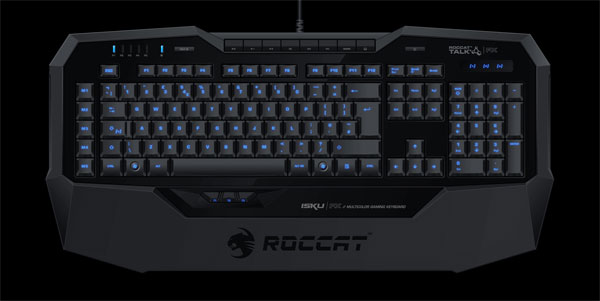 Features
The Isku FX is the only keyboard in the world to feature our groundbreaking Easy-Shift[+] technology, which offers you the wonder of 36 easily-customizable macros strategically positioned in 3 spots in the easy-to-find WASD zone.
Three individually-programmable Thumbster macro keys right below the Isku FX?s spacebar - each easily activated with a quick thumb strike. Perfect for casting a lightning-quick healing spell in the middle of a tough fight.
MULTICOLOR KEY ILLUMINATION with 16.8 million colors of your choice; with 6 brightness levels , 3 EASY-SHIFT[+] ZONES for easy key duplication
36 EASY-TO-REACH MACRO KEYS including 3 Thumbster keys, MACRO LIVE! RECORDING with dedicated M-Rec button; 180+ macros in 5 profiles
8 CONFIGURABLE MEDIA and HOTKEYS 25+ assignable functions, MEDIUM-HEIGHT KEYS with an optimum keystroke & pressure point; advanced anti-ghosting; 1000Hz polling rate
INTEGRATED CABLE CHANNELS for better device organization, NON-SLIP BASE with lock-on keyboard feet , ULTRA-FAST PROFILE SWITCHING 5 Profile-Status LEDs
ROCCAT DRIVER + MACRO MANAGER incl. Sound Feedback; Macro Presets for games, multimedia and office apps, EXTRA-LARGE GRANULAR WRIST REST with special surface texture
ROCCAT TALK SET BONUS get more out of your ROCCAT devices by combining their functions, ROCCAT TALK FX translates on-screen action into sensory effects on your Isku FX gaming keyboard
The first thing that you notice about the Roccat ISKU FX is that it is a full size keyboard with a fixed wrist rest. Second, it is a well designed keyboard that comes with a jet black colouring and the Roccat branding on the wrist rest that definitely assists with the gamer look. On the right of the keyboard are your five M5 buttons which can be programmed for a variety of games such as World of Warcraft or Battlefield 3.
Your multimedia buttons are located directly at the top of the keyboard which also includes volume and mute. I love the fact that Roccat have included a WWW button to load your internet browser and a computer button to bring up your Windows Computer properties (e.g. drives, networks and documents). Just under the space bar are three T buttons or thumb keys for easy access to additional macros.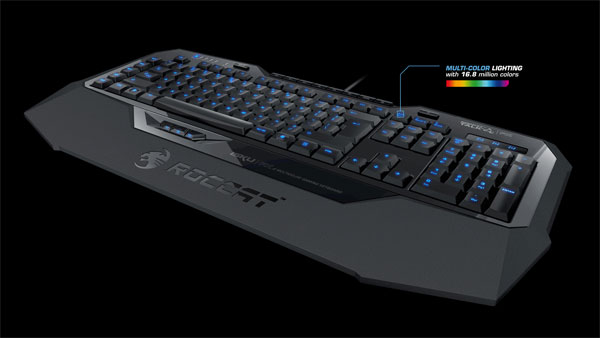 When typing, keys do make a noticeable yet rather subdued key sound which not only ensures that you have pressed the correct key but it won't be heard by your next door neighbours during a midnight gaming session. The overall design and use of the keyboard allows for rugged gaming sessions and the build is quite professional. It's great that it doesn't slide either. You can even pair the keyboard with other Roccat devices.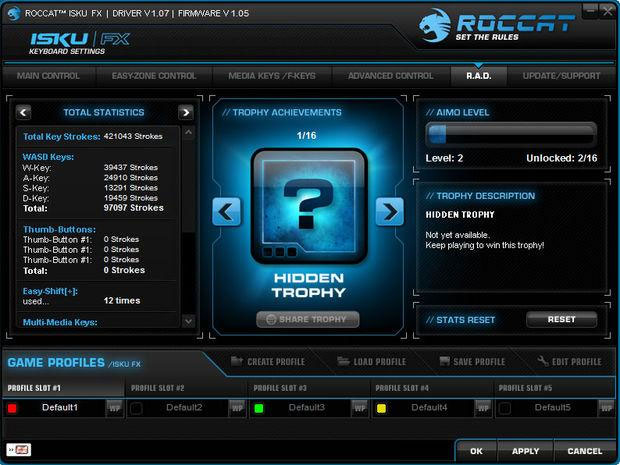 In order to use the functions of the keyboard, you do need to install the software which is relatively easy to install and use. Once installed, this allows you to setup a plethora of macros without the need for convoluted traditional keyboard shortcuts as everything feels that it is in the right place. The software also allows you to alter the colour of the backlighting.
Using the keyboard for just over 2-week, it's quite comfortable to use thanks to the ergonomic design. Gaming was were the keyboard excelled, however I'm still a little biased towards the Logitech Gaming keyboard in terms of touch typing. The ability to change the backlighting is a nifty feature and easily allows you to find the correct key on the keyboard.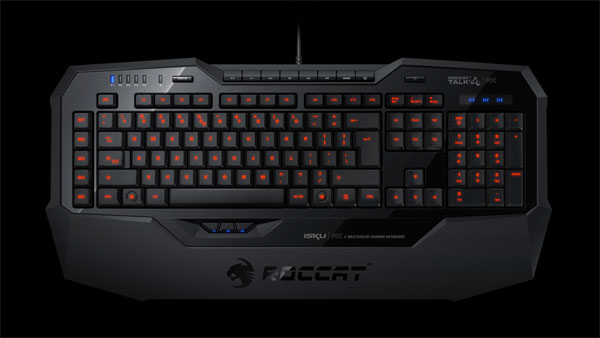 Final Thoughts?
All in all, the Roccat ISKU FX is a decent gaming keyboard that is definitely above average but not excellent. I loved the thumb keys, the ability to record macros on the fly and the fast response of the keyboard (1000Hz). It's a little pricey at present but if it drops a little, it's definitely worth investigating if you're after a gaming keyboard.