ATI Radeon HD 6850

The ATI Radeon HD 6850 is the baby brother of the more powerful HD 6850 but with that said, the HD 6850 is a little cheaper. Compared to the competition, this card is probably on par with the NVDIA GeForce GTX 460 but for us, the ATI Radeon HD 6850 was the clear winner on this occasion.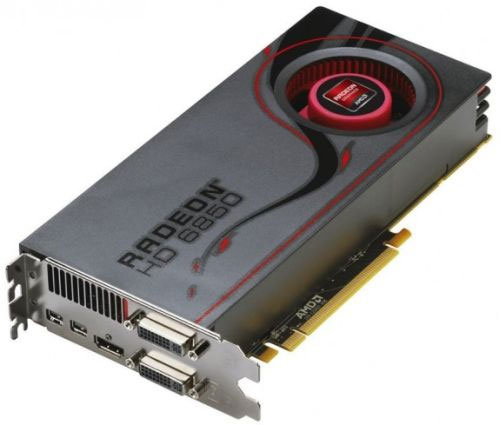 But what you're probably wondering is what are the specifications of this bad boy?
Well wait no more... check out these powerful and affordable features;

| | |
| --- | --- |
| Frequency | 775MHz |
| Stream Processors | 980 (775MHz) |
| Layout | 12 SIMD engines |
| Rasterisers | 2 |
| Tesselation Units | 1 |
| Texture Units | 48 |
| ROPs | 32 |
| Transistors | 1.7bn |
| Size | 255mm2 |
| Process | 40nm |
| RAM | 1GB GDDR5 |
| Frequency | 1GHz (4GHz effective) |
| Interface | 256-bit |
| Bandwidth | 128 GB/sec |
| Power Connectors | 1 x 6-pin PCI-E |
| Max Power Draw | 127W |
| Idle Power Draw | 19W |
As you can, "Barts Pro", the original codename for the HD 6850 is quite a powerful card that uses 40nm processing, supports 1.7 billion textures, runs at an effective frequency of 4Ghz, supports up to 1GB of GDDR5 RAM and only has a 6-pin PCI-E connection which is a step in the right direction. It's definitely a well designed midrange graphic card with enough bells and whistles to allow gamers to comfortably play a variety of games.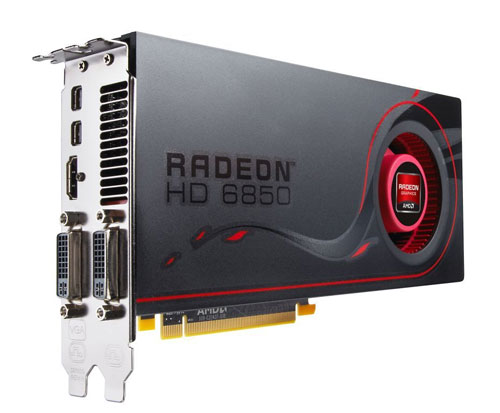 In terms of connections, the card has 2 DVI outputs, 1 HDMI output and two mini-display ports. Even better is that the HDMI port allows audio and video streaming of Blu-ray 3D. Unlike the NVIDIA cards, AMD uses passive polarised glasses as opposed to shutter glasses. Unfortunately not much supports this technology yet. To test this card, we used an Intel Core i7-965 Processor with an ASUS motherboard and 4GB of Kingston RAM with Windows 7 Professional as the operating system.
The first game we tested was Bad Company 2, an awesome first person shooter that uses the powerful Frostbite Engine. We tested the game on a resolution of 1680 x 1050 with maximum detail and it successfully scored between 44 and 50 frames per second. In laymen's terms, this is quite smooth and there was only a minimal amount of tearing. As opposed to some other cards, the HD 6850 scored mid to low range.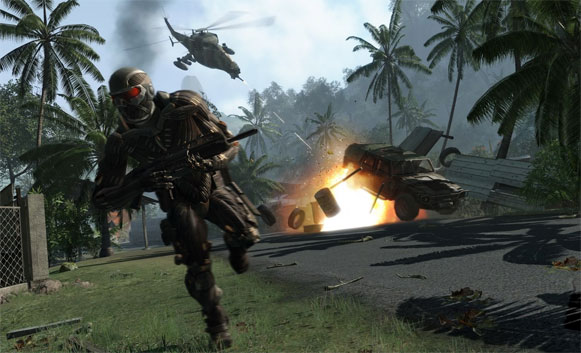 Far Cry 2 the down to Earth sequel from the original Far Cry performed considerably better and ranged at around 87 frames per second with a resolution of 1680 x 1050 with full detail. On the other hand, Just Cause 2, one of 2010's best third person shooters scored at an acceptable 50 frames per second with the same resolution.
But what would a review be without Crysis and we really maxed this game out to see what the card could do. We tested the card on a resolution of 1920 x 1200 and it scored 25 frames per second. Although this resolution was "just" playable, by dropping it to 1680 x 1050, it increased the frames per second to 39 which is much more playable. We're getting there! All in all, this card proved our theories that it is an all round good mid-range gaming card. Don't expect super results but expect playable results.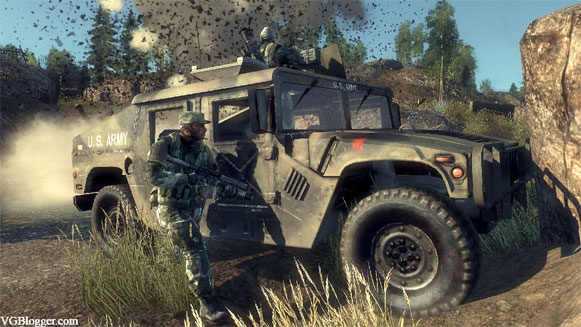 When it comes to power consumption, this card is considerably quieter than its previous brethren. At it's peak, it runs at around 127W and in idle, you're looking at 19W. As the card was so quiet and we wanted to make sure the fan was running, we tested it with a temperature sensor and at peak, it was scoring around 48 degrees Celsius with about 18 during idle. We recently had a heat wave in Melbourne and the card did push its heat to 55 degrees which is relatively acceptable given the technology. On a side note, I remember in the old days of graphics cards, we had one card that was pushed to 80 degrees Celsius. Thankfully these days are gone.
Windows 7 Professional and its office suite looked perfect with this card. The colours were bright, images were sharp, text very clear and the card supports a variety of different resolutions. The maximum resolution is 2048 x 1536 or 2560 x 1600 via Dual-Link with HDCP. Blu-ray on the other hand looked even better, probably due to the monitor size that really showcases the film we watched (Cats & Dogs the Revenge of Kitty Galore). This is how Blu-rays should be viewed.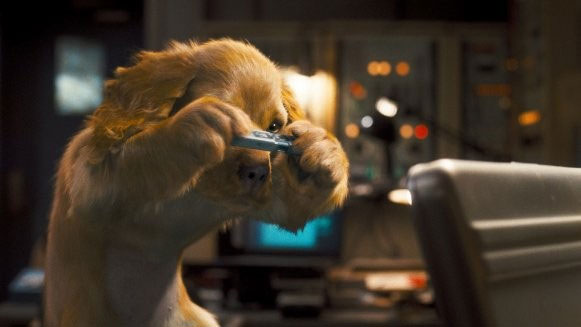 In conclusion, the HD 6850 is a good card for its money and although it may not break any speed records in gaming, it does do what it should, give value for money for a mid range card. We would easily recommend this card to anyone on a budget that will allow you to play games, surf the web and of course have access to 3D Blu-ray. Check it out!
Comprehensive Specifications
* 775MHz Engine Clock
* 1GB GDDR5 Memory
* 1000MHz Memory Clock (GDDR5)
* 128 Gbps memory bandwidth (maximum)
* 1.5 TFLOPS compute power
* Double slot form factor
* TeraScale 2 Unified Processing Architecture
- 960 Stream Processors
- 48 Texture Units
- 128 Z/Stencil ROP Units
- 32 Color ROP Units
* PCI Express® 2.1 x16 bus interface
* "Eye-Definition" graphics
- DirectX® 11 support
* Shader Model 5.0
* DirectCompute 11
* Programmable hardware tessellation unit
* Accelerated multi-threading
* HDR texture compression
* Order-independent transparency
- OpenGL 4.1 support
- Image quality enhancement technology
* Up to 24x multi-sample and super-sample anti-aliasing modes
* Adaptive anti-aliasing
* Morphological anti-aliasing (MLAA)
* 16x angle independent anisotropic texture filtering
* 128-bit floating point HDR rendering
* AMD Eyefinity multi-display technology1
- Independent resolutions, refresh rates, color controls, and video overlays
- Display grouping
* Combine multiple displays to behave like a single large display
* AMD EyeSpeed visual acceleration2
- AMD Accelerated Parallel Processing (APP) technology3,4
* OpenCL 1.1
* DirectCompute 11
* Accelerated video encoding, transcoding, and upscaling
- UVD 3 dedicated video playback accelerator
* MPEG-4 AVC/H.264
* VC-1
* MPEG-2 (SD & HD)
* Multi-View Codec (MVC)
* MPEG-4 part 2 (DivX, Xvid)
* Adobe Flash
- Enhanced Video Quality features
* Advanced post-processing and scaling
* Dynamic contrast enhancement and color correction
* Brighter whites processing (Blue Stretch)
* Independent video gamma control
* Dynamic video range control
- Dual-stream HD (1080p) playback support
- DXVA 1.0 & 2.0 support
* AMD HD3D technology5
- Stereoscopic 3D display/glasses support
- Blu-ray 3D support
- Stereoscopic 3D gaming
- 3rd party Stereoscopic 3D middleware software support
* AMD CrossFireX™ multi-GPU technology6
- Dual GPU scaling
* Cutting-edge integrated display support
- DisplayPort 1.2
* Max resolution: 2560x1600 per display
* Multi-Stream Transport
* 21.6 Gbps bandwidth
* High bit-rate audio
- HDMI 1.4a with Stereoscopic 3D Frame Packing Format, Deep Color, xvYCC wide gamut support, and high bit-rate audio
* Max resolution: 1920x1200
- Dual-link DVI with HDCP
* Max resolution: 2560x1600
- VGA
* Max resolution: 2048x1536
* Integrated HD audio controller
- Output protected high bit rate 7.1 channel surround sound over HDMI or DisplayPort with no additional cables required
- Supports AC-3, AAC, Dolby TrueHD and DTS Master Audio formats
* AMD PowerPlay™ power management technology4
- Dynamic power management with low power idle state
- Ultra-low power state support for multi-GPU configurations
* AMD Catalyst™ graphics and HD video configuration software
- Unified graphics display drivers
* Certified for Windows 7, Windows Vista, and Windows XP
- AMD Catalyst Control Center™
* Software application and user interface for setup, configuration, and accessing special features of AMD Radeon products