Intel Pentium D 820 CPU Review
The next wave of processors is finally here and Intel's Pentium D 820 dual-core processor will definitely set the benchmark for the next generation of central processing units (CPUs). Intel considers their Pentium D 820 CPU one of their entry level dual-core processors that not only make it affordable to the average computer user but also to businesses who require more than one computer. This processor performs all tasks admirably, whether business or leisure and not only can it run applications of today but also applications of tomorrow with its 64-bit core and passion for multitasking. A CPU for today and for tomorrow!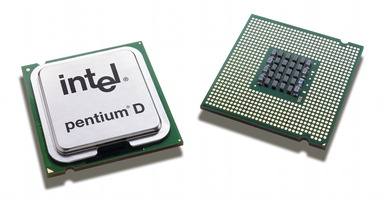 Hyper-Threading Technology vs. Dual-core processing
Although Hyper-Threading Technology (HTT) was a main selling point of the single-core processors, dual-core processors are the next evolutionary step that basically gives your computer more resources and computing throughput that is ideal for multitasking. Or in laymen's terms, it's like having two processors in your computer.

The majority of current Intel single-core Pentium 4 processors are using a modified version of the Prescott processor which has single-core processor. The Intel 820 uses the new Smithfield processor design and also contains a L2 cache of 2MB that is split between both cores, enabling each core access to 1MB.
Another noticeable difference between single-core processors is that the Smithfield design runs at a lower clock speed than its predecessors because of heat and power requirements. With that said, clock speeds are no longer the bee's knees of computer performance and even though it may be running at slower clock speeds, it basically kills the competition when multitasking is involved. Still, with a dual-core processor, heat is still an issue that Intel have solved with a larger cooling surface and copper sole to ensure that overheating is not a problem.
Intel Pentium D 820 Features
Processor



Intel® Pentium® D Processor
Processor NumberΔ
820
Architecture
90 nm technology
L2 Cache
2x1MB
Clock Speed
2.80 GHz to 3.20 GHz
Front Side Bus
800 MHz
Chipset

Intel® 955X Express chipset
Intel® 945P Express chipset
Intel® 945G Express chipset
Intel® E7230 Chipset

Socket
LGA775
Motherboard
Intel® Desktop Boards D955XCS, D955XBK, D945PSN, D945PLM, D945PVS, D945PAW, D945GNT, D945GTP, and D945GCZ
| | |
| --- | --- |
| Features | Benefits |
| Dual-Core | Provides two execution cores in one physical processor allowing the platform to do more in less time while enjoying smooth interaction with your PC. |
| Enhanced Intel® SpeedStep® Technology | Enables cooler and quieter PC designs—depending on system implementation and usage. (Not available on 820.) |
| Execute Disable Bit° | Can help to prevent some classes of viruses and worms that exploit buffer overrun vulnerabilities thus helping to improve the overall security of the system. |
| Intel® Extended Memory 64 TechnologyΦ | Processors with Intel EM64T allow platforms to access larger amounts of memory and will support 64-bit extended operating systems. |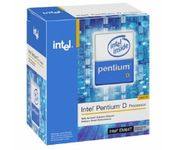 Applications of today and multitasking
With the advent of dual core processors, the CPU now doubles the number of execution units that is ideal for multitasking which not only increases performance but also dramatically reduces waiting time. Although in theory this ideal, unfortunately with many of the current applications of today, the 820 is still running a little behind of the last guard of the single-core processors.
However, it should also be mentioned that this performance increase will not really be that noticeable until the new operating systems and applications of 2006 are out, that will offer full support to dual-core processors. Especially by Microsoft's new operating system that has been eagerly anticipated.
Interestingly enough, the 820 processor runs at a clock speed of 2.8Ghz but with the dual-core processor, it is almost like having two CPU's in your machine, both running at 2.8Ghz which is where this CPU shines through on multitasking applications. Nevertheless, the 820 still performs remarkable well as an entry level dual-core processor that almost keeps up to the big guns in both gaming and business.
The Future
The next stage of software that supports dual-core processors will probably be one of the biggest changes in computing in decades. Imagine running multiple tasks simultaneously, Microsoft Excel calculating a huge formula, running a virus scan in the background and playing Quake 4… this is what dual-core processors are capable of.

The 820 also supports many similar features of the Prescott process that include:
64-bit EM64T extensions support Execute Disable Bit technology
Demand Based Switching options (C1E, TM2 and EIST technologies)

Pentium D 840 Clock frequency 3.2GHz Bus frequency 800MHz
L2 cache size 2 MB (1MB for each core) Hyper-Threading None
Demand Based Switching Yes
Software tests
The following software packages were used on the D 820 to test the power and performance of this CPU.
Real-world applications simulations

Business Winstone 2004 (standard benchmark)
| | |
| --- | --- |
| Pentium 4 670 | (26.5) |
| Pentium 4 660 | (22.2) |
| Pentium D 820 | (19.6) |
Business Winstone 2004 Multitasking test 1
| | |
| --- | --- |
| Pentium 4 670 | (2.28) |
| Pentium 4 660 | (2.20) |
| Pentium D 820 | (2.09) |
Business Winstone 2004 Multitasking test 2
| | |
| --- | --- |
| Pentium 4 670 | (2.65) |
| Pentium 4 660 | (2.59) |
| Pentium D 820 | (2.50) |
Business Winstone 2004 Multitasking test 3
| | |
| --- | --- |
| Pentium 4 670 | (3.81) |
| Pentium D 820 | (3.73) |
| Pentium 4 660 | (3.65) |
In order to thoroughly test the multitasking capabilities of the 820D, we used Business Winstone 2004 to put this CPU through the hoops. Business Winstone is a system-level, application-based benchmark that measures a PC's overall performance when running Windows XP based operating systems and is probably the closest you can get to real-world application tests.
Although there was no noticeable different in Multitasking test 1 between the Intel 627 and Intel 820, the 820 shone through Multitasking test 2 and 3 that handled the multitasking tests perfectly and is once again where dual-core processors shine and was just a tad behind the powerful single-core processors.
Gaming Benchmarks
3DMark2001
| | |
| --- | --- |
| Pentium 4 670 | (27102) |
| Pentium 4 660 | (26370) |
| Pentium D 820 | (20239) |
3DMark05
| | |
| --- | --- |
| Pentium 4 670 | (5715) |
| Pentium 4 660 | (5658) |
| Pentium D 820 | (5564) |
The 3DMark series is probably the most popular CPU and graphic benchmarking programs available that tests a variety of features that are important to the gaming world. Although the 820 performed slower on 3DMark2001 (which was solely designed for single-core processors), it performed remarkable well when compared to its gigahertz driven siblings. With that said, when games support dual-core processors, there will be a huge difference because the CPU could have one core performing the graphics with the other core handling sound and artificial intelligence. And Although the 820 didn't perform as well as current single-core processors, the results were nothing to scoff at it and considering that this is an entry level dual-core processor, it held its ground quite well.
Farcry (frames per second)
| | |
| --- | --- |
| Pentium 4 670 | (176.2) |
| Pentium 4 660 | (169.04) |
| Pentium D 820 | (132.01) |
Doom 3 (frames per second)
| | |
| --- | --- |
| Pentium 4 670 | (96.4) |
| Pentium 4 660 | (94.31) |
| Pentium D 820 | (84.1) |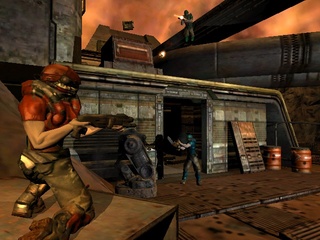 The 820 performed exceptionally well with Farcry but was a little sluggish in Doom 3 that is probably one of the most graphical intensive games out at the moment, not taking into consideration Quake 4 that also uses the Doom engine. However, the tests of the 820 do show that this processor can handle the games that we have thrown at it quite well and anything over 60 frames per second is fine in our books.
Conclusion
In conclusion, the Intel Pentium D 820 dual processor is an extremely impressive work horse that thrives on multitask operations A dual-core processor is indeed the future of computing and although this processor cannot keep up with the current market of single-core processors, in the following months when software is available for this unit, it will soon become a dominant force in the market.
Professional gamers should hold back awhile before they make the jump to dual-core processors as many games are programmed for single-threaded CPUs, so in theory, only 50% of your CPU will be working. Recommend for all levels of business users and entry level gamers.