Olympus m:robe MR-100
"Let your senses groove"
The new Olympus m:robe MR-100 is the latest competitor for the iPod mini which challenges the already overcrowded MP3 market that not only brings something new into the genre but also gives the iPod mini an excellent run for its money. Although the m:robe MR-100 is a similar size to the iPod, the unit itself actually holds 5GB (roughly 1,200 songs) and removes all buttons and controls by implementing a new touch screen system of navigation.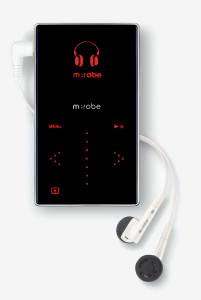 Olympus m:robe 100 specifications

● Storage: Internal hard disk 5GB
● File Formats: WMA, MP3, MPEG1 and MPEG2
● Number of storable tracks: approx 1200 music tracks
● Continuous playback time: Approx 8 hours (WMA) and 12 hours (MP3)
● Sampling frequency: 8 to 48kHz
● Bit Rate: WMA 32 to 192 kbps (including VBR), MP3 16 to 320 kpbs (including
VBR)
● Operating temperature: 5 to 35 degrees C
● Charge time: Approx 3 hours using AC adapter or 8 hours using USB
● USB Port: USB 2.0
● Remote/headphone jack: 3.5mm jack/stereo, 22ohm load impedance
● Built-in battery: Lithium-ion rechargeable battery
● Dimensions: 52x90x14.9mm
● Weight: 100g

Unlike the iPod mini, the MR-100 comes in an exceptionally large box which contains a treasure trove of goodies that include a full printed manual and the all important m:robe dock to name a few of the items. Once we unravelled this new MP3 device, our first impressions of the Olympus m:robe MR-100 around the impulsegamer offices was that the unit was extremely sleek and stylish and nevertheless, everyone was impressed.

Box contents

● m:robe MR-100;
● Earbud-style headphones;
● Headphone extension cord with 90 degree connector;
● Clip for headphones;
● Desktop cradle;
● Power cable;
● USB cable;
● m:trip software CD

The front of the device is coloured jet black and has an overall glossy look to it, whereas the back of the unit is coloured white with a matt finish. The design of the MR-100 is extremely clever in that it minimises the user controls by implementing touch screen buttons that ensures that just about everyone can easily use this MP3 player.

The power button of the MR-100 is located at the top right hand side of the device with a USB/power connector located at the bottom of the device that must be plugged into the dock for it to charge and sync the files between the computer and the audio device. The headphone jack is located on the left hand side of the device that also contains a remote port that can be used with the m:robe remote controller. (This can be purchased separately)

The front of the unit contains a fairly large LCD screen (1.8 inches) that displays all the relative information about your music files with the touch sensitive buttons below it. Best of all, the MR-100 weighs in at a featherlike weight of only 100 grams that makes the device extremely portable and light weight. With that said, the m:robe itself measures at a respectable 90x52x15mm which makes this one of the smallest and lightest of the three big brand MP3 players.

Size & Weight Comparison

● 84 x 51 x 19mm, 108g : Creative Micro
● 91 x 51 x 13mm, 102g : iPod Mini
● 90 x 52 x 15mm, 100g : Olympus MR-100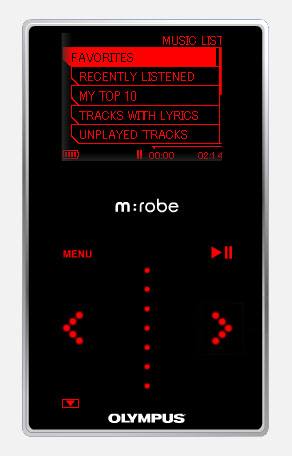 Navigation

The control system of the MR-100 features a rather intuitive and clever design that uses a touch system of navigation rather than the dials and buttons of the Apple's iPod or Creative's Micro MP3 players. To keep things simplistic, Olympus have minimised the amount of the controls on the device to include the following options;

● menu
● play/pause
● left arrow (navigation control)
● right arrow (navigation control)
● scrollbar (navigation control)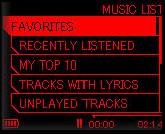 Originally, we were a little awestruck by the navigation system of the MR-100 because unlike conventional MP3 players (iPod, Creative Zen and iRiver) that use "physical" controls to navigate, they are basically nonexistent on the MR-100. However, after about an hour, the control system became almost second nature to everyone who used the m:robe.

It should also be mentioned that when you access a control (e.g. change into another menu), you will hear a small click in your headphones that lets the user know that you have changed a menu.

Software

The Olympus m:robe MR-100 comes with the software packaged called m:trip that allows users to basically manage their music on not only their m:robes but also on their hard drives. The program is extremely reminiscent to Apple's iTunes which allows the user to perform a variety of functions. M:trip also gives the user a variety of options such as importing their music to the MR-100, syncing their unit with the music files on their hard drives, ripping CD's and even creating their own special play lists.

The organisational structure of m:trip is extremely versatile and allows the user to sort their music in a number of ways that includes sorting your music by year, artist, composer, genre and a plethora of other options. This is a great functionality of the device because not only does it caters for your moods but also allows other users to use the MP3 player.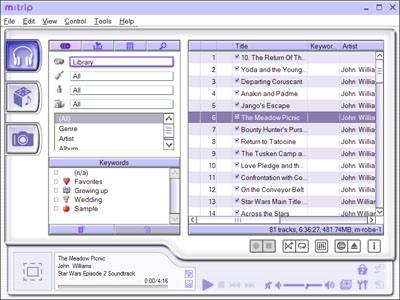 The interface (see screenshots) of m:trip is extremely user friendly but unfortunately even on our test machine (Pentium 4 2.8Ghz, 1GB RAM & Windows XP Professional), the software is rather sluggish and there appears to be some lag when you switch between menus. This is extremely evident if you have a hard drive filled with MP3s. Fortunately, Olympus will continually keep releasing new versions of m:trip (as do Apple for iTunes), so you can be ensured that the software remains at a constant quality.

Sound Quality

Last category of the review is probably the most important area because without decent sound quality, the unit itself would be an extremely hollow product. When the MR-100 was connected to our hi-fi system, the sound quality was phenomenal and there were no hisses or pops, just pure clean music. Even with the headphones that come with the MR-100, the sound quality was extremely clean and is probably one of the most nicest sounding MP3 players around.

The Final Say
In conclusion, the Olympus m:robe MR-100 is an extremely funky and versatile device that I would recommend to anyone who wants to stand out and above the crowd. With the ability to hold over 1,200 songs, a battery life of 12 hours and also an extremely user-friendly interface, there's not much that can be faulted with this MP3 unit. Highly Recommended!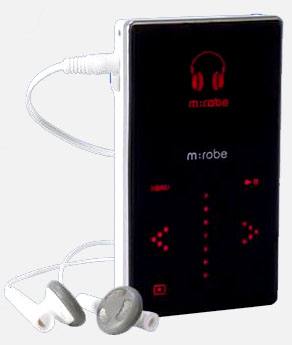 Summary

● Music Player with over 5GB of storage (enjoy over 1,200 songs)
● Import music from audio CDs with the touch of a button to add songs to your
personal music library.
● Convenient and easy-to-use touch panel lets you quickly play music, view music
and device settings, browse your music files by artist, album, genre, composers,
or release year and more.
● Connects directly to your PC via the dedicated USB high-speed 2.0 cable. Or
connect it by placing it in the supplied cradle and connecting the USB cable from
the cradle to your PC.
● m:trip software automatically launches once USB connection is established for
easy online music purchasing or file transferring to/from your PC.
● View the track lists of your favourite albums or the lyrics of your favourite songs on
the brightly lit display.
● Music List display lets you select music tracks for playback from Favourites,
Recently Played, My Top 20, Tracks with Lyrics and Unplayed Tracks categories.
● Play tracks in Repeat mode or in Random order.
● Adjust the volume equalizer to listen to the genre of music you selected in the
manner you prefer.
● External jack lets you easily connect a pair of headphones for private enjoyment
of your music files.
● Supplied extension cable can be used in conjunction with the supplied
headphones for longer cable length, if desired.
● HOLD switch prevents unintentional operation of the m:robe while carried in a
pocket or bag.
● Specify the date and time, select your language of choice and more with the
ability to edit device settings.
● Bright battery indicator keeps you up-to-date on your m:robe 100's power supply
so you know when it's fully charged, low on power or needs to be recharged.
● You can use the m:robe as your external hard drive for your PC.