OLYMPUS E-500 REVIEW
The E-500 is the latest Digital SLR camera from Olympus which features a plethora of attributes that include 8.0 megapixels (effective), dust reduction and an interchangeable Zuiko lens with an affordable price of $899.00AUD (online).
Not only does the E-500 support the popular compact flash memory card but also the new XD format that is the first of its kind in digital SLR cameras. Although this camera features the full functionality of a DSLR, the price point does make it affordable to a wide gamut of users from beginners to amateurs that is not only easy to use but also produces high quality images.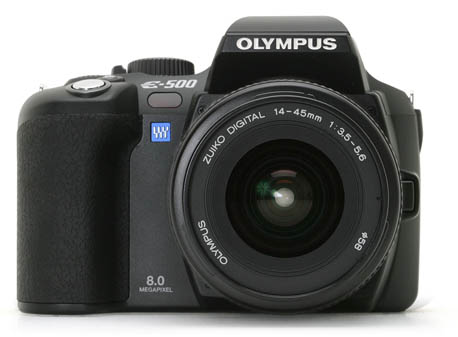 Specifications

| | |
| --- | --- |
| Model | E500 Single lens kit |
| Type | Interchangeable digital SLR camera |
| Image Sensor | 4/3 type Full Frame Transfer CCD solid-state image sensor. |
| Effective Pixel Number | 8 million pixels |
| Filter Array | Primary colour filter (RGB). |
| Storage Media Type | CompactFlash card (Type I and II), Microdrive, xD picture card. (Dual slot) |
| Digital Zoom | 14 x |
| Viewfinder | Eye-level TTL Penta mirror type optical view finder. |
| LCD Monitor | 2.5 inch HyperCrystal LCD |
| Focusing System | TTL phase difference detection system |
| Focusing Mode | Single AF, continuous AF, manual focus, single AF + MF, and continuous AF + MF. |
| Focusing Manual | Available by rotating focus ring, available for setting manual focus operation in AF mode (customised). |
| Light Metering Mode | TTL open aperture light metering with 49-zones multi-pattern sensing system. |
| Function | edit |
| Exposure Control | Auto, Programme with programme shift, Shutter Priority, Aperture Priority, Manual |
| Scene Programs | Portrait, Landscape, Landscape & Portrait, Night Scene, Night Scene & Portrait, Firework, Sunset, Macro, Sports, High Key, Low key, Document, Beach & Snow, Candle, Children. |
| Shutter Speed | Auto, P, Ps, A mode: 1/4000 – 60 sec. (depend on conditions)S mode: 1/4000 – 60 sec.M mode: 1/4000 – 60 sec. and bulb (up to 8 min.) Scene mode: 1/4000 – 2 sec |
| Compensation | Up to +/- 5 EV in each 1, 1/2, or 1/3 EV steps |
| Sensitivity Auto | ISO 100 to 400 |
| Sensitivity Manual | ISO 100 to 400. Expandable to 1600 (in each 1/3 EV steps possible ). |
| White Balance Mode | Advanced detection system with CCD imager |
| White Balance Preset | 8 types (3000K – 7500K). Lamp 1 (3000K), Fluorescent 1 (4000K), Fluorescent 2 (4500K), Fluorescent 3 (6600K), Daylight (5300K), Cloudy (6000K), Shade (7500K). |
| Built In Flash | Auto pop-up type, TTL auto or manual. |
| External Flash Connection | Auto, Manual, Red-eye reduction, Slow syncro with red-eye reduction, Slow syncro, 2nd curtain slow syncro, Fill-in for exclusive flash. |
| Image Processing | TruePic TURBO |
| Image Quality Adjustment | 5 levels in each Vivid, Natural, Muted mode. |
| Function Shooting | Vivid, Natural, Muted, Black & White, Sepia. |
| Rechargeable Battery | Rechargeable Li-Ion battery pack BLM-1 |
| Single Use Only Batteries | LBH-1 for 3x CR123A |
| DPOF Setting | YES |
| Direct Printing | Pictbridge |
| Self Timer | 12 or 2 sec |
| Dimensions | 129.5 x 94.5 x 66mm. |
| Weight | 435g |
Box Contents & Warranty
The E-500 comes with variety of accessories that include the E-500 body, a 17.5-45 mm lens, USB cable, Video cable, Li-Ion battery pack (BLM-1) and Li-Ion battery charger (BCM-2), Shoulder strap, Olympus Master CD-ROM, Instruction manuals and an International warranty card (one year). I applaud Olympus for making their warranty international as many current cameras on the market today are just limited to specific regions, so this makes it ideal for those traveling overseas.
Installation
Although having played with one of these cameras before, the installation of the lens and battery was a breeze. The lens simply screwed onto the E-500 body with the battery sliding into the battery slot on the bottom of the camera. Unfortunately no memory card comes with this camera but fortunately we had a spare 512MB XD memory card. Although this card is perfect for around 200 shots on a resolution of 3264 x 2448 (JPEG) or 37 images at 3264 x 2338 in RAW, if you really want to use the full potential of this camera (e.g. high quality shots) then you will need to purchase at least a 2GB high speed compact flash memory card.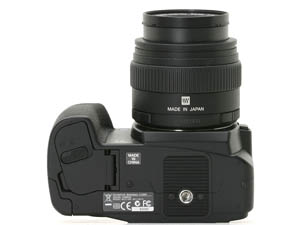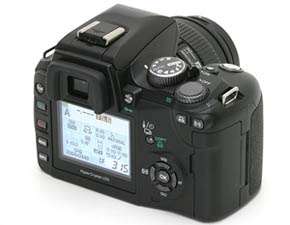 Battery
The E-500 uses a BLM-1 battery that stores 10.8 Wh of energy which allows for around 400 to 500 high quality shots of the camera. The only downside to the battery is the charging time which roughly takes around 4 hours to fully charge the battery so if you're intending on professional photography, then a spare battery is highly recommended.
Software
Olympus' Master Software is included with the E-500 that allows you to perform a variety of functions with your photos such as transferring photos to your hard drive, backing up your photos and of course various photographic adjustments such as contrast, exposure and even white balance. The software is perfect for a variety level of users with an easy to understand interface that is not too convoluted. With that said, the installation took only a few minuets on our test machine and it simply auto installed when the computer detected the CD disc.
JPEG vs. RAW
Although the majority of home users will use the highly popular JPEG format with this camera, amateur and professional photographers will use the RAW format that is an uncompressed picture format and is ideal for modifying your photos before saving them to another format. In laymen's terms, RAW pictures are almost non-digital SLR quality which are easier to modify before any compression has been made to the picture. The only downside to the RAW format is that the images are very large in size (13.6MB) when they are saved but it is a small price to pay for large print-quality images.
However with that said, the TIFF mode for this camera is around 24.5MB in size which is extremely large for smaller memory cards. Once again the TIFF and RAW formats are ideal for those users that wish to produce high quality print media photography such as posters or banner advertising.
Design
The design and feel of the E-500 (although a little on the large size) is perfect and feels like a traditional SLR camera. I must admit that the neck strap is probably the most useful accessory for this camera that not only protects the camera from being dropped but also prevents the user from tiring out too much because this camera, although not too heavy, weighs just under a comfortable 1 kilograms which isn't too bad for a digital SLR. Apart from that, all the buttons are dials are in the right place and nothing seems out of place on this well designed camera.
E-500 Menu System
I must admit that most digital SLR cameras have a rather straightforward menu system and the Olympus E-500 is no exception. The menu itself is divided into five different tabs that include Shooting 1, Shooting 2, Playback and Custom 1 & 2.
Shooting menu 1
Card setup (format, all erase)

Custom reset setting (Reset, my reset 1/2)

Picture effects (Vivid, natural, muted, monotone, sepia)

Gradation (High key, normal, low key)

Image quality (RAW+SHQ, RAW+HQ, RAW+SQ, RAW, TIFF, SHQ, HQ, SQ) -

Exposure compensation (-5EV to +5EV, 1/3EV increments)

Noise reduction (on/off)

White balance
WB setting (Auto, 5300K, 6000K, 7500K, 3000K, 4000K, 4500K, 6600K, One-touch custom)
WB compensation (Red/Blue, Green/Magenta)

ISO (Auto, 100, 125, 160, 200, 250, 320, 400, 500, 640, 800, 1000, 1250, 1600)

Metering (ESP, center-weighted, spot, spot shadow, spot highlight)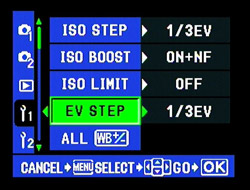 Features
As mentioned in the features section of this camera, the E-500 features Supersonic Wave Filter that actually uses ultrasonic waves to remove any dust and grime from the sensor in order to prevent the images from being dirtied. The only drawback from this feature is that it does hamper the start-up speed of the camera but once again, it is a small price to pay for dirt free images. The E5-00 also features an extremely large 2.5" LCD screen that makes for perfect menu control and picture playback.
Scene select & manual controls
The E-500 also features an extremely useful mode dial that gives the user access to a variety of preset functions that include scene mode (e.g. portrait, night scene & museum mode), night scene, sport, macro, landscape, portrait, auto record mode (point and shoot), program mode (some manual overrides in automatic mode), aperture priority mode (manual aperture shutter speeds), shutter priority mode and full manual mode. A must admit that at first, I thought the dial was a little too hard to turn but it actually prevents the user from turning the dial to the wrong setting or accidentally knocking it while taking a photo. It should also be noted that the preset features are brilliant and actually work quite in the selected environments such as night, beach or even fireworks.
Everything is also perfectly located on the camera with the zoom and focus on the front lens (as all good SLR cameras), a large power button on top of the camera that cannot be easily flicked one way or another and also a variety of buttons on the back of the camera from playback to menu and shortcuts for ISO, AF and WB. The flash itself will automatically pop out on automatic mode which is rather quite bright but in manual mode, the user must manually select this option.
Speed and Picture Formats
For those photographers that love high speed auto focus, the E-500 can focus in speeds of 0.3 to 0.1 seconds in good conditions. The camera itself (once again, also in good conditions) can capture around 5 images in 2 seconds, with 4 RAW images in about 1. 5 seconds. However, it takes around 6 - 8 seconds to clear the buffer which may hamper some photographers who require immediate results. The camera also supports a wide gamut of picture sizes from traditional 640x480 resolutions to 3264x2448 in either RAW, TIFF or SHQ JPEG modes.
The image quality of E-500 was extraordinary for a camera of this price that featured relatively noise free images that maintained their natural colours. Although on the higher ISO settings, the camera did show a little bit of noise but I'm sure through the manual settings, this noise could be removed through one of the settings.
Conclusion
In conclusion, the E-500 is a perfect camera that I would recommend to all camera enthusiasts on a budget. The Olympus E-500 produced high quality photos with minimal shutter lag and great auto focus speeds. For those that love full manual controls, the camera performed as well as any other DSLR on the market. Why buy a digital camera when for a little more, you can get a fully fledged digital SLR, highly Recommended and a job well done by Olympus!