Western Digital have just released their 8-port Gigabit Ethernet Switch that supports prioritized ports and assists in increasing your network. This means that users can now prioritise certain devices on their network such as their PS3, Smart TV or other media device for high priority in relation to streaming or that third laptop for low priority. Thanks to its colour coded ports on the back of the device (dark green, light green and orange), it is split into three section that include high priority, mid priority and low priority on this 8-port gigabit Ethernet switch.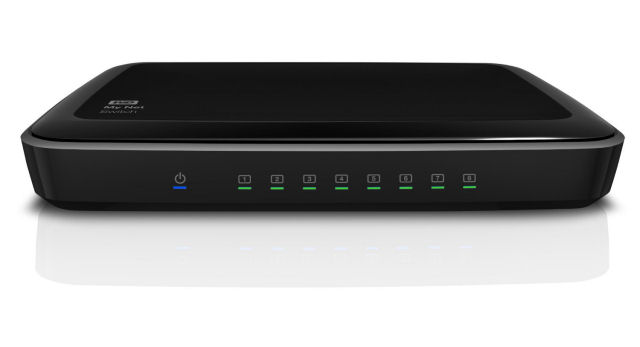 With that said, priority does become an issue when one device begins to throttle the network, whether that is a device that is using up your entire ADSL2 connection or another device congesting your network like Netflix or TiVO. However if you're the only person on your network, generally these issues don't pose a problem but when you're sharing the network, issues are strife. This is where you can prioritise your connections thanks to the My Net Switch.

The device looks like most routers with its stylish design with jet black colour. But where the switch does stand out is with its easy colour coding on the back and it's actually quite small. The My Net Switch supports IEEE 802.3ab Gigabit Ethernet, IEEE 802.3u Fast Ethernet and IEEE 802.3 Ethernet which recommends CAT5e or better to utilise the Gigabit performance. Installation? Thankfully the My Net Switch is Plug and Play... not Plug and Pray!

Installation of the My Net Switch is quite simple and you simply plug your router into a low-port and then connect the rest of the devices to the switch. You can even wall mount the product. In terms of installation and connections, it took us around 10 or so minutes to connect this device to our network. Best of all, the device works pretty much straight out of the box so no complicated IT knowledge is required to get it up and running. The only issue is that it does not come with a manual that must be downloaded via the Western Digital site. Unfortunately the address given in the box is incorrect.

In our testing environment, we gave our test machine green priority which was one of the high priority gigabit ports and our TiVo another one of these ports. Interestingly enough when both were downloading, it kept the connection quite fair. When we tried to download on another computer which was connected to a low priority port, it did not take over the connection when we attempted to watch movies on TiVo. Another cool part of the device is that it is "eco-friendly" which means ports not in use are disabled and it uses cable length detection to conserve even more power which is dependent.

Final Thoughts?

If you're a gamer or someone who loves to stream but your network suffers from these capabilities, than the My Net Switch from Western Digital may be your solution. Not only does it increase your network connections but ensures that devices don't throttle it.