Microsoft XBox 360 Controller for Windows (Wired)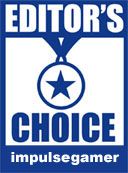 The wireless XBox 360 controller for the XBox 360 is brilliant and sorry Sony, it's miles beyond the PlayStation 3 controller with its so-called SixAxis. Remove DualShock or Rumble for SixAxis? Not in this lifetime! Fortunately for those PC users who don't have a XBox 360 but would love to use one of these controllers, Microsoft have come to the rescue with their Microsoft XBox 360 Controller for Windows which comes both wireless and wired.
This review will focus on the wired review and generally speaking is probably a better option for most users as gamers are relatively close to their monitors while playing games.
Features
For PC and Xbox 360
Works across Microsoft's gaming platforms. Xbox 360 Controller for Windows works with most Windows XP-based PCs and Xbox 360, delivering a consistent and universal gaming experience.

Vibration Feedback
Get a better feel for the game. Vibration feedback ensures riveting game play every time*.

Ergonomic
Play in total comfort. Award winning compact ergonomics provide a more comfortable gaming experience.

Flexible Cord
The thin, flexible cord was designed to provide the sensation of wireless with all the performance of a wire.

Game Precision Series
Elevate your skills. Part of the new Game Precision Series, the Xbox 360 Controller offers precision, comfort and control that will set the standard for next-generation game controllers.

Enhanced PC Gaming
Precise thumb sticks, two pressure-point triggers, and 8-way directional pad for enhanced PC gaming.

Games for Windows - LIVE & Xbox Live® Play
Integrated headset jack for PC headsets and Xbox Live® play
There are many gaming peripherals for the PC, however the majority just didn't have that "console" feel... until now. The design and look of the XBox 360 controller for the PC is identical to the console version with its grey look and colored button layout. The main thing about the controller is how comfortable the device and for those familiar to the XBox 360, they will be at home.
Even those gamers who have not experienced the controller should have no problems at all at mastering this almost perfect device. The only difference between the XBox 360 version and the PC version is that the XBox live button does not contact to XBox Live. The controller boasts two analog sticks, a D-Pad, a back & start button, four colored "game buttons" and two shoulder buttons on each side of the controller. Everything you need for that true arcade console feel.
Although on Windows Vista, the controller works straight out of the box, the device does come with an installation CD. Once the installation is complete, the controller was ready to go and was tested on a variety of titles.
Need for Speed Most Wanted, Fifa 08 and TMNT all performed remarkably well on the PC which was extremely reminiscent of the XBox 360 versions, except you are now enjoying the controller on the PC with super high resolution graphics. I must admit, playing with an XBox 360 controller on the PC brought a smile to my face because no longer was I limited by a "mouse" and "keyboard" which allowed me to fully experience gaming as it was intended.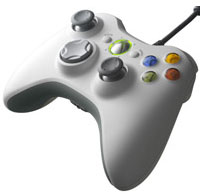 Best of all, the XBox 360 controller for the PC comes with "Rumble", "Force Feedback" or "DualShock" which lets you experience all the bumps and knocks of gaming such as crashing your car into walls at high speeds or running across a sporting field. The "Force Feedback" on the controller is perfect and depending on the developer really ads to the atmosphere of the game.
In conclusion, depending on your preference, the controller comes both wired and wireless and I'm guessing that the wireless version would be perform as remarkably well as the wired version. Hopefully we can review this item at a later date which is a must have for those who have their computers connected to Plasma's and LCD's. Even so, this device comes highly Recommended!