Matrix One
Pulsing Fusion with No Wires
Everyone knows that the speakers for just about all Bluetooth devices leave a lot to be desired. The solution is to connect your device to a set of speakers but generally size usually matters in terms of audio quality. However Matrix Audio have come up with a portable Bluetooth enabled speaker system that measures at 2.4" x 2.4" x 2.8" inches which is perfect for transportation. This device is so small, it can easily fit in your pocket or handbag and when you want improved wireless sound quality of up to metres away from your Bluetooth enabled device, you simply just turn it on.
Another great aspect of the Matrix One is that you can control the volume from the device itself, including skipping tracks. However for Smart Phones, the Matrix One even allows you to answer phone calls thanks to the microphone and even disconnecting from calls, making it a very versatile piece of technology. For those colour conscience people, the Matrix One comes in six different colours that include Black, White, Pink, Red, Blue & Purple. Impulse Gamer were given the Black model to review which does look quite stylish. In terms of design, it does look a little too "plastic" but nonetheless it is a very durable piece of equipment. What I didn't like was the controls on the device itself which seemed a little flimsy.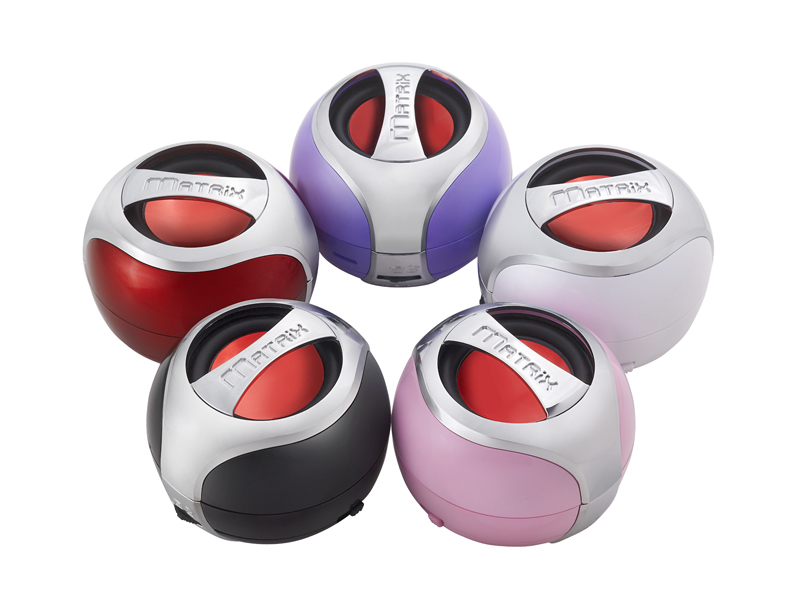 Connection was a breeze and on the iPhone, you simply just enable your Bluetooth and then the phone will find the speaker system. Once paired, all audio will be redirected through the Matrix One. You can also connect the device through a mini USB cable or a 3.5mm audio jack but of course, Bluetooth is the key here. The developers state that the Matrix One lasts for 14 hours of ongoing use and in our testing we actually found this to be true, generally going a little over 14 hours on a full charge.
However where the real test begins is through the sound quality. Given the size of the Matrix One, the audio quality was quite good. Levels were even and the device produced good bass thanks to the Xcavated Bass Amplifier (XBA) with a total of 3.5 watts. You won't beat a dedicated speaker system but compared to your Apple of Android Bluetooth device, the sound is far superior. Whether it was rock, orchestral, hip hop or metal, the Matrix One successfully produced good sound quality via wireless through Bluetooth.
Final Thoughts?
Listening to music wirelessly through the Bluetooth feature of the iPhone to the Matrix One worked considerably well. I also loved the ability to answer phone calls and even disconnect from these calls. The ability to skip tracks and adjust volume from the Matrix One allowed the user to have full control over the device and with a built-in rechargeable battery which lasts for 14+ hours, there's little to complain about this portable speaker system.
Definitely check it out if you're in the market for one!