The main highlight of course is the audio and although you cannot compare it to some high-end speaker systems, given its portability features and size, the quality is quite decent. The reason for the high quality sound is due to the two 3" laser-tuned neodymium drivers that help create a rich mid range. Add in two ˝" neodymium tweeters and this produces some crisp high notes.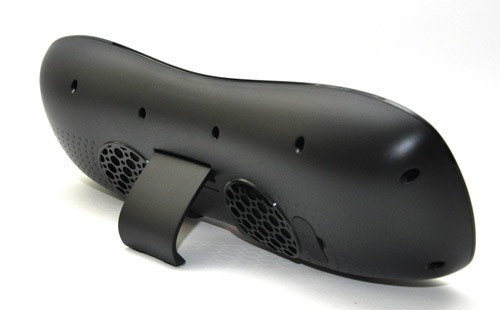 Lastly, the four 2" passive radiators add for the bass of the sound. I was actually quite surprised that the bass wasn't too deep which is sometimes a shortfall of portable speakers in order to make up for its lack of power. With that said, the quality of the sound was very clear with no distortion or an overtly powerful bass.
In terms of controlling the music and audio, this is done through your device, whether it's a tablet, iPad or notebook. It's actually quite cool using the iPhone 4S to control as it's just like using the device standalone, however the audio quality is far superior when its streamed to the Boombox.
Conclusion
If you're looking for a well-built mobile speaker system that produces clear audio without any distortion or hiss plus the ability of Bluetooth 2.1 connectivity to stream audio and a 6-hour battery life, than the Logitech Wireless Boombox is the product for you. Recommended!