Logitech G15 Keyboard Review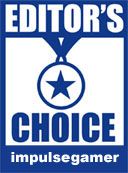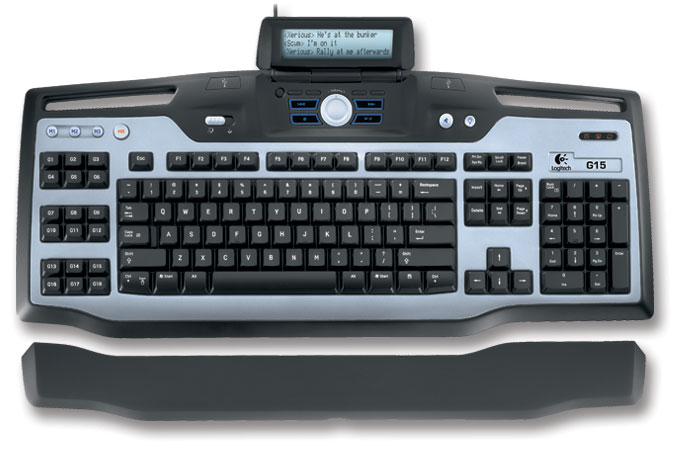 One of the latest gaming keyboards has finally arrived on the Australian market, the Logitech G15 keyboard that specifically targets the lacklustre accessory market of the gaming world. With that said, there have been many contenders to a real gaming keyboard and the G15 is no exception to the rule but unlike many of its competitors, this keyboard has the power, usability and support of Logitech behind it which means that this keyboard is no flash in the pan.
Initial Thoughts
The first impression of the G15 was that we all agreed that the keyboard looked quite impressive with its slick futuristic design, sporting black and silver colours with its biggest drawcard, the LCD screen that actually interacts with the gaming world.
Another impressive feature of the G15 keyboard is that all the keys are backlit with a soft blue glow that can be adjusted for the right ambience or even turned off for those gamers that wish to return to the "real world" by not being tempted by its siren like call. However, this feature is great for those gamers who truly wish to immerse themselves into the gaming world by not only playing in the dark but also by entering a universe of escapism and it really does help by knowing what key you are pressing.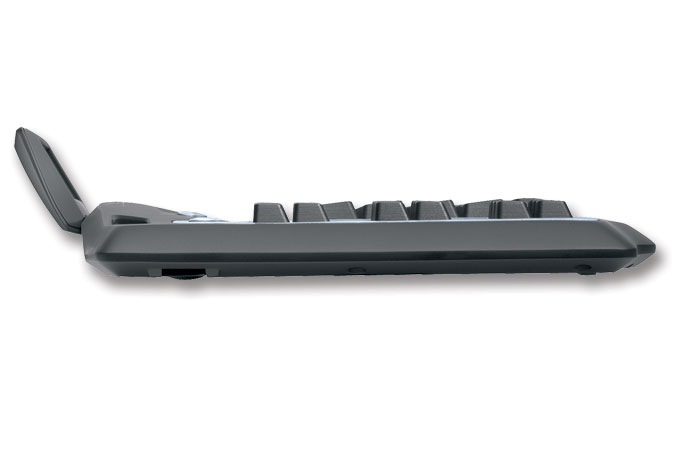 Features
View game stats. Use the GamePanel™ LCD to view game stats, create new macros, and keep track of important system information without leaving thegame. The LCD panel closes completely for transport and storage.

Play in the dark. Illuminated characters are easily visible in both bright- and low-light conditions, with three levels of backlighting for late-night gaming sessions.

Create and save macros with a press of a button. 18 fully programmable "G Keys" have three shift states each, for 54 possible custom macros per game
Eliminate cable hassles! Intelligently route mouse, headset, or other cables using convenient channels under the keyboard.

Record custom key sequences. Make on-the-fly additions to your key programming set with Macro Record button.

Watch and listen. Convenient media keys for easy management of audio and video playback.
Installation
Installing the G15 was a breeze (provided you read the manual, unlike some reviewers) on our test machine (Intel Pentium Extreme Edition 955, 1GB RAM and 120GB HDD) and it simply plugged into a spare USB port once the software was installed. However with the loss of a USB port, the G15 also sports two USB ports on the back of the keyboard, great for plugging in a USB headset or USB mouse for that true gaming experience.
After using the keyboard for several hours, the key presses feel extremely comfortable and each key has a soft clicking sound when they are pressed. For those that are uncomfortable with the backlit keyboard, some users may be in trouble because when the light is disabled, it can be difficult knowing what key you are pressing, especially for those that are already having typing problems. Needless to say, this keyboard the two main draw cards for this piece of hardware is the LCD and the macros.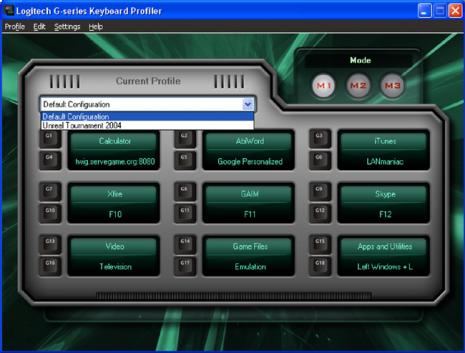 Features and Macros
The keyboard itself contains 124 keys, three macro buttons that juggles between the G keys, a quick recording button for macros, a switch that disables the windows key, a mute button to disable sound, a light button to disable the backlit functionality and a separate multimedia area that is linked to the LCD. This multimedia area allows the user to play, pause, fast forward or reward songs and movies with also four buttons to access the programs in the LCD.
In all probability the most useful aspect of the G15 keyboard is the programmable macro keys (G keys) with 18 keys devoted to user-defined shortcuts or macros with a possible 54 functions per application or game. The software that comes with the keyboard also instantly loads the correct profile for your software package so once the macros have been programmed, the user can basically sit back and relax... and let the G15 do its work.
Apart from setting up your standard macro buttons for games or applications, the G15 also has an interesting feature that allows you through its macro manager to truly fine tune your macros. For instance, by pushing the MR button and then the G key that you wish to program your macro, shortcut or keystrokes, the user can then press a sequence of keys which is recorded.
But what is really impressive is that the program even records the delays between key presses, do I hear Everquest and World of Warcraft fans cheering? Yes I do! Once your keys have been programmed, all you need to do is select the MR button again and the macro or keystrokes has been recorded. It couldn't be that simpler!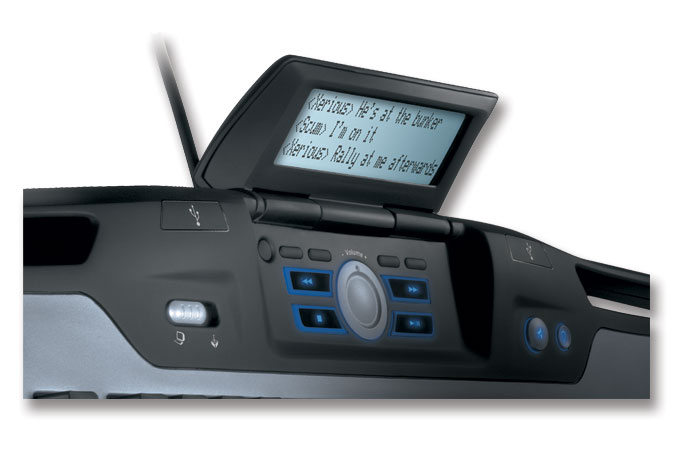 LCD (Game Panel)
The LCD interface on the G15 (closable for transport) allows for a plethora of different options that includes a keyboard profiler, clock, performance monitor (perfect for high-end CPU's) and a media display for programs such as iTunes and Microsoft's Media Player that displays some information about the file you are playing that includes the title, length of song or movie and a meter to view how far the file has been played.
Unfortunately for now, the G15 has limited support with the current games on the market and gamers will need to either rely other on patches from software companies, user-defined mods or program their functions via the SDK that comes with the keyboard. With that said, I'm sure that other keyboard manufacturers and programmers will eventually implement LCD's into their designs and software packages because the potential of an in-built LCD on your keyboard is endless.
Games games and more games!
While testing the keyboard with Star Wars Battlefront II and Quake 4, the first thing you notice about the keyboard are the smooth and responsive keystrokes that also lends itself well to applications such as Microsoft Office or Adobe Photoshop. Fragging my opponents on Star Wars Battlefront II was a pure pleasurable experience and with the right macros setup, the keyboard truly improved the gameplay of the title. The current games that the G15 support include the following titles:
Brothers In Arms Earned In Blood™
by UbiSoft®
> Requires patch
Falcon 4.0: Allied Force
by Graphsim/Lead-Pursuit
> Requires patch
Prey
by Human Head Studios/2K Games
Coming soon
Sid Meier´s Civilization IV
by 2K Games/Firaxis
> Requires patch
SiN Episodes: Emergence
by Ritual Entertainment
Native support
Star Wars Battlefront II
by LucasArts
> Requires patch
Tom Clancy's Rainbow Six Lockdown™
by Ubisoft
Native support
Unreal® Tournament 2004
by Epic Games
> Requires patch
Vendetta™ Online
by Guild Software
> Requires patch
World of Warcraft
by Blizzard Entertainment
Native support in V1.11+
Just using the keyboard as a "normal keyboard" in Microsoft Windows XP was also an pleasant experience, thanks to the LCD monitor that displayed my CPU temperature and fan speed (a free user-defined mod that is available from the net) and also just using programs such as Word or Excel that felt natural and easy to use, with macros on the ready for those tedious tasks.
Conclusion
In conclusion, the G15 keyboard by Logitech is an impressive piece of hardware for your computer, especially if you're a gamer or even non-gamer who uses hotkeys and shortcuts regularly because not are only they easy to program with its inept macro function but they are definitely time savers. The little things like the backlit keys or the LCD display truly make the experience of either play or work, a more satisfying experience that must be seen and used to be believed.
What does the future hold for the G15? With websites such as http://www.g15mods.com/ and other online forums, there a wide gamut of G15 mods available for just about all your favourite games that include Quake 4 and even Battlefield II that is also steadily growing. So what are you waiting for? Check out the Logitech G15 now!
| | | |
| --- | --- | --- |
| System Requirements | | Package Contents |
| • PC with Pentium® processor or compatible | | • Logitech® G15 Gaming Keyboard |
| • Windows® XP | | • Installation CD with GamePanel™ software |
| • 256 MB RAM | | • User Guide |
| • 20 MB of available hard disk space | | • One-year limited warranty |
| • CD-ROM drive | | |
| • USB port | | |
| • Logitech® GamePanel™ LCD requires software that supports GamePanel technology. | | |