Welcome to the world of high definition webcams and video recording. Gone are the days of 640x480 resolution, slow connections and overall poor quality. This is where the Live! Cam Connect HD 1080 from Creative comes into the picture which is not only a high-end webcam but supports a plethora of interesting features and is even future proof.
Not only does it support 720p resolutions as a webcam but it allows users to record video at Full HD 1080p which is ideal for people creating YouTube videos or general video recording. The camera even supports auto-focus which means if you move away, the camera will refocus opposed to just focusing on everything. Audio is also inbuilt into the camera (dual stereo) which uses crystal voice technology that reduces background noise and focuses on the voice.
Technical Specifications
Sensor:
5MP image sensor
Video Resolution:
Full HD 1080p (1920 x 1080 pixels)
Picture Resolution:
18 megapixels*
Frame Rate:
Up to 30fps @ Full HD 1080p quality
Auto focus lens
Dual stereo microphones with CrystalVoice™ technology
Plug & chat with Windows®, Mac OSX10.5 and Linux Kernel® 2.6
Multi-attach base
Cable length: 1.5 meters
USB 2.0 Hi-Speed
* Software enhanced
Installation
Installation of the Connect HD 1080 was a breeze and we tested this camera on both a Windows 7 and Windows 8 system. Both systems automatically installed the drivers and we were ready to Skype or use MSN immediately. One great aspect about the installation is that the camera comes with a 1.5metre cable which means you can easily move the camera around. However if you want to use the camera to record video, you do need to install the software which is called Creative Live! Central 3.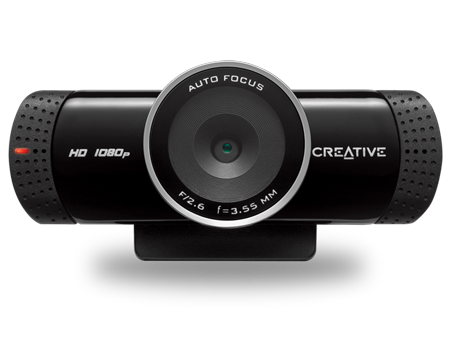 What I did like about Creative Live! Central 3, unlike the Logitech software package was that it was more user friendly and supported more features. The software allows for easy online sharing to sites such as YouTube and Facebook and even a movie creator with special effects. We loved the ability to change your voices... Taken 2 anyone?
We have been considering making a live vodcast for some time now and this camera would be perfect. Parents can also rest assured that their children will not get into trouble with this camera as it comes with parental control. Simply password the camera and this prevent any unauthorised usage on your PC.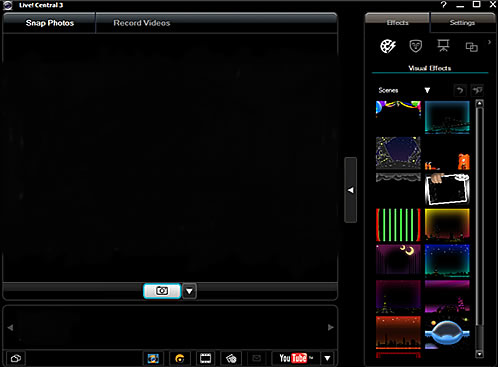 In terms of video quality, the Connect HD 1080 boasts sharp images, great focusing and vibrant colours. We enjoyed the auto-focus feature of the cam and even in low light, it kept focus rather well. In low lighting situations, the camera even has the ability to automatically increase the brightness/contrast of your room.
Audio is equally as good thanks to the Crystal Voice technology used by the camera. More often than not, it did not pick up that much background sound and if it did, it was relatively low.
Another cool aspect of the Connect HD 1080 is that it comes with surveillance software. I loved that this feature is included with the camera and basically allows you to monitor your room/office from anywhere in the world via another PC/Mac or Smartphone.
Final Thoughts?
The Creative Live! Connect HD 1080 is a very powerful webcam that goes beyond what these camera can do. With easy installation and setup, great quality with audio/video, there's actually no issues with this camera whatsoever. Best of all, it's quite affordably priced at just $99AUD (Oct 2012) which is on par with some Logitech cameras. However like we said, the software is more powerful and surveillance is included. If you're looking for a high-end webcam that is quite affordable than the Creative Live! Connect HD 1080 is it!
Highly Recommended!