The MobileLite Wireless is a brilliant little product from Kingston that is a reader and media streamer for SD Cards (SD/SDHC/SDXC/MicroSD) and USB Devices plus it also doubles as a mobile device charger. This also means you can increase the storage of other devices such as iPhones or even tablets as an example.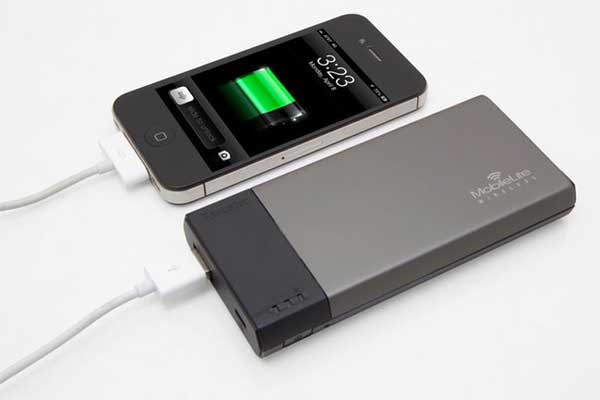 Another great example of the device is that if you're on holidays, you can basically move your digital camera files to another device to free up the SD card for more photos. Plugged into your PC, it acts as a USB hub and card reader or for those WiFi buffs, a wireless file server.
Kingston MobileLite Wireless Features and Specifications
Inputs for Storage: USB and reads SD, SDHC, SDXC and microSD (with included adapter)
Wireless Network Interface: Wi-Fi 802.11g/n with wireless security (WPA2)
Rechargeable Battery: up to 5 hours of continuous use
Battery: built-in Li-Polymer 1800mAh 3.7v
Local Storage: wirelessly transfer files to and from app and hardware
Camera Roll support: move photos from a mobile device to MobileLite Wireless
Cable: USB to micro-USB cable included
Guaranteed one-year warranty, free technical support
Customizable Device Name (SSID): User selectable Wi-Fi priority list when there are multiple APN/Key available
File Support: MobileLite Wireless can store any file type. Playback and viewing based on device support
General file format support: MP3, WAV, m4v, mp4 (H. 264 video codec), jpg, tiff, pdf
Operating Temperature: 0°C to 40°C
Storage Temperature: -10°C to 45°C
Dimensions: 124.8mm x 59.9mm x 16.65mm
Weight: 98g
General file format support
Audio: MP3, WAV
Video: m4V, MP4 (H.264 video codec)
Image: jpg, tif
Document: PDF
Out of the box, the MobileLite Wireless is extremely small and lightweight, weighing in at only 98 grams. On the front of the device, there are three LED lights for charging and battery life with the power button of the unit just under this on the side. On the top right, there is a port for the USB and a place to insert your myriad of SD card types.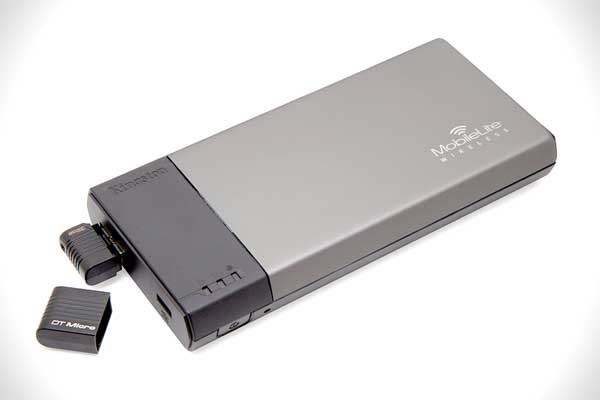 The MobileLite supports both Android and Apple devices with the app available via the App Store or Google Play. By installing the app on the aforementioned devices, this allows you to access the files from various SD formats or flash drives. The app then displays appropriate files into four areas that include files, photos, videos and music.
You can even tweak the MobileLite settings from this app and more importantly it displays the battery life of the device. The device supports a variety of security options and allows up to three users to access the product simultaneously.
Box Contents
MobileLite Wireless

USB Cable

Manual

Micro SD Adapter
Before using the device, users need to ensure that the product is fully charged which is done via your USB connection. When it is fully charged, the LED on the MobileLite will be displayed green. As the charge slowly depletes, this LED turns to orange for a 50 - 25% charge then red for anything below this amount.
In terms of the power button, you need to hold this down for a few seconds to power the device which ensures that you don't accidentally turn it on. Given that, the MobileLite lasts around 5 hours with continuous use. In our testing, we got very very close.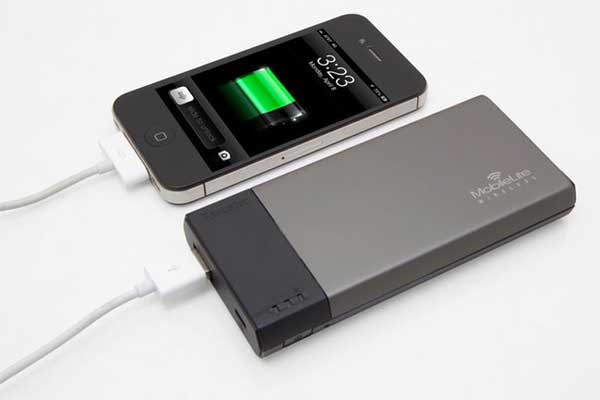 Another feature of the device is that it can charge devices such as Smart Phones. By connecting your Smart Phone into the MobileLite Wireless and by pushing the power button on it for one second, it goes into charging mode. With that said, you can only charge your smart phone. The wireless capabilities are disabled when in this mode. When the LED lights start flashing red, it indicates that your phone is being charged.
In terms of simultaneously sharing, we even managed to share a video between our Android Smart Phone and Tablet with no issues whatsoever like stuttering or pausing. However moving files, especially large files did slow down the connection but this is generally expected. Audio, photos and even videos worked perfectly on the device with no issues whatsoever.
Final Thoughts?
Kingston have really thought outside the box with their MobileLite Wireless device. With easy setup on all mobile devices thanks to the free apps, the MobileLite Wireless is a multi talented device that we could happily recommend to users interested in sharing files wirelessly between devices and even the internet.
Recommended!