In order to get the perfect gaming machine, there are a combination of components that include CPU, Motherboard, a Graphics Card and Memory. Unfortunately most people neglect one of these components that unfortunately creates a bottleneck. However this is generally a result of costs and thanks to Kingston, they have just released the HyperX Predator which is an affordable priced performance RAM. In laymen terms, it's another arsenal in your high performance PC!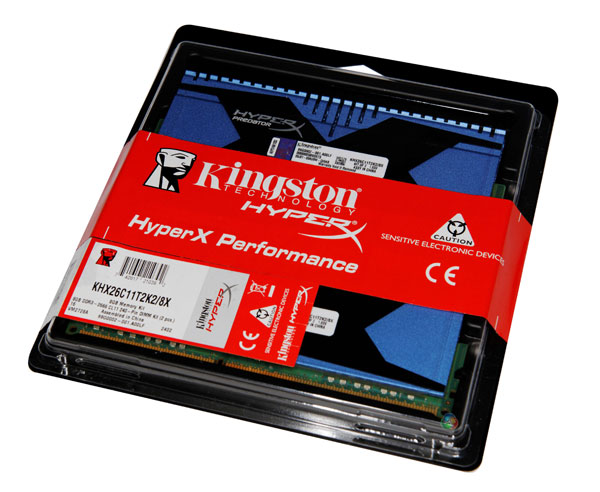 Features
Capacities 4GB–32GB (with 4GB, 8GB, 16GB and 32GB kits)

Speeds up to 2666MHz

1.5V & 1.65 V operating voltages enable stable overclocking

Intel XMP Ready; optimized performance settings handpicked and tested by Kingston engineers

Dual Channel kit tailored for P55, H67, P67, Z68, H61 (AG), and Z77 Intel chipsets; as well as A75, A87, A88, A89, A78, and E35 (Fusion) AMD chipsets

Exceptional clock and latency timing specifications to enhance overall system performance

Heat sink design achieves effective maintenance of speed while prolonging the memory lifecycle

100% factory tested
Specifications
Capacity 8GB–32GB (with 8GB, 16GB and 32GB kits)

Frequency Speed 1600MHz–2666MHz

Operating Temperature 0°C to 85°C

Storage Temperature -55°C to 100°C

Dimensions 125.8mm x 47.9mm

DDR3 Only

Available in a variety of CAS Latencies

Voltage 1.5V & 1.65V
With a recommended retail price starting from $199AUD (December 2012) online, the Kingston HyperX Predator comes with a very impressive set of timings which in turn creates faster speeds and lower latencies, ensuring that memory can be accessed and moved around quickly. Interestingly enough, the RAM comes with two XMP profiles, one for 2666Mhz and one for 2400Mhz. The lower profile is for users who do not have a CPU or motherboard that supports the higher speed of 2666Mhz.
Test System
For Impulse Gamer's Ultimate PC Gaming Machine, we used the following items;
Intel Core i7-3960X Processor

Cooler Master M2 520W Silent Pro Power Supply

Cooler Master Silencio 550

Cooler Master X6 CPU Fan

Kingston 240GB SSDNow 200 Hard Drive

Seagate Barracuda 1TB (600 MBps - 7200 rpm)

LG CH12LS28 12X BD-R Blu-ray DVD Combo Drive

ASUS HD 7970 DirectCU II Top

Windows 7 64 ultimate

Logitech G510 Keyboard
Once installed, running the RAM at 2666Mhz caused no issues with system performance whatsoever and if you are stuck with older RAM such as 1600Mhz, the Kingston HyperX Predator is considerably faster and as expected, slightly increased our frame rate on a variety of games (Far Cry 3, Batman Arkham City, World of Warcraft and Deus Ex II).
Originally I thought that the RAM would overheat and cause some system issues, however thanks to the unique design of the memory, it evenly spreads the heat across it. This is done via a heat spreader which is the large blue metallic face on the RAM which is seen on the below screenshot.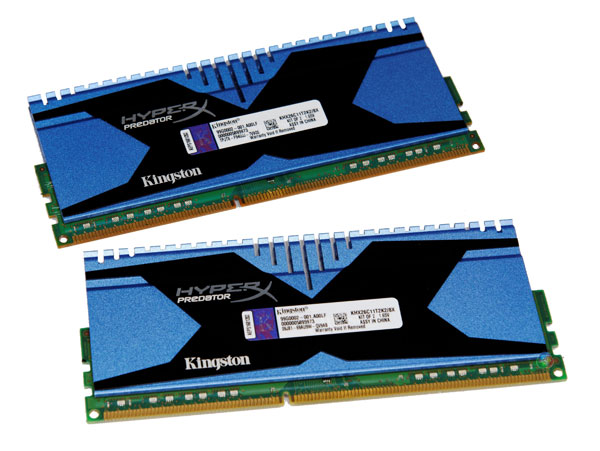 As a result, the RAM can operate in conditions between 0 to 85 degrees Celsius which is quite warm. The only issue with the heat spreaders is that it may effect some CPU coolers due to the size of them.
In terms of motherboards, the RAM supports the following products - P55, H67, P67, Z68, H61 (AG), and Z77 Intel chipsets. It also includes the A75, A87, A88, A89, A78, and E35 (Fusion) AMD chipsets. For those computer enthusiasts who like to overclock, it is possible with this RAM and we've heard some users pushing 2900Mhz but with most stability around 2800Mhz.
SiSoft Sandra Memory Test

Aggregate - 29.84


Integer - 29.83


Float - 29.83
Aida64 Memory Test

copy - 27324


write - 23423


read - 23423

Aidra64 Latency Test


30.1
PCMArk Vantage Memory Test


13711
As you can see with our memory tests, the Predator is definitely up there in terms of its competitors for performance. With super fast times for copying, writing and reading, the tests proved that at 2666Mhz, the RAM had the power it needed to move large amount of memory with fast speeds.
Final Thoughts?
If you have the funds, Impulse Gamer could happily recommend the Kingston HyperX Predator RAM that offers excellent performance and some great features to gamers and computer enthusiasts.
We tested the RAM at the full speed of 2666Mhz which gave us some serious results that is definitely a piece of the puzzle in getting a fast gaming rig! Add in a Lifetime warranty and we would recommend this product to all!
For more information, download the official Kingston Tech Sheet at http://www.kingston.com/datasheets/KHX21C11T2K2_16X.pdf