Kingston HyperX FAN
This nifty little product from Kingston has been specifically designed to cool high performance RAM which not only improves the longevity of the memory but ensures stable performance. With this in mind, the product is not for everyone, however if you're a gamer or an extreme overclocker than this may be technology needed to keep your PC stable.

Product Specifications
Whisper-quiet — 28 dBAm maximum

12V rated. 8V-13.5V operational range

RPM: 3000 +/- 10%
The first thing that you will notice with the Kingston HyperX Fan is its appearance that looks quite modern, especially with the inclusion of the blue LEDs which would look brilliant through a see-through case.
With two dual-fans that assists in maximum heat dispersion, the device assists in keeping the memory quite cool under pressure. The device is designed for use with Kingston DDR3 memory, 1800Mhz and 2Ghz.
Installation
When installing new cards, memory or the like into motherboards, I'm always a little wary, however the installation of the Kingston Hyper X Fan was a relatively pain free experience, although we had to remove all our cards from the motherboard in order to successfully install the unit.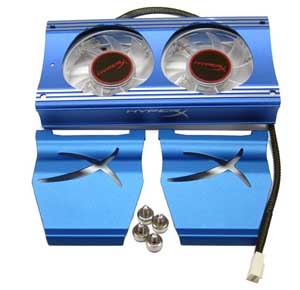 The unit is kind of large and you really need a spacious case or a tidy case to connect the unit to your RAM/motherboard. With that said, most people will be do-it yourself overclockers or gamers who will be installing this product but many stores will also assist.

In order to test the memory temperatures pre and post installation, we thankfully had access to a portable thermometer from Raytek which allowed us to successfully measure the temperatures. We tested the HyperX Fan from gaming, office programs and number crunching, ensuring a wide range of tests.
From all our tests, whether it was games such as Crysis Warhead, Microsoft Excel or rendering video or compressing, the fan kept the temperatures down by a few degrees but best of all, the temperature did not rise.
WorldBench (with HyperX Fan)


(39) Processing


(32) Idle
WorldBench (No Fan)


(51) Processing


(41) Idle
Crysis Warhead (with HyperX Fan)


(40) Processing


(33) Idle
Crysis Warhead (No Fan)


(55) Processing


(43) Idle
Bioshock (with HyperX Fan)


(38) Processing


(33) Idle
Bioshock (No Fan)


(54) Processing


(44) Idle

As you can see from the results, the HyperX Fan successfully maintained the core temperature of the memory with little rises at all. This is great news for gamers, especially overclockers who like to push the boundaries of their PC. It's amazing how much difference the fan makes to memory and this of course all leads to a much more stable PC.

At the end of day, this affordable peace of technology not only provides peace of mind to the end user but it ensures the longevity and stability of your PC.
The installation is a little fiddly and for those unsure of their PC hardware, we would recommend that this device be professionally ensured, however for gamers and overclockers and those that dabble with their PC's, this is definitely for you.
Check it out!