Apple's new iPod shuffle is easily one of the smallest MP3 players on the market that measures in at an incredible 27.3mm x 41.2 x 10.5 and weighing in at only 15.5 grams. Needless to say, it's amazing that something so small can perform so much in terms of music playback.

With 1GB available, the Shuffle allows the user to store around 240 songs that lasts a continuos 12 hours of pure music quality and entertainment. Aimed at the gadget generation, the new iPod shuffle is so tiny that you can easily clip it to almost any part of your clothes or even slide it inside your pocket.
Coming in a range of colours that include silver, pink, green, blue, and orange, there is definitely a colour to suit all of us.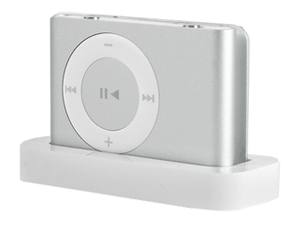 As with the previous iPod shuffle, the user can either play their songs in continuous order or random play that has the shuffle decide which music will be played. Remarkably the new iPod Shuffle is considerably lighter and smaller than its predecessor and gone is the classic rectangular "Apple" look that has now been replaced with a more clothing accessory look and feel. There are also a few LED indicators on the iPod that basically lights up a different colour, depending on the status of the unit.

The installation of the Shuffle was a breeze and on our PC test machine (the unit is also Mac compatible), we simply installed the software and in a few moments, iTunes was installed. Once installed, we simply plugged the Shuffle's dock into a spare USB port and iTunes automatically loaded and even searched our hard drive for where our music (MP3 files) was stored. With a few simply clicks, our iPod was loaded with a plethora of music.
The remix and match option in iTunes allows the software to basically auto-fill your iPod with a variety of music files, ensuring that every time you listen to your iPod is a new musical experience. Perfect for those wishing for an eclectic listening experience.
The only problem with the iPod Shuffles is that there is no way to select certain artists as the screen does not have an LCD. There is a workaround, if you force the iPod into the "shuffle" mode, you then need to continue skipping tracks until you have found the artist you are looking for. Remove the "shuffle" option and then move either forward or backwards by skipping tracks until you have reached the start of the album.

The quality of the music on the iPod Shuffle is phenomenal and I must admit that it sounds exceptionally clearer than the previous iPod Shuffle. This also reflects the quality of the headphones and really puts those high end headphone companies to shame.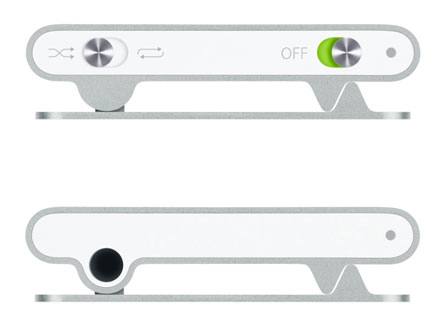 The unit itself is easy to control with a play/pause button and also four buttons for volume, next track, previous track and fast-forward or rewind. In order to charge the unit, you simply plug the dock into a spare USB port and then plug the Shuffle into the dock and in a few hours, the Shuffle is fully charged that allows for a continuous 12 hours of listening.

Apart from an MP3 player, the iPod shuffle is also a USB drive that allows the user to store up to 1GB of files (depending if music is already installed on the device), so there's no problem copying those small files to the unit and transporting them.
In conclusion, the new iPod Shuffle is a must have for those that are looking for an affordable MP3 experience with the quality of Apple behind it. A brilliant new design, a wide array of colours that is easy to use and import music onto the MP3 player, the new iPod Shuffle is a definite must have for those on the go!

Put it on, turn it up, and turn some heads.

#: 1GB = 1 billion bytes; actual formatted capacity less. Song capacity is based on 4 minutes per song and 128-Kbps AAC encoding; actual capacity varies by content.
Rechargeable batteries have a limited number of charge cycles and may eventually need to be replaced. Battery life and number of charge cycles vary by use and settings. See www.apple.com/batteries for more information.