IOMEGA USB 2.0 MEDIA XPORTER HARD DRIVE
Finally, an affordable third party solution that allows PlayStation 3 and XBox 360 owners to easily share, transport and store files with Iomega's USB 2.0 Media Xporter Hard Drive.
With convenient USB 2.0 connectivity and 160 gigabytes of storage, this all-in-one solution is the perfect accessory for your next generation console that can be used by just about everyone.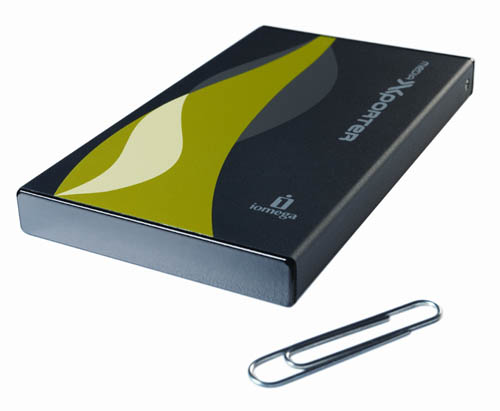 Best of all, the Xporter Hard Drive is quite small for transportation and comes in a sleek black and green design that compliments the colour schemes of both the XBox 360 and the PlayStation 3 gaming consoles.
Whether you wish to watch or listen to high definition videos and music on your consoles, this device easily connects to your PC and your console(s), ensuring that even the novice computer user will have no difficulty in copying files to the huge 160GB hard drive.

The unit comes with the drive itself, a USB 2.0 power cable, HTML user Manual, Prism Video Converter MX software (via download), a Quick Installation Guide and one year warranty for some added piece of mind.
The installation on your Windows Vista test machine was a breeze and the system automatically detected the hard drive once it was connected to a spare USB port. Once connected, we simply copied a variety of movies, pictures and music to the hard drive, then began testing it on our consoles.

As with the PC, both the PlayStation 3 and XBox 360 detected the external hard drive connected and accessing the files was quite a simple process with the user then using the consoles operating system to navigate.
We watched a variety of high definition videos on both consoles and the speed and quality was perfect. Music, photos and the like were just as good and even though some of this functionality can be done wirelessly, the option of an external hard drive is just as good and at times better.

As the internet contains a variety of different movie formats available for download, the Prism Video Converter is great for converting between a variety of files from Apple Quicktime to 3GP and even XviD. The interface of Prism is quite self explanatory and for those finding the conversion process a tad tricky, there is a user-friendly help system available to assist with any queries.
Although not an issue with the unit itself, however the playback quality of the PlayStation 3 was far superior than the XBox 360 on our high definition TV but fortunately Prism offers the user a few tweaks to improve the video playback on high definition televisions.

In conclusion, the Iomega USB 2.0 Media Xporter Hard Drive may not be for all console users, however if you use your consoles for multimedia such as videos and music, than this device should definitely be considered as it offers the user an easy bridge between the PC and the gaming world to share files.
Features

* Store & play/view your media content on TV (pictures/music/videos) through the game console without the need of a PC or a Digital Media Adapter. Play/view MP3, MPEG 4*, JPEG files and other popular formats. Video conversion software is included to convert additional file formats to Xbox 360 and PlayStation3
compatible files

* Portable - Take your stored media content anywhere you go onto your compact and lightweight Media Xporter, plus no external power required

* Versatile - Use with any Xbox 360 or PlayStation 3 game console and extend the capability of your game console

* Stylish - Cool green and silver graphics on a black drive complement the gaming experience as it coordinates with Xbox 360 or PlayStation 3 game consoles

* Easy-to-use - Plug-and-play, up and running in seconds System Requirements (to upload files to Media Xporter)

PC/Mac: Connection: USB 2.0 powered

PC: Microsoft(r) Windows(r) 2000 Professional or above

Mac: Mac OS X 10.1 or above

What you get

* Portable hard drive

* USB 2.0/power cable

* Quick Start Guide

RRP - $149AUD